As someone who's been in the real estate industry for quite some time now and in real estate web design in recent years, I go on the talking circuit to provide value to a number of brokerages out in California.
In one of these sessions, one of the gentlemen, a real estate veteran, in the class pulled me into his office to have a one-on-one with me. He wanted to learn a little bit more about what we do and talk about some of the struggles that he's facing in his business.
I asked him what he was working on and what his biggest challenge was. He directed me toward these sheets of paper with a laundry list of all these different strategies, fixing and cleaning up his CRM, multiple websites for his businesses that he's focusing on, mastermind groups, meetup groups, social media platforms,  ad campaigns. He's doing commercial and residential real estate and he's also interested in international transactions. He was clearly all over the place. 
You see, his story is not uncommon for a lot of the realtors out there, and this potentially might be speaking to you. I proceeded to ask him the question, where do you get the bulk of your business from? And he goes on to say that he has a database of about 5,500 people and about 85% of his business comes from this database of 5,500 people. 
Now, if 85% of the customer traffic of your business comes from your database, then why are you going to start and focus on another strategy and essentially start from 0%. So if I'm at 85% of success in my business and I'm 15% away from being able to get a hundred percent. 
Why the heck am I going to start this social media campaign and essentially start from zero on multiple platforms when I'm already 85% of the way there.
The answer is twofold.
Number one, this person clearly suffered from shiny object syndrome, when you go for a whole bunch of different strategies and tactics when in reality, the solution to fixing what you're struggling with your real estate business is right in front of you. You're blinded by all of these other different strategies and tactics like Facebook ads, Zillow ads, and all this other nonsense, but the bulk of your business is right there sitting in front of you.
All you really need to do for that last 15% is to look at yourself in the mirror and figure out what you need to do to solve this problem. You just need to look at yourself and figure out what excuse am I giving myself to make sure I don't get to that hundred percent. And then once you figure out what that excuse. Then just throw it out the window and figure out what the problem is that you need to solve to get to a hundred percent of completion for mastering your database, systematizing your process so that you can have all your business just funneling from that database.
The second is fulfillment issues. 
He knew where 85% of his business is coming from, but how many of those were retained clients? If you have that many people in your database and you're getting that many or that much business, but they're not coming back to you, then it's clear that you're facing fulfillment issues. If they're not coming back to you, this essentially means that you're not very good at your job because your customers work with you, and then they ended up going to the other guy. 
So again, it's maybe just taking a hard look in the mirror and figuring out what your flaws are. What's stopping you from getting to 100% in this one piece of your business. Just be real with yourself and fix those problems. Systematize your process. Feed the mechanism and it's going to output the exact same result, and over time you'll be able to build that predictability within his database.
Find out more tips to help you scale your business and build predictability? Join our free Square 1 Facebook Group today. If you need help building out your real estate website, we're just a call away! We're experts so feel free to reach out to us and we'll be more than happy to help you out.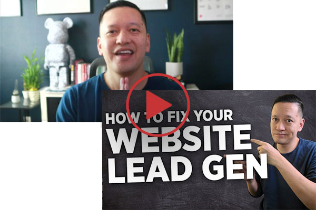 YOUR WEBSITE ISN'T GENERATING ANY LEADS BUT WE HAVE A SOLUTION​
In this free 20 minute video training you'll discover:
Whenever you are ready, click the RED button below that says "Grab my training now"
LEARN HOW WE'VE GENERATED OVER
100,000 LEADS

FOR OUR REAL ESTATE CLIENTS LAST YEAR
Marketing Strategy – create inbound strategies to better position you for the long game.

Systems Implementation – we design and implement systems for you to buy back your time.
Brand Building – position you as the thought leader and authority in your community.