My business provides realtors with  great real estate web design and a lot of realtors come to us with a laundry list of things that they want in their websites, needs like an API connection to the MLS, a blog, custom properties, lead capture, and SEO to name a few. Some agents seem to just spew out what they found on the internet without even understanding what they do and their value.
However, you don't need a flashy website to generate leads, you don't need IDX to generate leads, you don't need a complex multi-page website to get leads. A complex website will just cost you a lot of money and you're stuck where you were before got this website but this time you're in the hole with a few hundred bucks or a thousand bucks even and all you have is this fancy website that does not convert leads.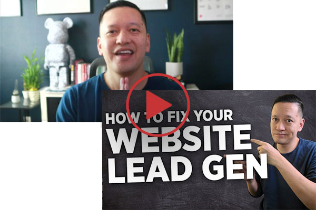 YOUR WEBSITE ISN'T GENERATING ANY LEADS BUT WE HAVE A SOLUTION​
In this free 20 minute video training you'll discover:
Whenever you are ready, click the RED button below that says "Grab my training now"
If you need leads, you don't need a fancy website, you just need a solid strategy. A super simple strategy that takes up only two web pages. The premise behind this is pretty simple, a website doesn't generate leads, a solid message does.
If the problem is a branding issue, then a large website get's the job done. A larger website will validate you as a specialist, when you have a page with testimonials and properties it portrays productivity to prospects. However, the thing with solving for branding is that it's a long-term play. Brands aren't built in a month or a year, brands are built over an extended period of time because the messaging is designed to help people choose.
If the problem we're solving is lead generation, which is more immediate, then we're creating marketing to help people buy or sell. It's more of a short-term strategy. You need quick wins. you need quick leads. you need people that want to buy or sell. If that's the goal, then branding is the solution.
You need a solution to funnel leads in, nurture them, and turn them into clients asap. You do not need a fancy site, just a simple 2-page website. – and the best part is that this website doesn't even need to be complex
The idea here is that you need to create a compelling offer to capture the lead and funnel them into a Facebook group to nurture them.
The two-page website is really just 2 pages; 
Page 1 – A lead capture page
It needs a brief breakdown of what you offer, 3 bullet points of frustrations, 3 solutions that you provide, the link to your Facebook group, and of course a lead capture form.
Page 2 – A thank you page
It is just a thank you page with a link to your FB group and for some realtors who really want to create a positive experience, a link to your calendar.
LEARN HOW WE'VE GENERATED OVER
100,000 LEADS

FOR OUR REAL ESTATE CLIENTS LAST YEAR
Marketing Strategy – create inbound strategies to better position you for the long game.

Systems Implementation – we design and implement systems for you to buy back your time.
Brand Building – position you as the thought leader and authority in your community.
Once you have them in the Facebook group you now have solid leads that have a problem and are interested in the value that you provide as a solution. This process indoctrinates the lead, gets them to trust you, and eventually raise their hand and say they need your help
A super simple strategy to create and implement that you can get up and running in a few hours. If you want to see some examples join our free Square 1 Facebook Group today. If you need help building out your real estate website and implementing this strategy, we're just a call away! We're experts so feel free to reach out to us and we'll be more than happy to help you out.