A lot of the agents that I get to talk to, in my business providing great real estate web design to help realtors grow their businesses, are trying to farm for cold leads with an unrealistic basis of what they're doing from a marketing budget standpoint. 
Having a small marketing budget means having a smaller reach which then translates to a smaller audience reach. By not spending enough on your marketing budget, you will most likely pop up in front of fewer people and would not be enough for them to see and hear you. 
What I often see happening is that 90% of real estate agents would start off and craft an amazing marketing strategy and plan but when it comes to executing the strategy, they'd be scared to spend their money and would prefer to have a small budget. 
And a great marketing strategy is not enough to bring you the number of leads that you need in order to scale your business.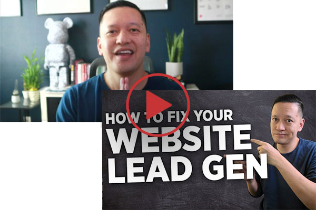 YOUR WEBSITE ISN'T GENERATING ANY LEADS BUT WE HAVE A SOLUTION​
In this free 20 minute video training you'll discover:
Whenever you are ready, click the RED button below that says "Grab my training now"
We have a proprietary calculator that I've been successfully using in my business for our client. This is a very simple plug-and-play calculator that can help narrow down the ideal marketing budget.
In this calculator, we have already established the parameters, based on industry-standard and our performance, the lead to triage, triage to strategy calls, and strategy call to client conversion percentages.
You only need to input data on your annual revenue goal, the average listing price of properties you buy and sell, and the cost per lead.
The idea here is if you have a goal of certain revenue, this calculator will show you how many leads per day you need to generate to attain it. Furthermore, it would also determine how much your ad spend should be annually and monthly, and the number of transactions you need. 
LEARN HOW WE'VE GENERATED OVER
100,000 LEADS

FOR OUR REAL ESTATE CLIENTS LAST YEAR
Marketing Strategy – create inbound strategies to better position you for the long game.

Systems Implementation – we design and implement systems for you to buy back your time.
Brand Building – position you as the thought leader and authority in your community.
It's a really simple powerful tool wherein you can plug and play your numbers and get super granular on how much you're spending as you get to your aspirational revenue goal. The idea behind this calculator is that we want to work backward. We want to project how much activity is required to create one new client and break down the numbers based on industry standards.
Find out more real estate strategies to grow your business. Join our free Square 1 Facebook Group today for similar content that can help you in your Real Estate journey. If you are interested in one-on-one coaching, then schedule a strategy session with me today, and let's talk about how I can help you move your business forward.