I've worked with many agents to help them with their marketing, real estate web design and other strategies that can help their business. Many of them tried digital marketing on their own before they reached out to me, but they just cannot seem to get it to work. They've tried Facebook or Google Ads, but do not really know what to do. And the results turn into either little or no leads in return, leaving them the impression that these platforms don't work. So they gave up thinking it was all garbage until they knew the important process of creating a lead flow.
One of the most important factors of lead magnets and the lead generation process is empathy. You need to be empathetic to what the lead is looking for to be able for you to capture them. Empathy can be broken down into two different spectrums, time and risk. This is where a lot of agents get mistakes in the very early stages of online lead generation. 
Many agents when they're diving into paid advertising or paid marketing online tend to ask the question, "What can I do as an agent, to make things easy for me to generate some new business?" However, this is not the correct way to think, and this usually ends with minimal or zero results.
Now to help you understand the process I am about to explain, imagine the two different spectrums of empathy into interconnecting lines. On the X axis is "Time" and on the Y is "Risk".  Then we start on one end of Time's axis with a low time investment and on the other a high time investment. And then on the Risk's axis, we're going to start with low at the top and then high on the bottom.
High Investment – High Risk 
Usually most agents offer a free consultation which is both high on the time investment and high on the risk investment. Thus, a prospect would usually not want a free consultation because that's simply an hour-long conversation where they think they're just going to end up getting pitched. For them, It's a complete waste of time so they won't buy the idea. 
Low Investment – High Risk
Now imagine the other end of the spectrum, most agents tend to think that if a free consultation doesn't work then maybe a free newsletter will. Granted, it's a low-time investment because they don't have to sit through a conversation with you but it's high on risk simply because they don't want these random emails. They already get spammed enough from stuff that they've signed up for. They don't want to receive more spam from a complete stranger. So that's the reason an agent's email newsletter generally doesn't work too.
High Investment – Low Risk
On the other quadrant where low-risk and high-time investment is, many agents try to generate leads through video sales letters or also known as webinars. Now in terms of risk, it's low because this is something that a lead or prospect can watch on demand. But it's a very high time investment because essentially they're going to be sitting through a 20-minute webinar video. So this is unlikely to be something that's going to make a prospect of being captured.
Low Investment – Low Risk 
Now if these things don't work. We can start to think about what strategy can be that's a low-time investment and at the same time low on risk investment. What type of marketing can we use to try to capture as many leads as quickly as possible? Something that's going to be a low-time investment and a low-risk investment. 
The good news is, there are 3 strategies that are proven and tested that work on this. These are able to easily generate leads online, specifically real estate leads.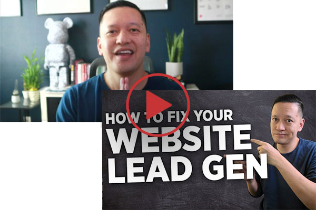 YOUR WEBSITE ISN'T GENERATING ANY LEADS BUT WE HAVE A SOLUTION​
In this free 20 minute video training you'll discover:
Whenever you are ready, click the RED button below that says "Grab my training now"
Lead Generation Strategies
#1 Creating A Community
A good example of this is a Facebook group or a Discord channel. If they join this community you'll have the opportunity to just drop in and provide pieces of value. They can listen to it or watch it on their own time. That means it's a very low time investment because they can do it whenever they want. And very low-risk investment because they know they're not going to get pitched to or anything like that. It's something that they can look at whenever they're free. 
#2 Lead Magnet
A lead magnet can be a PDF document or any long-form resource that is essential to your lead that you can offer them. This is something that is very easy for them to opt into because they're not going to get sold to or it's something that they can get to later. 
#3 Post A Listing
Simply post one of your listings on where your target market is. This is simply because things that you do is the future casting of "What could be?". And most leads always like to look at what they possibly could live in.
These three sweet spots that have proven to work when generating leads online: build a community, create a lead magnet, or feature one of your listings. Knowing these strategees, the next question becomes, what can be incredibly valuable to a stranger that they would feel incentivized to trade their personal contact information for these things? 
The easy answer is to drill down on your future client's intent and put yourself in their shoes. Once you understand the intent, it's going to be super fast and easy for you to scale your lead generation inside of your real estate business. 
Break down their decision-making process as well as the steps that they internalize while making that decision. Now here's the kicker, you are going to be required to niche down to a very particular problem that you're trying to solve. Because just creating generic advertisements like "I can help buyers "or "I can help sellers" are too broad. You're not speaking to anybody with this type of strategy. When it's too broad, it's the same thing as not speaking to anyone. Unfortunately, it's never going to work, thus you need to be specific. 
As an example, consider the issues facing first-time homebuyers. We can build a group dedicated to providing education for first-time home buyers or create a PDF checklist for the step-by-step process for a lead to complete the pre-approval phase to start shopping for a home. 
LEARN HOW WE'VE GENERATED OVER
100,000 LEADS

FOR OUR REAL ESTATE CLIENTS LAST YEAR
Marketing Strategy – create inbound strategies to better position you for the long game.

Systems Implementation – we design and implement systems for you to buy back your time.
Brand Building – position you as the thought leader and authority in your community.
The idea here is to keep it simple. Think about the next step of your ideal client's decision-making process and then create a piece of value to solve for that next step. Through this process of solving that next step, trust is built. Over time, the stranger will then turn into a lead, which will then turn into a prospect and then of course, eventually turn into a client!
The bottom line is that lead generation will be effective when we learn to understand more of our target market and learn to speak their language. Knowing their pain points makes it easier for us to create strategies that capture them and turn them into clients.
Find out more tips to help you scale your business and build predictability. Join our free Square 1 Facebook Group today. If you need help building out your real estate website, we're just a call away! We're experts so feel free to reach out to us and we'll be more than happy to help you out.