There are a lot of options when it comes to paid advertisements for realtors nowadays. Among the most popular ones are  Facebook Ads, Google Ads, and Zillow Ads. It's crucial to understand them and know which one will work best for your real estate business.
I've helped many realtors identify their expertise and help them scale their real estate business using systems. This includes creating real estate web design, creating a unique strategy for their business and lead generation through ads. Speaking from years of experience, we break down the difference between these popular digital marketing advertisements to help you understand what would be best applied to your business and your target market.
Let's start with a quick story about two of the clients we worked with. Both of these clients are dealing with selling property for a deceased loved one. The first one was averaging about 3-5 transactions a year. They came to us because they ran ads and  it doesn't seem to work They were frustrated looking for a solution.
The second one was averaging 40-50 transactions a year and they wanted us to help install systems with 2 goals. Get them up to 80 transactions yearly and do it without adding more effort.
We've been able to help them both and I want to share with you the big difference between the 3-5 transaction approach and the 40-50 transaction approach.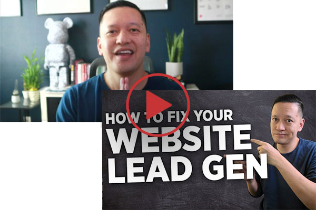 YOUR WEBSITE ISN'T GENERATING ANY LEADS BUT WE HAVE A SOLUTION​
In this free 20 minute video training you'll discover:
Whenever you are ready, click the RED button below that says "Grab my training now"
The Role of Sales Funnel in Your Marketing Campaign
The journey prospective customers take to make a purchase is referred to in marketing as a sales funnel. This is where the two agents made huge distinctions in their marketing approach. The second agent understands that consumers have different levels of awareness on each part of the sales funnel. While the other one thinks all leads are the same.
#1 Top of the Funnel – The problem aware
#2 Middle of the Funnel – The solution aware 
#3 Bottom of the Funnel – The product or service aware
The majority of agents, including agent number 1, frequently assume that all generated leads, regardless of the source, will be at the bottom of the funnel. But to their dismay, it isn't or they may get leads from the bottom of the funnel but they're very expensive or very difficult to convert. So, they end up getting disappointed and think all leads are too expensive or garbage.
The agent with a 3-5 yearly transaction strategy was trying to target the executors of the estate. This is where the property owner already died and the property in charge is in a rush to find someone to help liquidate the asset. The problem with this is, there are a ton of variables thrown into the mix. For example, dealing with siblings, if there is no will, or if they need to get an attorney involved. In short, they're trying to touch the bottom part of the funnel. The intent was higher but it also costs a lot to target this part of the funnel. That's because costs increase as you move down the funnel, and costs decrease as you move up.
If you're trying to build a scalable business with this type of lead, it is extremely expensive. This is why Zillow leads cost a lot. This type of lead is at the bottom of the funnel, thus intent is higher, and trying to hit them with an advertisement will normally cost more. 
The other agent, with 40-50 yearly transactions, focuses on leads at the top of the funnel. The leads they're trying to get have lower intent, but they have a process behind this strategy. It was to capture the lead and implant themselves as the solution before the bad thing happens. They made sure that if a lead was not problem aware yet, they educated them on becoming problem aware. Or if they were already problem aware, they made them solution aware long before the finish line was coming for a loved one. That simply drives them to be the first in mind in the decision-making process when the lead is finally looking for an agent for help.
LEARN HOW WE'VE GENERATED OVER
100,000 LEADS

FOR OUR REAL ESTATE CLIENTS LAST YEAR
Marketing Strategy – create inbound strategies to better position you for the long game.

Systems Implementation – we design and implement systems for you to buy back your time.
Brand Building – position you as the thought leader and authority in your community.
Choosing The Right Advertising Campaign
What does this all mean and how does it relate to Facebook Ads vs Google Ads vs Zillow Ads?
Depending on your strategy, all of these platforms for generating leads will work for you. You just need to understand the strengths of each and align them with your budget and your time horizon.
Imagine a graph where X is time and Y is cost. Then there's a delta, a line going up to the right that indicates sales
If you're looking for transactions now, expect to be paying a high price for them because they are lower in the funnel or have higher intent. But if you can increase your time horizon to working with people higher in the funnel, you will be able to scale easier in the long run.
If we break the graph into 3 columns and label them with the 3 stages of the Sales Funnel ( Top, Middle, and Bottom) will be able to align the 3 advertisement campaigns on each column.
If you need leads and transactions now, expect to spend a lot and the solution would be Zillow leads. If you can delay the need for a transaction, and want to work the Middle of the Funnel, then Google Ads is a great match. This is where leads are already problem aware and are searching for a solution.
If you can delay the next transaction and work on top of the funnel, then the Facebook advertisement is the way to go. The cost per lead is a lot cheaper. It's the secret sauce to building consistency and predictability in terms of lead acquisition. If you play the long game, this is your way to see a lot more real estate transactions in the long run. 
Lead acquisition is not an easy process, it takes a lot of studies and the right strategy for you to succeed. While opting for digital marketing is highly accessible, you need to have the right knowledge to avoid wasting your money on efforts that don't work. 
If you're thinking about lead generation, the first two things to figure out are your budget and your time horizon. This way, you'll be able to choose a marketing campaign that is aligned with your goal.

Find out more tips to help you scale your business and build predictability. Join our free Square 1 Facebook Group today. If you need help building out your real estate website, we're just a call away! We're experts so feel free to reach out to us and we'll be more than happy to help you out.