As a real estate agent, you have to take care of lead generation which includes a real estate web design. But what's often missed is that lead nurturing is just as important for your business.
However, many agents (especially new ones) have misconceptions about what lead nurturing is. 
They often think of it as simply a reminder to follow up with a lead and see if they're ready to pursue a transaction. But this is the wrong way to think about it. To get lead nurturing right, there are 6 foundational principles that you need to understand.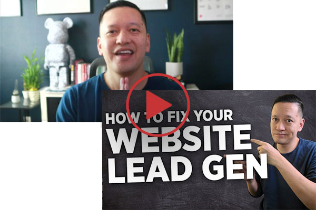 YOUR WEBSITE ISN'T GENERATING ANY LEADS BUT WE HAVE A SOLUTION​
In this free 20 minute video training you'll discover:
Whenever you are ready, click the RED button below that says "Grab my training now"
6 Foundational Principles In Lead Nurturing
Principle #1: Personalization
This means making sure that your communication with a lead is unique and personable. Use the lead's first name and write an email that feels more like a 1-on-1 conversation instead of a mass marketing email.
Principle #2: Relevance
Provide valuable and relevant content that addresses a lead's pain points, goals, or challenges. To do this, you need to know your audience. For example, if it's summer and you specialize in families, you can send them information on summer activities that would be relevant to them.
Principle #3: Consistency
Stay in touch with your leads on a consistent basis to build a relationship and keep yourself top of mind. This could be as simple as sending 2 emails a month, a text message, and making a quarterly phone call.
Principle #4: Timing
Make sure you reach out to your leads at appropriate times. For example, families may be more likely to respond to text messages on Sundays, when they're winding down for the new week.
Principle #5: Measurement
Track and analyze the effectiveness of your lead nurturing strategies. This can help you accelerate the "know, like, and trust" factor, leading to faster lead-to-client conversions. You can measure the effectiveness by dividing the number of replies to a campaign by the number of people you sent the message to.
Principle #6: Optimization
Continuously improve your strategies based on the data you collect from measurement. For example, if you get a lot of responses to an email about a new restaurant but no responses to an email about mortgage rates, you should create more content about the restaurant and stop creating content about mortgage rates.
LEARN HOW WE'VE GENERATED OVER
100,000 LEADS

FOR OUR REAL ESTATE CLIENTS LAST YEAR
Marketing Strategy – create inbound strategies to better position you for the long game.

Systems Implementation – we design and implement systems for you to buy back your time.
Brand Building – position you as the thought leader and authority in your community.
By applying the 6 foundational principles of lead nurturing, real estate agents can build stronger relationships with their leads, create a more personal and relevant experience, and increase their chances of converting leads into clients. 
Remember that lead nurturing is just as important as lead generation and requires a strategic approach. Take the time to outline a lead nurturing system that fits your business and start implementing it today. Your efforts will pay off in the form of increased conversions and a thriving real estate business.
Find out more tips to help you scale your business and build predictability. Join our free Square 1 Facebook Group today. If you need help building out your real estate website, we're just a call away! We're experts so feel free to reach out to us and we'll be more than happy to help you out.