One of the biggest challenges most real estate agents face after getting their license is figuring is how and where to start. In my business, creating great real estate web design and providing strategies to help them scale their business, I've talked to thousands of realtors and what most agents don't know is that speed is one of the biggest factors in this business simply because you're trying to get a return on your initial investment of education and getting your license in the first place, plus you're also not trying to spend any more money in the process.
This, unfortunately, can be really misleading because most agents as soon as they get their license don't realize that there are more additional fees and costs that they need to pay in order to start operating their business.
I first want to start by helping you understand the psychology of the consumer when selecting a real estate agent to work with because this has everything to do with where your first transaction is going to come from. The average consumer goes through a three-step process or levels and decides who is the real estate agent they want to work with.
Level one – start off with someone that they know.

Level two – and if there's no one in their immediate sphere then they're going to ask for referrals.

Level three – they are going to go with someone that has influenced them may be from a video or a social media post or any type of marketing and has become a thought leader in their mind.
Now if you're starting off, level three is completely unrealistic for you so let's temper that expectation now, levels one and two are where you're going to find your first transaction so let's focus on those now because they're going to move the needle the quickest for you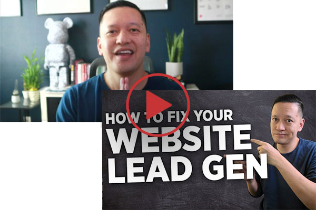 YOUR WEBSITE ISN'T GENERATING ANY LEADS BUT WE HAVE A SOLUTION​
In this free 20 minute video training you'll discover:
Whenever you are ready, click the RED button below that says "Grab my training now"
Getting Your First Transaction
Depending where you're starting from in your real estate career for example if you haven't got your license yet then I think this would be a really great starting point for you. This is the anticipation step and the idea behind it is we want to start creating some excitement for things to come.
So start putting it out there on your social media and texting your close family and friends that you're in the process of getting your real estate license. Just tease it to them and let them know that you're planning to get it in X time and if anyone in your sphere has some questions or is looking to buy or sell in the next few months. You've now easily created a brand-new lead.
Step One – Sign Up With A Brokerage
A lot of agents go crazy trying to find the perfect brokerage for them, weighing out pros and cons, however after doing the repetitions my advice on this one would be to just pick one because, at the end of the day, you're likely going to be switching. It may not be in the next month or few months but it will inevitably happen.
Also, your first transaction is not going to come from the brokerage so it doesn't really matter which brokerage you decided to work with. You just need a place to hang your license so that you can do some business.
Step Two – Do An Audit Of Your Contacts
This is where we're going to start to get our nails dirty and the way that you're going to audit it is like this. You're going to create a table on a piece of paper or you can use Google Sheets or Microsoft Excel and this table is going to be made up of five columns.
The first one is labeled family, then household, then-current living situation, then estimated finances, and lastly next step. The goal of this exercise is we want to try to identify some commonalities with the people within our sphere. For example, if we see a lot of people in our sphere that are renters then it would behoove us to try to serve those people and get them into their first home because they're the low-hanging fruit
Step Three – Post An Ask
This is going to go to your sphere so it can go to your Facebook, you can set out a mass text or if you have a bunch of emails you can just create this email and then BCC everyone in your address book and this email is going to ask a simple question. Based on who you identified in step two, The ask is as simple as, "are you looking to ______ in the next 12 months? "
Now, if you've done this correctly your sphere will respond to this question and you'll find that a lot of the people that you presumed were having this issue will actually make themselves known to you and comment back.
Step Four – Shake The Tree
Once you've executed this, then the next step is we want to try to shake the tree a little bit more and see if we can try to create some referrals. So wait a week and then you're going to post another ask.
Again based on the group or community that you identified in step two we're going to ask our sphere the same question but we're going to ask it slightly differently. The ask is going to look like this. "Do you know anyone that is looking to _______ in the next 12 months?"
It's a very simple question but you'd be surprised how many of the people within your sphere likely know someone that has the intent to do the thing that you're saying that you do. And then voila you now have at least a handful of people that are looking for some help in real estate and you positioned yourself as a potential problem solver to their problem. Now depending on how big your sphere is, this leads us to step five.
Step 5 – Nurture Your Clients
The majority of people you engage with are likely going to be not now clients so you're going to have to nurture them. When you're starting off, you're not trying to spend any money right now on any additional costs like a CRM since you need to get a return on your investment as quickly as possible, so we're going to bootstrap this process of nurturing.
The bootstrap process of nurturing is no more than creating a reminder for yourself and sticking to that reminder. So find a place where I can see a daily reminder of things to do. I personally use it to do a list and create a recurring event but it's as easy as just taking out your calendar and putting a post-it note on a calendar date. What I would essentially do here is I would tv take the little post-it note and write down the person's name 12 times on 12 post-it notes and paste this post-it note on a day every single month.
This will be a reminder to me that on this day I need to reach out to this person and check in with them. You are either going to call text or email and you're simply going to ask a question. This is a very simple check-in just to check on their well-being because at the end of the day we are not trying to pitch we are trying to serve and this is one of the easiest ways to show that we care
LEARN HOW WE'VE GENERATED OVER
100,000 LEADS

FOR OUR REAL ESTATE CLIENTS LAST YEAR
Marketing Strategy – create inbound strategies to better position you for the long game.

Systems Implementation – we design and implement systems for you to buy back your time.
Brand Building – position you as the thought leader and authority in your community.
Statistically most agents find that their first transaction usually comes from their sphere so we're playing the numbers game here. As ridiculously easy as the sounds, you'll find that most agents starting off don't follow this process and struggle with trying to get their first deal on the books.
This system I just shared with you now is incredibly easy to implement and you can definitely have this up and running within the day.
Find out more tips to help you scale your business and build predictability. Join our free Square 1 Facebook Group today. If you need help building out your real estate website, we're just a call away! We're experts so feel free to reach out to us and we'll be more than happy to help you out.