Are you currently running Facebook or Google ads but not getting the results you're looking for?
Or are you getting leads but they're just not qualified so you end up wasting a lot of your time and energy for nothing? Or even worse, you're not getting any leads at all?
Nothing beats the feeling of your phone not ringing, your inbox filling up with more spam than real prospects looking for help, or having wasted your time on a call with a lead who was clearly not qualified. Because the reality is, having a website with great real estate web design is not enough to move the needle for your business unless you drive people towards it. 
Lead generation is a problem that a lot of real estate agents deal with. It doesn't matter if you're a newly-minted agent or have been in the real estate business for decades. 
What usually happens is that first, you give it a try yourself. However, since you're a real estate agent and not a marketing expert, it doesn't work so you end up getting frustrated. Then, maybe, you try hiring an agency to do it. This is a great solution but unless you've got a massive budget, they end up not meeting your expectations and it doesn't work either. Finally, you give up completely and think that advertising online doesn't work.
The reality is, there is a vital piece to this puzzle that you're overlooking and that is testing.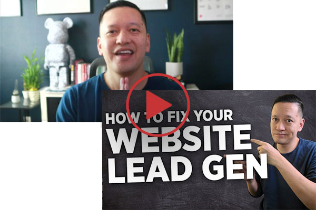 YOUR WEBSITE ISN'T GENERATING ANY LEADS BUT WE HAVE A SOLUTION​
In this free 20 minute video training you'll discover:
Whenever you are ready, click the RED button below that says "Grab my training now"
How does testing your ads work?
It is not uncommon for agents to be exposed to using Facebook, LinkedIn, or Google ads in one form or another.
Maybe it's through your brokerage or through another agent. It's also common for real estate agents to consume some Youtube video telling them that this is the secret solution to generating new business because you've exhausted nurturing your sphere and you are trying to avoid cold calling and door knocking.
Chances are, you've tried setting up an ad or a campaign either by yourself or through your brokerage's CRM. But the reality is, just because you have a CRM and threw a $100 ad to see where it gets you isn't enough to grow your business. If you're lucky, this attempt may have given you 1 qualified lead. For most, it probably landed in a huge waste of time and some aggravated effort.
You see, it's one thing to give you the keys to a car, but it's another thing to teach you how to drive. That's what these ad platforms are. They're essentially a vehicle for you to get your name out there but if you don't know how to properly drive it, this vehicle will get you nowhere.
LEARN HOW WE'VE GENERATED OVER
100,000 LEADS

FOR OUR REAL ESTATE CLIENTS LAST YEAR
Marketing Strategy – create inbound strategies to better position you for the long game.

Systems Implementation – we design and implement systems for you to buy back your time.
Brand Building – position you as the thought leader and authority in your community.
The logic behind testing is that the simple act of testing will actually get your ads to work and generate a lot more new business over time.
Alex Hormozi, CEO of Gym Launch, believes in the Rule of 100. The basic fundamental of this is the idea that if you pair volume with skill, you will be able to get your desired outcome. Another way to think about it is, if you were the best at Facebook Ads or taking calls then you would need to do far fewer ads or calls to get your desired outcome.
But the reality is, you don't instantaneously become the best. You become the best through volume. The Rule of 100 essentially states that if you do a hundred of something every day, you'll likely get better at it and you'll start seeing the outcome you're looking for.
Now the problem where you're going wrong in the process of your ads is that you're not doing enough volume to be able to effectively grow your skills. And that volume is called A/B testing.
The idea of A/B testing is simple and that is that you want to run a test for a specific part of an ad for a very specific period of time, based on a hypothesis.
By the end of that test, you should have data to provide you with a result that your hypothesis is either correct or incorrect. This is simply because the reason your ads aren't working is that there is something broken. And in order for it to work, you need to figure out what that problem is.
By creating different hypotheses of what could be broken and testing it, you will be able to gather the data that you need to continue to make iterations or adjustments to your campaign and eventually get you the desired result that you're looking for.

You can test every single part of an ad such as the message, the headline, the video or photo, or even the landing page. The reason the faucet hasn't turned on for you in terms of lead generation through these ad platforms is that the faucet is systemically broken and you're the person responsible for fixing it.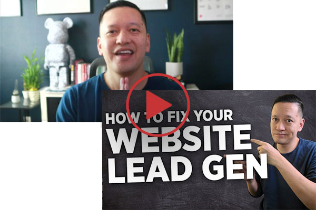 YOUR WEBSITE ISN'T GENERATING ANY LEADS BUT WE HAVE A SOLUTION​
In this free 20 minute video training you'll discover:
Whenever you are ready, click the RED button below that says "Grab my training now"
How to run A/B tests on Facebook Ads
If you try running 100 A/B tests, your skills will increase, you'll get the desired outcome you're looking for and you'll become the best at what you do.
Start with a fixed budget per day and try running A/B tests on different hypotheses for around 90 days to start and see the types of results they get you. The key here is you can't expect to run a single ad and call it a day, you need to A/B test.
This is a basic first principle of running ads and this is something that you would have to do consistently. You have to start getting accustomed to A/B testing as part of your current system to really drive the results that you're looking for.
Now, if you have any questions on this or you want some guidance, then I highly recommend that you join our free Facebook Group. However, if you're looking for some guidance on how to specifically set up your A/B testing and help grow your business, then schedule a strategy session with us today!