Whenever a real estate agent approaches us wanting to work with us either with real estate web design or strategies that help scale their business, however, one of the things that usually stops them from doing so is not having enough funds to invest in themselves and their business.
This can be a major obstacle to achieving success in real estate. But what if there was a way to better manage your money so that you can always remain profitable and have the funds to invest in your growth? 
Money management can be a tricky thing, especially when it comes to managing finances in a real estate business. You may feel like you're constantly bringing in money, but it seems to disappear as quickly as it came. That's why I want to introduce you to a cash flow system called Profit First that you can implement right away to ensure that you're always profitable.
But before we get into how Profit First works, let me share a story that will add some context to the system. Back in the day, our grandparents used jars or envelopes to manage their money. Let's say your grandfather would come home from work with a cashed check, and your grandmother would divide that money into different envelopes, each designated for a specific expense like rent, utilities, or food.
If there was a set amount of money for food for the week, say $100, and one week, your grandfather fell sick and was only able to work for three days instead of five, your grandmother would divide the money into the envelopes as usual. But this time, the envelope designated for food would only have $70 instead of $100. Nevertheless, your grandmother would still find a way to make it work, perhaps buying cheaper groceries, but making sure the family was fed.
The advent of online banking has changed the way we manage money. With money being so easily accessible in our accounts, it's easy to spend more than we earn, and this often results in feeling like we're always short on cash, even after closing deals. This is where Profit First comes in.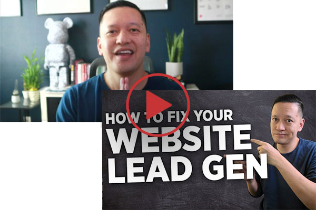 YOUR WEBSITE ISN'T GENERATING ANY LEADS BUT WE HAVE A SOLUTION​
In this free 20 minute video training you'll discover:
Whenever you are ready, click the RED button below that says "Grab my training now"
Profit First is a cash flow system created by Mike Michalowicz that operates on the principle of taking out profit before paying for expenses. This is the complete opposite of the traditional accounting system that operates on the principle of income minus expenses equals profit.
To implement the Profit First system, you'll need to open five accounts, three checking accounts, and two savings accounts. The first checking account is your income account, where all your income goes. Twice a month, you'll withdraw the income and disburse it into the remaining four accounts.
The first account is your Profit account (savings account #1), where you'll allocate about 1% of your income for bonuses, paying off debt, or hitting milestones. The second account is your taxes account (savings account #2), where you'll allocate about 14% of your income to cover your taxes. Pro tip: put these two accounts in a different bank, so you're not tempted to use the money for other expenses.
The third account is your salary account (checking account #1), where you'll allocate 35% of your income to your salary. This is the money you'll use to live off. The last account (the final checking account) is for operating expenses, where you'll allocate the remaining 50% of your income. This is the money you'll use to operate your business, including lead generation, sales, and client activities.
By allocating your income to these accounts, you'll be able to budget based on what's available in each account. If you can't afford a particular expense, you'll have to get resourceful and figure out how to do it yourself, just like grandma did with feeding the family on a tight budget.
LEARN HOW WE'VE GENERATED OVER
100,000 LEADS

FOR OUR REAL ESTATE CLIENTS LAST YEAR
Marketing Strategy – create inbound strategies to better position you for the long game.

Systems Implementation – we design and implement systems for you to buy back your time.
Brand Building – position you as the thought leader and authority in your community.
Implementing Profit First will help you live within your means and always remain profitable, allowing you to grow your real estate business without worrying about where your money went. So, if you're struggling with managing your money, give Profit First a try and see the results for yourself.
Find out more tips to help you scale your business and build predictability. Join our free Square 1 Facebook Group today. If you need help building out your real estate website, we're just a call away! We're experts so feel free to reach out to us and we'll be more than happy to help you out.