Over the past few weeks, I've been teaching and mentoring a lot of realtors and it became very clear that they are flying by the seat of their pants when it came to marketing themselves. This particular area of interest is really significant to me, I work with realtors developing strategies like social media marketing and great real estate web design that would help grow their business.
When it comes to social media, the name of the game is frequency, and the more frequent you post, the more you stay top of mind. So the next time someone in your world needs a real estate agent, they'll immediately think of you. I wanted to share a super simple strategy that you can implement that will make it easier for you to post and more importantly, post frequently on social media.
Social media is easy when you can simplify it. However, I see a lot of agents out there making it way more complicated than it needs to be. I wanted to give you a cheat code on how to show up regularly on social media.
Now, this cheat code is going to require that you do invest a little bit of time upfront to get all of this set up because this cheat code is no more than a system. Once you set up the system, the process of running it or maybe delegating someone to run it becomes significantly easier.
The setup process is going to take you all but 2 hours to do and then maybe an additional 4 hours for the rest of the month and you should be able to show up on social media every day for the next 30 days pretty easily.
A common objection I hear from agents is they don't know where to get this 6 hours from. If that's the case. I say reassess your priorities because if you can't sit and focus for 6 hours on one thing that will save you 30 days or 730 hours then you shouldn't be an entrepreneur and you're in the wrong business.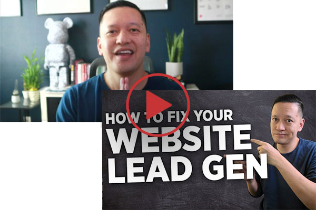 YOUR WEBSITE ISN'T GENERATING ANY LEADS BUT WE HAVE A SOLUTION​
In this free 20 minute video training you'll discover:
Whenever you are ready, click the RED button below that says "Grab my training now"
This super simple strategy or system really just revolves around themes. By the sheer act of creating a theme out of the posts you want to create each day, it makes it vastly easier for you to create and publish content. The hard part about thinking about what to post gets dissolved because you've effectively created a theme behind it.
If you already have a theme per day, the next problem would be what do you talk about? Here's another little secret. Theme each week with a particular content topic. For example, if you want to help first-time home buyers, you should know what they typically struggle with.
Start off by thinking about their struggles and come up with 12. It's going to be difficult but it really isn't that hard, look it up, or talk to prospects or clients, it should be easy for you to come up with 12. Let's start with 4, that's good for 1 month, posting 1 per week. Then rinse and repeat for months 2 and 3. You've already come up with 12 weeks worth of content.
LEARN HOW WE'VE GENERATED OVER
100,000 LEADS

FOR OUR REAL ESTATE CLIENTS LAST YEAR
Marketing Strategy – create inbound strategies to better position you for the long game.

Systems Implementation – we design and implement systems for you to buy back your time.
Brand Building – position you as the thought leader and authority in your community.
Now, what do you do after the 12 weeks? Instead of creating new topics,  repeat the 12. People on Social Media have a short attention span and they're not going to recall what you posted about over 3 months ago. However, I'd recommend slightly adjusting the content but still just repurposing the stuff you got. It's a super quick and super easy strategy to really move the needle for your content creation system.
Find out more real estate strategies to grow your business. Join our free Facebook Group today for similar content that can help you in your Real Estate journey. If you are interested in one-on-one coaching, then schedule a strategy session with me today, and let's talk about how I can help you move your business forward.