All realtors trying to establish their online presence have aspirations of having their real estate website rank organically on search engines like Google.
In my business, providing great real estate web design to help realtors grow their businesses, we launch websites left and right, and most real estate agents don't know that the success of their website is not just about the website itself but that search engine optimization or SEO play a big part in it. 
Implementing an SEO strategy for your real estate business optimizes your online visibility. Maybe you're looking for an overarching strategy to implement and didn't realize how much work is involved or maybe you've hired an SEO guru or agency and they didn't get the results you were expecting.
Here's what you need to know about SEO: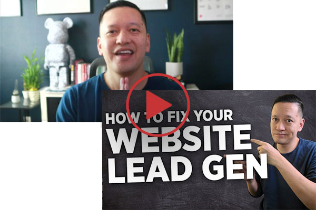 YOUR WEBSITE ISN'T GENERATING ANY LEADS BUT WE HAVE A SOLUTION​
In this free 20 minute video training you'll discover:
Whenever you are ready, click the RED button below that says "Grab my training now"
Essentially, SEO is when your website ranks on Google under a specific search term, the holy grail,  #1 under the ads, and that's what everyone is vying for.
Using our solar system as an analogy, the sun is like the home page of your website. The planets, on the other hand, are the various landing pages or "pillar" pages for those competitive key terms you're vying for. Lastly, the moons for the planets are like the supporting pages to the key pages.
However, the thing with your little website solar system, is that you have to realize that all of the pages are interconnected and one page needs to support another in order to have a stronger website.
Bringing it back to real estate, let's use the example of something we're all familiar with, first-time home buyers. If your plan is to rank for a keyword like First-time Home Buyers, then everything on this website needs to be interconnected to that keyword.
If First-time Home Buyers is the home page, and our sun, we're going to want some planets to revolve around the sun.
In this case, the planets can be different keywords or topics that support the main keyword like FHA, credit repair, or loan approval. These pages can be how-to pages like 'how to fix your credit' or comparison pages like the different rates of different lenders.
Then we need moons to revolve around the planets and these can be supporting pages to those planet pages. So for example, if the planet page is something like a comparison of different lenders, then you can have sub-pages that talk about each lender individually.
LEARN HOW WE'VE GENERATED OVER
100,000 LEADS

FOR OUR REAL ESTATE CLIENTS LAST YEAR
Marketing Strategy – create inbound strategies to better position you for the long game.

Systems Implementation – we design and implement systems for you to buy back your time.
Brand Building – position you as the thought leader and authority in your community.
The plan and overarching strategy for an effective SEO are to identify the main keywords you are vying for and layout a bit of a mind map solar system. You're going to need a mixture of about 100 planet and moon supporting pages to revolve around your sun. Each planet and moon should be no less than 1500 to 2000 words all providing high-quality value.
Ideally, SEO is a free strategy. Once you rank for the keywords you're vying for, there isn't much maintenance involved in keeping it. But the journey to getting "free" will be long and time-consuming. We're not talking a few weeks to a few months here. It will be much longer than that.
You're only going to want to do down this journey if you're ready for the long play for your business. If you need quick wins, then I'd recommend going with a strategy with a faster ROI like paid ads.
Find out more real estate strategies to grow your business. Join our free Square 1 Facebook Group today for similar content that can help you in your Real Estate journey. If you are interested in one-on-one coaching, then schedule a strategy session with me today, and let's talk about how I can help you move your business forward.