My business provides realtors with  great real estate web design, and as an added value, we also equip realtors with marketing strategies to grow their business. One of which is Facebook Lead Generation Strategies.
In our experience, there are 3 main types of ads we tested,  VSL or video sales letter, Facebook Group Ad,  and a lead magnet ad. These are 3 of the most popular real estate ad strategies out there and I wanted to dissect these to help you better understand what works best for you. 
I wanted to really compare these 3 strategies against the metrics of cost, temperature or how qualified the lead is and time or how long it will take to turn that lead into a prospect and inevitably a client.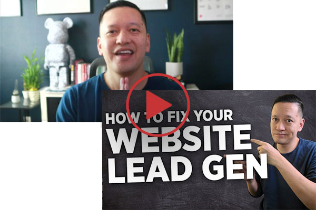 YOUR WEBSITE ISN'T GENERATING ANY LEADS BUT WE HAVE A SOLUTION​
In this free 20 minute video training you'll discover:
Whenever you are ready, click the RED button below that says "Grab my training now"
VSL (Video Sales Letter) Strategy
This is typically also known as a webinar or a value video. They're all one and the same.
The video provides value and if the lead likes the value, they'll schedule a call. The cost for a VSL lead is actually quite expensive, nevertheless, these leads are usually the best a.k.a. the warmest.
The VSL, if done correctly, quickly Indoctrinates the lead into what you do. This type of lead becomes a prospect quickly and then you're able to convert them fairly quickly as well
The drawback here is that these leads are more of a trickle. You will get 1-2 per week depending on your ad budget.
Facebook Group Ad Strategy
This is essentially where you run an ad and funnel them into your Facebook group. The cool part about this strategy is that the cost per lead is significantly cheaper.  Another benefit is the leads are a lot more frequent per week. You can actually capture hand-raisers that need help pretty easily as they are opt-in.
However, the rule of thumb is, the cheaper the lead, the more work you need to do to indoctrinate them. The last strategy gave you a warm if not hot lead, this strategy will give you more leads but they're going to be lukewarm. You're going to have to spend more time qualifying them and indoctrinating them into your world in order for them to convert.
This is the strategy where you dangle like a workbook, checklist or resource for your lead to download. When it comes to cost per lead, these are super cheap, however, in terms of temperature, these guys are colder than cold. They're ice.
The good part about these is they flood into your database. You can easily average 100+ a week of these types of leads, But with this massive influx of leads, you're going to need to spend a lot more time indoctrinating and qualifying.
It's safe to say that this is probably the most time-consuming out of the 3. It will be very difficult for you to manage this strategy yourself. This is 100% a scaling strategy. If you have a team, this is definitely useful.
LEARN HOW WE'VE GENERATED OVER
100,000 LEADS

FOR OUR REAL ESTATE CLIENTS LAST YEAR
Marketing Strategy – create inbound strategies to better position you for the long game.

Systems Implementation – we design and implement systems for you to buy back your time.
Brand Building – position you as the thought leader and authority in your community.
The question to be asked is, which one is the best? In my opinion and based on my experience, it really depends on your capacity. If you're a solo agent and already busy, the VSL is something manageable. 
If you're a solo agent but have difficulty with consistency, then the FB ads strategy will likely work best. I'd have more time to create content to indoctrinate and have more time to triage to qualify. 
Lead Magnet Strategy is the option if you want massive growth. At this point, it's a numbers game But you will definitely need help, particularly with the setting/qualifying/triage. There would be way too many leads coming in for me to do it all by myself.
So what strategy are you willing to try?
Looking for more real estate strategies to grow your business? Join our free Square 1 Facebook Group today. If you need help building out your real estate website, we're just a call away! We're experts so feel free to reach out to us and we'll be more than happy to help you out.