I want to break a belief about real estate leads. A lot of the realtors I work with, my team, and I provide great real estate web design and real estate strategies to help grow their business, believe that either every lead generated equals one client or all online leads are garbage.
There are two really distinct trains of thought that most realtors gravitate towards when it comes to talking about generating leads online and I wanted to debunk these two trains of thought and help you better understand the right way to be thinking about online lead generation.
The first particular way that most agents think when it comes to lead generation is that every lead is equal to a new client. This is actually a false belief because this is not how online marketing and lead generation works. What ends up happening is these agents run ads and get
This then leads to belief or principle number two and that is all website leads are really horrible leads. And so some agent feels like they're burned for life and scarred for forever advertising online and they end up resorting to what they believe works.
This is 100% the wrong way to think about leads online, I want to take a second and reference one of my coaches talking because he kind of breaks down in a very simple philosophy which I believe he got from Dean Jackson about leads online. For every hundred leads, about 50% or maybe more unqualified, then the remaining 50 it's about an 85/15 split. Where 85% are later people and 15% are now people.
Here's the thing that you have to realize, when you have a lead opt into your world, they don't know who you are or what you do. All you did was create some sort of collateral or a piece of marketing or advertising that presented a potential solution to the problem that they are facing.
When a potential solution is presented, you as the salesperson should not automatically be trying to convert that person. Instead what you have to understand is that you must indoctrinate that person, this person doesn't know who you are what you do so there's likely no trust there.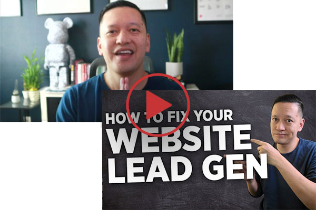 YOUR WEBSITE ISN'T GENERATING ANY LEADS BUT WE HAVE A SOLUTION​
In this free 20 minute video training you'll discover:
Whenever you are ready, click the RED button below that says "Grab my training now"
I believe this is where a lot of agents really get this part wrong. Not All leads are bad leads. In fact, having worked with this system and knowing colleagues and peers that have successfully figured this stuff out, running ads online like Facebook ads for example is actually your fastest way to scale your business up to seven figures and beyond.
The problem is most agents aren't taught how to get this to work.
The way that you have to think of leads is like a seesaw. On one end you have a lead that opts into your world maybe because you did a Facebook ad or a LinkedIn ad, let's say this weighs 100 lb. Your job once this person enters your world is to play with you on the seesaw and start providing value. Indoctrinate this person into who you are what you do what your principles are and what your beliefs are so that they can start trusting you.
If you send out an email with a piece of value and that way is 10 pounds, then you send out a Facebook post that adds another 10 pounds, then let's say you send out a text message and then another email and then another three Facebook posts, each of them weighing another 10 pounds.
Now over time, the more and more you continue to provide value the more and more your side of the seesaw gets heavier, and at a certain point when your side of the seesaw eventually gets heavy enough what ends up happening to this lead that opts into your world end up raising their hand. An indicator that this person has consumed enough of your value and has essentially told you that they want to work with you.
You'll find that by simply understanding this process of continuing to provide value over an extended period of time, the value starts compounding and eventually it forces this person inside of your database AKA leads to raise their hand.
Now here's the kicker,  the more and more leads that you enter into your world and make their way to one end of the seesaw, the more and more value you provide, and you end up getting this compounding effect where multiple people within your database start raising their hand at the same time. This is essentially when the levee breaks.
LEARN HOW WE'VE GENERATED OVER
100,000 LEADS

FOR OUR REAL ESTATE CLIENTS LAST YEAR
Marketing Strategy – create inbound strategies to better position you for the long game.

Systems Implementation – we design and implement systems for you to buy back your time.
Brand Building – position you as the thought leader and authority in your community.
The idea is very simple and that is to stop thinking of leads as either a one-to-one relationship with your automatically going to get a client or a relationship where all online leads are garbage. Once this lead enters your world they don't know who you are and what you do remember they just know that they have a problem and it's your job to indoctrinate them as you are the solution.
Find out more real estate strategies to grow your business. Join our free Facebook Group today for similar content that can help you in your Real Estate journey. If you are interested in one-on-one coaching, then schedule a strategy session with me today, and let's talk about how I can help you move your business forward.