Your business is made up of 5 main components or pillars, these pillars are lead generation, lead nurture, sales (or the act of converting a prospect into a client), fulfillment (or fulfilling the need of that client), and lastly retention. And as someone in the real estate web design business, I get to talk to a lot of real estate professionals, and whenever I talk to Realtors about their struggles many of them talk about the same challenge which is pillar number one, the act of getting or acquiring leads.
What realtors often hear is that they've tried postcards, hit the streets and knocked on doors, or maybe got a list and started cold calling. Some may have had tried dabbling in Facebook ads and digital marketing and maybe ended up with something like 30 leads a month, which then led to the and so it probably left you with a bad taste in your mouth
The biggest problem with these solutions is that they don't give you consistent leads on a daily basis. Essentially, in order to solve the lead generation problem, we need to be able to create leads on demand.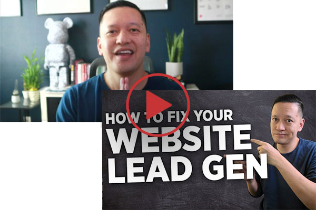 YOUR WEBSITE ISN'T GENERATING ANY LEADS BUT WE HAVE A SOLUTION​
In this free 20 minute video training you'll discover:
Whenever you are ready, click the RED button below that says "Grab my training now"
Your lead flow is a lot like the flow in a faucet. You need water to survive, just like you need leads for your business to survive, you need a continuous stream. If you're only getting drips, you're going to die of thirst, or in the case of leads, if you're only getting 1 or 2 a day, then it definitely is not sustainable.
Instead, what we want is to have a steady flow. To have a successful and scalable business, you need to be getting multiple new leads every single day. So, what does a steady flow of leads look like? It's more like 20-30 per day.
And if you think this is hard, or if you think this is completely absurd, I'm here to tell you to know that it really isn't. It's something that we do on a regular basis. And, if you're not getting this type of volume, then this should be the main problem that you need to focus on fixing.
Simple Tips To Create Lead Flow 
I've put together 3 easy to implement little tips if you will to help you get more leads:
Tip #1 – You need to start spending money on marketing.
Saying that your business is completely referral-based is not a flex. What you're inevitably saving in money, you end up giving up in time – and time is more valuable than money any day of the week.
If your goal is to remove yourself from your business, doing it all by referral is going to be extremely difficult. So, set aside a few bucks a day and invest it towards marketing yourself. 
Tip #2 – Constantly test your message.
Sending out one type of marketing message and letting it just sit there for a week, much less a month is way too long. The process of getting up to 20-30 leads a day isn't a light switch unless you have a massive budget. You need to start with a baseline and see how many leads you can get per day and then tweak the message to see if you can get that number higher.
Think of it as a game that you need to play every other day. The more frequently you play the game, the better you get at it and the more leads you can generate.
Tip #3 – Get specific on the problem.
One of the secrets to getting a ton of leads is to understand where they are in the sales funnel and then deliver the right message. At the top of the funnel,  where these leads are hiding, they are only problem aware and are not solution aware. The key here is to create marketing and talk about the problem, then position the answer to the problem on the other side of them providing their contact information, which then becomes your captured lead.
LEARN HOW WE'VE GENERATED OVER
100,000 LEADS

FOR OUR REAL ESTATE CLIENTS LAST YEAR
Marketing Strategy – create inbound strategies to better position you for the long game.

Systems Implementation – we design and implement systems for you to buy back your time.
Brand Building – position you as the thought leader and authority in your community.
Your business needs a steady lead flow and lead flow isn't 1-2 leads a day, it's 20-30. To get there you're going to need to start spending money, test your message and make sure you get specific on your lead's biggest problem. From there just continually get your message out there, build trust and then eventually turn them into a client.
Find out more real estate strategies to grow your business. Join our free Facebook Group today for similar content that can help you in your Real Estate journey. If you are interested in one-on-one coaching, then schedule a strategy session with me today, and let's talk about how I can help you move your business forward.