In the real estate business, generating seller leads is the holy grail of leads. Every agent I speak with wants seller leads, my business provides real estate strategies along with great great real estate web design to realtors. Sellers have all the power in a transaction, especially in the market right now. The challenge here is getting those seller leads because trying to get a complete stranger to trust you with one of their largest asset they own is difficult.
If you're a real estate agent in the same boat, I've outlined the three main reasons why sellers sell their homes. Once you understand this, then marketing to homeowners and acquiring leads will be an easier process altogether. 
Reason #1 – The Home Itself

You hear a lot of variations from sellers about why they are interested to sell, It could be that their family is getting too big and the home is too small, or they have really annoying neighbors, or maybe they are empty nesters and are starting to have difficulty maintaining a huge home. These are just a few reasons, but ultimately sellers typically sell because their home no longer suits their needs.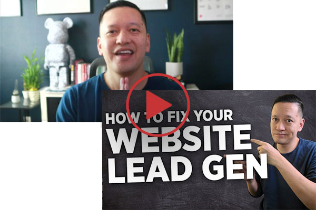 YOUR WEBSITE ISN'T GENERATING ANY LEADS BUT WE HAVE A SOLUTION​
In this free 20 minute video training you'll discover:
Whenever you are ready, click the RED button below that says "Grab my training now"
Reason #2 – Financial Reasons

Homeowners sell their homes for financial reasons, It could be that money is tight or the opposite, careers change for the better and they want an upgrade.
It could also be that the home is costing them a lot in terms of home maintenance and they don't want to deal with it. Or maybe the value of the home has increased so much that they want to cash out. The main point is that money is the motivator
Reason #3 – Personal Reasons
These could be things like a new job offer that require homeowners to relocate. Wanting to move to a specific area for things like family, school district, workplace, and the like. The idea behind this is, as life changes, so do the living situation.
Now, what does this all mean and how do you use this?
It's simple – we drill down on that reason. For example, if it's a home reason like a growing family, then we're going to create an ad focusing on talking about upsizing, specifically the pain. 
It could be the pain of already living in a small space or maybe the pain of not having any alone time, or the fear of a growing family and not having enough room.
Once we've been able to identify that, then we think about a low-risk and low-time investment solution that this person facing this challenge can easily do to solve it. It doesn't have to be anything grandiose like working with me to buy a bigger house or anything like that.
A lot of agents resort to phone calls, this is easy for you but not for them. They don't want to be on a call to get sold too.  It needs to be something easier than that.
Take a step back and think simpler, like a checklist to help you start saving for a bigger home or maybe a guide to get the lead into the right mindset for taking the next step. You simply just need to lay it out in a document something that you've done plenty of times before, something that will provide instant value to a potential client.
Once you've created this, create an ad that talks about the pain and if they want your solution then it'll cost them their telephone and email. You can do this with a Facebook or Google Ad or you can even do this with a postcard, create a postcard talking about the pain and then add a QR code that they can scan to get the solution.
LEARN HOW WE'VE GENERATED OVER
100,000 LEADS

FOR OUR REAL ESTATE CLIENTS LAST YEAR
Marketing Strategy – create inbound strategies to better position you for the long game.

Systems Implementation – we design and implement systems for you to buy back your time.
Brand Building – position you as the thought leader and authority in your community.
The bottom line is sellers' intent is based on home reasons, financial reasons, and personal reasons. You just have to identify that reason and drill down on a problem, create a solution to that problem and market yourself as the one that can solve that problem. 
Find out more tips to help you scale your business and build predictability. Join our free Square 1 Facebook Group today. If you need help building out your real estate website, we're just a call away! We're experts so feel free to reach out to us and we'll be more than happy to help you out.