In my business, providing great real estate web design and real estate strategies to realtors, we help realtors implement programs to scale their business. One of the strategies that we apply in our business and implement for our clients as well, is the strategy of niching. If your goal is to scale up your real estate business quickly and really go beyond just being strictly a referral-based agent then niching may just be what your business needs. 
This is also very timely, we're currently working with a client right now, and they're doing over 50 transactions a year, but they are exhausted, unhappy, and constantly stressed. They go on vacations, but they're still working, and when we were talking to them initially they were pretty much working like 60 to 80 hours work week, feeling completely overwhelmed and just drained. And as it turns out, there really is a very simple fix to the problem that they're facing. 
I'm sure that a lot of realtors out there are in the exact same position.  It is the exact strategy that you're going to really want to start off doing, depending on wherever you are in your real estate business so that as you scale up to 50-plus transactions a year, you're not going to be wanting to pull your teeth or your hair out.
There are a ton of reasons why niching is a smart strategy. Solving one problem very well is really the fastest pathway to becoming an authority in your market. People tend to have this bias of working with specialists instead of generalists and if people think of you as an expert at one thing in real estate, they'll automatically think of you as the expert at everything in real estate. 
All businesses and this is not just limited to real estate, go through the exact same transformation as they scale. It starts from this one position here at startup, where we kind of label this as the business of one and then it goes through this transformation to what's called a business of businesses.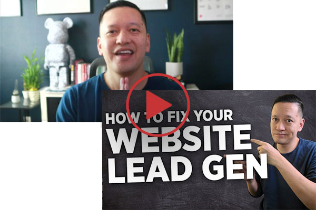 YOUR WEBSITE ISN'T GENERATING ANY LEADS BUT WE HAVE A SOLUTION​
In this free 20 minute video training you'll discover:
Whenever you are ready, click the RED button below that says "Grab my training now"
The Business Transformation
The transformation that all businesses go through can be broken down into four main stages. 
Stage One – The Business of One
This is the startup phase. In the business of one, this is usually typically you or maybe you and a partner and essentially you're doing everything. It's you or you and a partner doing some of the marketing, and then you and a partner doing some of the sales, and then maybe you or your partner maybe doing some of the fulfillment. With all of this, you and your workload get full very quickly because you inevitably end up wearing many hats. 
Stage Two – The One Big Team
When you have one big team, it's really you slowly scaling up the business. At this point, you're maybe just hiring an admin person or a VA or an assistant and somewhat you're able to lessen the load of everything that you need to do.  Everyone's doing a little bit of the marketing, a little bit of the sales, and a little bit of the fulfillment. You're getting some help, but at the end of the day, everyone is still doing a little bit of everything. 
Stage Three – A Team of Teams
When you're at stage three what starts to happen is things start to get a little bit more organized. You now have one team handling strictly fulfillment, one team handling strictly sales, and then one team handling strictly marketing. 
Stage Four – A Business of Businesses
Essentially, in this stage of the business of businesses, each little silo of your business is now selling one product or one service. Each silo has its own marketing, sales, and fulfillment. 
And maybe that's selling one thing or solving one problem, then you may have another one solving another problem or providing a completely different service, and so on and so forth. Okay, so let's talk about some real-world examples of the four stages of the business. 
Take Amazon for instance. It started off with Jeff Bezos, and it was just him and his garage selling books. It evolved into maybe him hiring a few assistants, stage two, to help do the fulfillment of those books and creating the website and really kind of managing that whole system and process. And then stage three is where he started to silo some of the responsibilities of who's going to be responsible for sending out the books, who's going to be responsible for marketing, who's going to be responsible for the upkeep of the upset, and so on and so forth. The fourth stage is really what we see now and what Amazon has evolved into. It's a business of businesses. 
It's a business of e-commerce where they're not only selling books, but they're now selling products within the website. They're selling another business, which is hosting services for websites so that's the AWS system or the cloud system. They also have another business Alexa. That's a whole other business of businesses that each one of these silos has its own marketing, sales, and fulfillment departments. 
Using Tesla as the next example. Elon Musk started off with one big team with him and a few people that created a prototype for the Model S. And then when it went to scale, then they started siloing everybody between marketing, sales, and fulfillment. They then started to scale, even more, and they grew to a business of businesses where it's now selling products for the Model S, the Model Y, the cyber truck, the model three, and so on and so forth. 
Another example that maybe you're familiar with is Ryan Ceram, superstar coach, and real estate agent. He started off by selling real estate himself. Then he started to develop a team, and then once he was able to develop that team, he started siloing the responsibilities. He became a business of businesses, where he's now selling real estate and also selling his coaching services and really all of the other things that he's doing, like his media empire. All right, now let's bring this full circle, and let's tie this back to you because I know this information is a bit overwhelming.
LEARN HOW WE'VE GENERATED OVER
100,000 LEADS

FOR OUR REAL ESTATE CLIENTS LAST YEAR
Marketing Strategy – create inbound strategies to better position you for the long game.

Systems Implementation – we design and implement systems for you to buy back your time.
Brand Building – position you as the thought leader and authority in your community.
Depending on where you are in your business, you're likely starting off either as a business of one or one big team. The power of niche or niche really helps you accelerate the process of getting from stage one to stage four. As a business of one or one big team, the goal of stage one or two is to pick one specific problem that the marketplace is facing and then solve it. And as you continue to solve it, you will start to see patterns in the process of solving it, and create systems and processes so that you can convert from one big team to now a team of teams where multiple people are wearing multiple hats for their different departments. 
Once you've been able to scale up and solve that one problem, having one team solving that one problem, then you can move on to really a business where you're solving multiple problems at once. Contextually this is maybe solving a problem specifically for first-time home buyers in your area, or maybe move-up buyers, or maybe people going into retirement and moving into assisted living. Let's solve that one problem first, figure out how to make it work, systematize and silo to get into the three main buckets of sales, marketing, and fulfillment, and then move on to really the next problem that you want to solve, which is in this case, stage four. 
Find out more tips to help you scale your business and build predictability. Join our free Square 1 Facebook Group today. If you need help building out your real estate website, we're just a call away! We're experts so feel free to reach out to us and we'll be more than happy to help you out.