Here are the main things to consider when trying to get buyer leads on Facebook:
How to Find Home Buyers on Facebook?
Using Facebook Lead Ads to Market to Home Buyers
Get Home Buyer Leads from Instagram Reels
Finding Home Buyer Leads on Facebook Marketplace
Use a Facebook Group to Nurture Home Buyer Leads
Why Am I Not Getting Any Home Buyer Leads on Facebook?
Best Practices for Real Estate Agents Targeting Home Buyers
Home Buyer Leads: KPIs to Track
Did you know that Facebook has over 2.9 billion active users? This makes it an extremely powerful marketing platform for businesses of all sizes, including real estate agents. However, after talking to thousands of agents, we quickly realized that a lot of agents struggle to generate leads effectively on the platform.
So if you're a real estate agent who's struggling and looking to increase your buyer leads through Facebook, then you've come to the right place! In this short blog post, I'll be sharing some effective strategies that I've found in order to help you find and nurture home buyer leads on Facebook. We'll also discuss why some agents may not be seeing the results they want and provide tips for optimizing your efforts. So, let's dive in and explore how to get buyer leads on Facebook.
How to Find Home Buyers on Facebook?
You see, what we realized is that most agents fail to understand the two main factors to find home buyers on Facebook; your target audience and how you can reach them. Here are some effective strategies that we use to help agents like you, find potential home buyers on the platform:
Most agents fail to capitalize on Facebook's ability to target specific demographics, interests, and behaviors to reach potential home buyers. So instead of creating an ad for everyone to see, you can customize your audience and further optimize it by selecting the purpose of the ad such as lead generation or brand awareness.
This allows agents, like you, to build more effective ads. What we've discovered is that an effective ad must have 3 basic elements; a clear target audience, a compelling ad copy, and eye-catching photos or videos. Facebook also has a retargeting feature that allows users to show their ads specifically to those who have interacted with their website or social media pages in the past.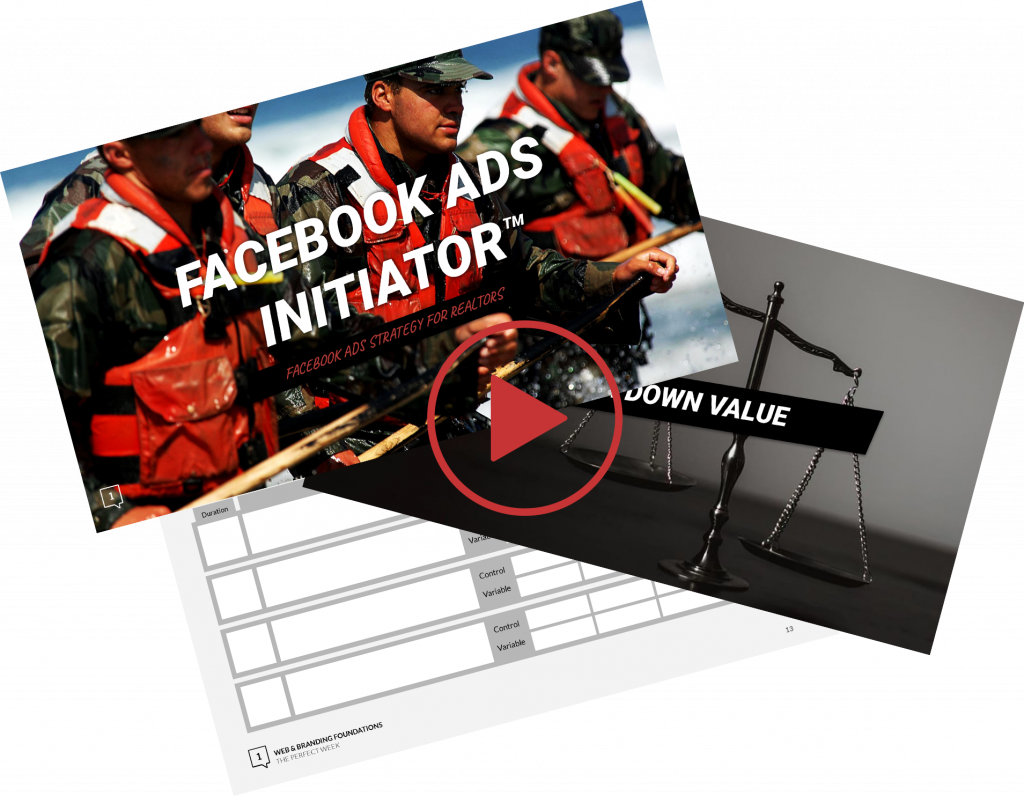 YOU'RE RUNNING OUT OF WAYS TO GENERATE LEADS BUT WE HAVE A SIMPLE SOLUTION
In this free workbook, you'll discover:
Whenever you are ready, click the RED button below that says "Grab my workbook now"
Another strategy that we teach our agents is to join relevant Facebook Groups to grow their sphere of influence. You can do this too by joining local groups for either real estate, home-buying, or even home decor. Once you're part of the group, all you need to do is be active and engage in the posts so that you can build rapport with that audience. 
On top of that, you can also build your own Facebook Group and attract your own audience by inviting potential clients to join. You can leverage this group and share relevant content with your audience and answer any questions they might have to help them with their home-buying journey.
3. Utilize Facebook Marketplace
Facebook Marketplace is another free tool that you can use to market your services and listings to potential buyers. You can post your listing there and target an audience by adjusting the location, price range, and other relevant criteria. 
Just remember that when you upload your listing, all of the information is accurate and that the photos are high-quality. At the same time, if you want more home buyers to see this, you can invest some money into running an ad.
4. Leverage Facebook Events
The fourth way you can find home buyers on Facebook is by creating an event. Let's say, for example, you're having an open house at one of your current listings, create a Facebook event specifically for that open house. You can do this by creating an event page so that people can also see your page and other information about your listings.
You can take this an extra step further by running an ad to promote your event. 
You see, by using these simple strategies, you can effectively attract home buyers on Facebook and increase the chances of generating qualified leads. However, it is important that you understand how Facebook's algorithms work as well as its policies when it comes to housing. 
Using Facebook Lead Ads to Market to Home Buyers
If you're looking to capture more leads and their information, then Facebook Lead Ads are the perfect tool for you. Facebook Lead Ads will allow you to capture the user's information such as their names, email addresses, and even their phone numbers within Facebook.
And here's how you can start using Facebook Lead Ads to effectively market to home buyers:
1. Determine Your Target Audience
Whenever we work with our real estate agent clients, the first thing we help them do is to identify their ideal clients. This is because without knowing who you're targeting, we wouldn't be able to do them justice with their marketing.
We know firsthand how this can be exciting for you to target everyone and build a huge audience, but you must also remember that setting a large audience may give you more unqualified leads. So be sure that you have a clear understanding of who your ideal home buyer is.
2. Create Compelling Ad Copy and Visuals
According to research, an average user can see up to 1,500 posts daily on their feed. This makes competition fierce on the platform and in order for your ads to capture the attention of your target audience, you must show them eye-catching visuals.
To go along with your visuals, your ad copy must also be effective. From the information you're providing to your Call-to-Action, you need to indicate a clear next step for the lead in order for them to take action.
3. Offer Something of Value
"Information will always cost you." this is what we tell all of our real estate agent clients before they start running Facebook Lead Ads. You need to offer something of value in return in order to get leads to actually click on your ads.
You can create different types of lead magnets such as a homebuying guide, a personalized property search, or a free 10 to 15-minute brainstorming session.
4. Follow Up with Your Leads
Now, one of the things that most real estate agents fail miserably at is following up with their leads. A lot of agents focus only on generating leads but not enough on nurturing leads once they've captured them. 
The way we see it, you spend so much time and money capturing leads only to lose them in the nurture phase. So it's essential that you follow up with them and do it promptly. You can automate by using email marketing tools such as Mailchimp or Constant Contact and send your leads personalized follow-up emails. 
Just be sure that your emails provide your leads with valuable information that will encourage them to raise their hands and take the next steps in their home-buying journey. 
All in all, using Facebook Lead Ads to market to potential home buyers can help you reach a wider audience. However, knowing how it works and tracking your results to adjust and optimize your ad strategy is crucial to making it an effective tool that gives you an ROI.
LEARN HOW WE'VE GENERATED OVER
100,000 LEADS

FOR OUR REAL ESTATE CLIENTS LAST YEAR
Marketing Strategy – create inbound strategies to better position you for the long game.

Systems Implementation – we design and implement systems for you to buy back your time.
Brand Building – position you as the thought leader and authority in your community.
Get Home Buyer Leads from Instagram Reels
If you're on Instagram, then you'd know how Instagram Reels is now one of its most popular features. Real estate agents can leverage this feature to attract home buyer leads.
One strategy that we help our real estate agent clients with is by creating engaging and informative videos that showcase their listings, neighborhoods, and other aspects of the home-buying process. You can use Reels to highlight features of your listings or any properties that you'd want to show your target audience. At the same time, you can also visit local attractions such as parks, beaches, or even small local businesses. 
Just don't forget to include specific call-to-actions in your Reels. We usually add our CTAs at the end of the Reels and we either ask the viewers to follow our account or visit our website. 
Another way to generate leads from Instagram Reels is by collaborating with other accounts. This will allow you to use other people's audience. Just look for other influencers or local businesses in your area so that they have a similar target audience and you can collaborate on a Reel. 
Lastly, it's important to be consistent with your Reels. Post regularly and engage with your audience to build a following. By doing so, you'll increase your chances of generating leads and ultimately closing more deals.
Finding Home Buyer Leads on Facebook Marketplace
Facebook's Marketplace is a great platform for real estate agents to find home buyer leads because it is exactly what this platform was designed to do; buy and sell goods and services. In fact, the marketplace even has a specific section for real estate where agents like you can post their property listings. 
Here are some tips to help you find home buyer leads on Facebook Marketplace:
1. Post Listings on Facebook Marketplace Regularly
The first tip to finding home buyer leads on Facebook Marketplace is to post your listings regularly. This will help increase your chances of being seen by potential home buyers. Just remember to use clear and high-quality photos along with the full description of the property. 
Pro tip: When posting, remember to include relevant keywords in your listing to make it easier for people to find your property when searching for homes on Facebook Marketplace.
2. Engage with Potential Home Buyers
Engage with potential home buyers who show interest in your listings by responding promptly to their messages or comments. Always check your notifications and your postings regularly so that you can answer any questions that potential buyers may have about your listing. You can also use this as an opportunity to build relationships with potential home buyers because who knows, even if they don't end up buying the listing, the next time they see something that they like, they would have an existing relationship with you already.
3. Utilize Facebook Groups
One of the things that we always tell our clients is to leverage other people's audience. So when it comes to Facebook buyer leads, you can always join other local Facebook Groups for real estate and home buying so that you can promote your listings there. These groups can provide you with a more targeted audience of potential home buyers who are already actively looking for properties in your area.
4. Monitor Competitor Listings
Although it's great that you focus on optimizing your listings on Facebook, you must also remember to monitor your competitors. Not only will this help you improve your listings but you can also see what other potential home buyers are interested in.
The Facebook Marketplace is a valuable tool for helping agents like you find home buyer leads, but it is important to use it effectively to maximize your results. By posting your listings regularly, engaging with potential home buyers, utilizing Facebook Groups, and monitoring your competition, you can increase your chances of finding qualified home buyer leads on Facebook Marketplace.
Use a Facebook Group to Nurture Home Buyer Leads
Once you've generated home buyer leads on Facebook, it's important to nurture those leads and build a relationship with them. One way you can start doing this is by creating a Facebook group specifically dedicated to your home buyer leads. You see, having all of your leads in one group makes it a lot easier for you to monitor, update, and nurture them. 
As long as you're able to keep these leads engaged, there's always a higher chance that they will transact with you in the future. 
Why Am I Not Getting Any Home Buyer Leads on Facebook?
Once you have generated leads from Facebook, it is important to keep them engaged and interested in your services. For our real estate agent clients, we help them do this effectively by creating a Facebook Group dedicated to home buying. 
Once you've created a Facebook Group, the next step is to invite your leads to join the group. Just be sure that you have already updated the group description before sending out invites. Facebook will also allow you to set up three vetting questions inside the group so that members can answer them before joining. 
And once your group is up and running, you can start to regularly post relevant content and respond to your members in case they engage with your posts. From home buying tips to new listings, or local market updates, you can use this to nurture your leads a lot faster.
Furthermore, a Facebook Group can also help you track your leads and their home-buying journeys. So be sure to monitor your group members and pay attention to those who are active and engage consistently. 
Overall, building a Facebook Group can help you nurture home buyer leads effectively. By providing valuable information and personalized support, you can increase the chances of converting your leads into loyal clients.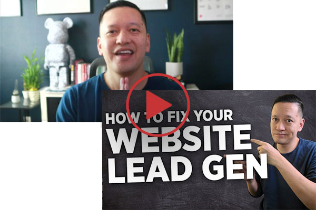 YOUR WEBSITE ISN'T GENERATING ANY LEADS BUT WE HAVE A SOLUTION​
In this free 20 minute video training you'll discover:
Whenever you are ready, click the RED button below that says "Grab my training now"
Best Practices for Real Estate Agents Targeting Home Buyers
We want real estate agents to successfully find home buyer leads on Facebook. So here are some tips that we find work best to help you get the most out of your Facebook marketing efforts:
Know Your Audience: Be clear on who you're targeting. Facebook has a tool called Facebook Insights that will help you understand your target audience's demographics, interests, and behaviors.
Create Engaging Content: Each type of audience will like different types of content. This means that you need to spend a good amount of time testing out content. For some audiences, high-quality videos might work best. However, for some, simple text posts work better.
Use Facebook Ads: Facebook Ads are a proven and tested effective way to reach potential quality home buyer leads. You can use targeting options to reach people based on location, interests, and more. 
Engage with Your Audience: Now, all content would be nothing if you don't respond to the people who engage with your posts. From comments to messages, you need to stay alert and respond to these promptly. 
Be Consistent: In marketing, consistency is key. What we found out is that agents are too eager to start posting that they fail to be consistent. And without being consistent, you can't stay on top of mind in your audience.
Provide Value: One of the biggest mistakes that real estate agents make in marketing is consistently posting only properties on their social media accounts. This is because you must first need to establish trust within your audience to actually convert them into your clients. So instead of just purely posting your properties, you should also provide value by sharing helpful information about the home-buying process, local market updates, and more. 
By following these simple best practices, you can effectively target and nurture your home buyer leads on Facebook.
Home Buyer Leads: KPIs to Track
As a real estate agent, you know that tracking your performance is critical to your success. The same goes for your efforts to generate home buyer leads on Facebook. To ensure that your lead generation efforts are effective, you need to track certain key performance indicators (KPIs).
Here are some KPIs you should consider tracking when targeting home buyers on Facebook:
Click-Through Rate (CTR):

This refers to the percentage of people who click on your Facebook ads or posts. If you have a high CTR, this means that your ad or post is effective and compelling enough that your target audience interacts with them.
Conversion Rate:

The conversion rate refers to the percentage of people who take the desired action indicated in the ad. This can be something such as filling out a contact form or requesting a PDF. Having a high conversion rate means that your website is effective in converting your visitors into leads. 
Cost per Lead (CPL):

As the name suggests, your cost per lead is the cost of each lead that goes through your Facebook ad funnel. The lower your CPL, the better.
Return on Investment (ROI):

One of the most important KPIs that we help our real estate agent clients track is their ROI. Your ROI should be positive and this will indicate that your ad campaigns are profitable. 
Lead Quality:

This is the quality of the leads generated through your Facebook ad campaign. A high-quality lead is more likely to convert into a paying customer.
It is important that you track these KPIs so that you can assess the effectiveness of your Facebook lead-generation efforts and make the necessary adjustments to optimize your ads. 
Facebook is a powerful tool for real estate agents looking to generate leads and grow their businesses. By utilizing Facebook Lead Ads, Instagram Reels, Facebook Marketplace, and Facebook Groups, real estate agents can easily find and nurture potential home buyer leads.
It's important to keep in mind that getting home buyer leads on Facebook takes time and effort. At the same time, you will need to be consistent when it comes to social media marketing. Don't just keep on posting your listings and asking your audience to buy them, you should also create valuable content that is relevant to your target audience and will encourage them to engage with you.
Additionally, tracking your KPIs will provide you with more insight as to what type of marketing works best for your audience. 
All in all, by following these best practices, real estate agents like you can attract and convert more home buyer leads and scale your business.