As time passes, many agents (like you!) are realizing the power of a well-designed real estate investment website. And if you're reading this, I'm assuming you're now ready to dive into the digital world of real estate. 
In this post, I'll walk you through on some of the important notes that you need to know before crafting your website. Let's begin, shall we?
What exactly is a "Real Estate Website?"
So, you might be wondering, "what on earth is a real estate investment website, and why should I care?"  Well, you can think of it as your online storefront. It's like having a 24/7 open house for your real estate business, but on the internet.
This website is where you put all your real estate goodies. Want the world to show off your real estate expertise? This is the perfect place if you want potential investors to reach out to you, your website is the key. 
Your website will be your digital profile where you can show off your expertise, tell the world that "you're the real deal!" and also, build trust with anyone who comes across it. Take it as your own fancy online brochure.
Simply put, it's your portion of the internet pie where you may do everything related to real estate, from advertising homes to sharing market information. It's essential to establish something similar to a virtual handshake with potential customers.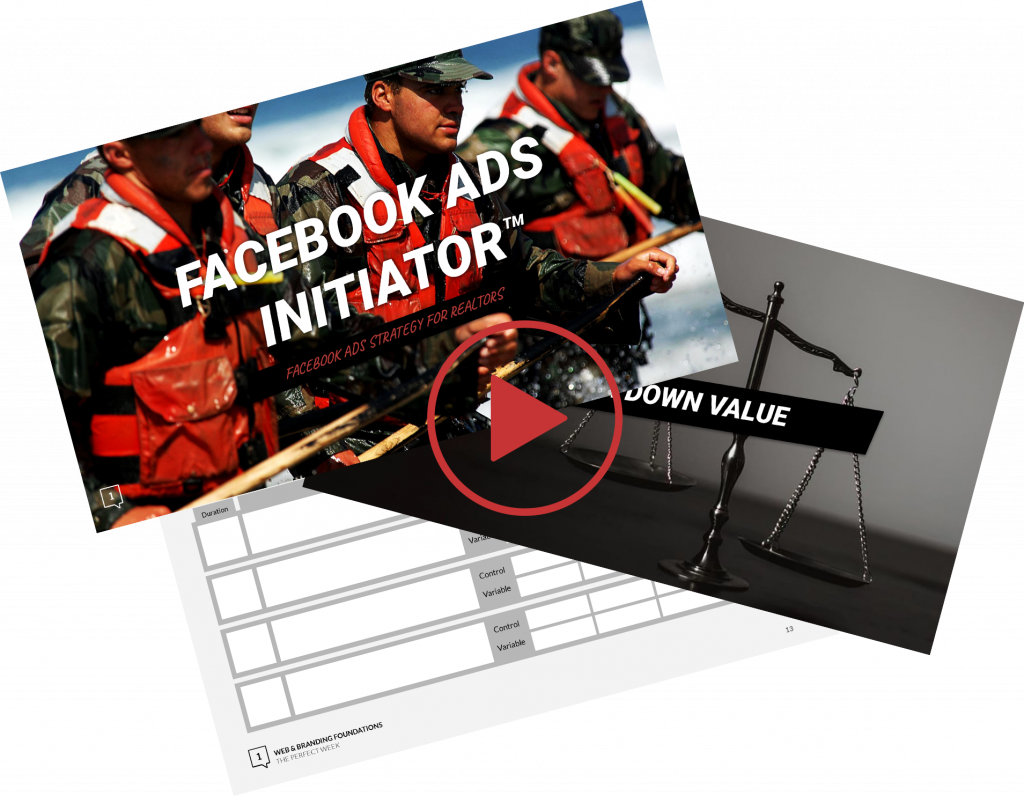 YOU'RE RUNNING OUT OF WAYS TO GENERATE LEADS BUT WE HAVE A SIMPLE SOLUTION
In this free workbook, you'll discover:
Whenever you are ready, click the RED button below that says "Grab my workbook now"



Importance of a Well-Designed Real Estate Investment Website
Now, let's discuss why having a well-designed website is important to your real estate journey. You must be asking yourself, "Can't I just use any old website?" Well, you can't.  Let's try to break down the important elements one-by-one. 
The very first impression you make on potential clients is your website. Imagine encountering somebody for the first time; you would obviously want to look your best. Your website serves as the equivalent of your polished shoes and suit.
Here's why it matters:
1. Trust Builder: When folks stumble on your website, they're not just looking for listings. They're sizing you up. A clean, professional site screams credibility. It says, "Hey, I'm serious about what I do."
2. Sets You Apart: Real estate is competitive. A well-designed website sets you apart from the sea of agents with lackluster online presences. It tells clients that you're the cream of the crop.
3. 24/7 Open House: Remember, your website works around the clock. It's your 24/7 open house, allowing potential clients to explore your listings and learn about your services at their convenience.
4. Easy Navigation: Nobody likes a cluttered, confusing website. A perfectly constructed website makes it easier to navigate, making sure that all visitors on your site can easily find what they're really looking for, without giving them a hard time navigating. 
5. Mobile-Friendly: In this smartphone age, people are browsing on their phones. A responsive website makes it look great and smoothly functions on any device, whether they're using a laptop, tablet, or a smartphone.
6. More Leads: The most important factor – a well-designed site can lead to more leads, more potential clients, and more closed deals. 
Never underestimate the power of a good first impression. Your website is your digital profile, and a well-designed one can make all the difference in a highly competitive real estate market.
Real Estate Investment Website Design Principles
We'll go into some design concepts now that you understand why a real estate website with good design is the real deal. You don't need to be an expert in design to do this, simply maintain these principles in mind:
1. Keep It Clean: A cluttered website is like a messy open house. You want visitors to focus on your listings and your expertise, not get lost in a maze of buttons and flashy graphics.
2. User-Friendly Navigation: Imagine your website as a well-organized house. Makes it easier for visitors to find what they're looking for. Clear menus and intuitive navigation are your best friends.
3. High-Quality Visuals: Think of your property listings as the star of the show. Use high-quality images and, if possible, include videos. It's like showcasing your homes in the best light possible.
4. Mobile-Friendly: Remember, many folks are searching on their phones. On computers, smartphones, and other mobile devices, your website should display and function properly.
5. Consistent Branding: Your website is an extension of your brand. Keep your logo, color scheme, and overall style consistent with your offline marketing materials.
6. Speed Matters: Slow-loading websites scare people away faster than a haunted house. Optimize your site to load quickly, or you'll risk losing potential clients.
7. Contact Information: Don't make clients hunt for a way to reach you. Your contact information should be easy to find on every page.
8. Testimonials and Reviews: Show off your happy clients! Testimonials and reviews build trust and credibility.
9. Blog Section: Position yourself as a real estate expert by including a blog. Share valuable insights and tips related to the real estate market.
10. Social Media Links: Link your social media accounts to your website. It's a fantastic method to communicate with customers and grow your internet profile.
These principles are your roadmap to creating a website that not only looks great but also functions smoothly and effectively. Remember, your website is your digital business card, so make it shine!
LEARN HOW WE'VE GENERATED OVER
100,000 LEADS

FOR OUR REAL ESTATE CLIENTS LAST YEAR
Marketing Strategy – create inbound strategies to better position you for the long game.

Systems Implementation – we design and implement systems for you to buy back your time.
Brand Building – position you as the thought leader and authority in your community.
Key Elements of a Real Estate Investor Website
Let's dive into the specifics of what your real estate investor website has to have now. Your website needs to have the following components to be a force in the real estate market:
1. Property Listings: Your listings are the stars of the show. Each property should have its dedicated page with high-quality photos, detailed descriptions, and all the relevant info potential investor's need.
2. About You: Give your clients a glimpse of the person behind the listings. An "About Me" page builds a personal connection and helps clients get to know you.
3. Contact Information: This should be a no-brainer, but it's surprising how many websites bury their contact details. Make it easy for clients to reach out to you with a prominent "Contact" page.
4. Testimonials: Nothing builds trust like hearing from satisfied clients. Showcase their positive experiences with you on your website.
5. Blog Section: This is where you establish yourself as an expert in the field. Regularly update your blog with informative articles about the real estate market, buying and selling tips, and local insights.
These are the core elements that every real estate investor website should have. They give your guests a smooth experience and the knowledge they require to make wise decisions.
Benefits of Using a Real Estate Investment Website Template
Let's now discuss a strategy that changes everything: adopting a real estate investment website template. The secret ingredient that can help you avoid headaches, save money, and save time is a template. Why they merit consideration is as follows:
1. Time-Saver: Templates are pre-made website designs that you may personalize. They reduce the amount of time needed to create a website from scratch. You can quickly launch a website with a polished appearance.
2. Cost-Effective: Hiring a web designer can be pricey. Templates are a budget-friendly alternative that doesn't compromise on quality. You can find many free or affordable templates that look stunning.
3. No Coding Required: Not everyone is a coding whiz, and that's okay. All sorts of users can use templates. To utilize them, you don't have to be a tech expert.
4. Consistency: Templates guarantee a uniform appearance and feel across the entire website. 
5. Customization: While templates provide a starting point, they're highly customizable. You can change fonts, layouts, colors, and more to give your site a personal touch.
6. Mobile-Friendly: Templates are created to be responsive. Meaning, they automatically fit to different screens on all devices. 
7. Support and Updates: Many template providers offer ongoing support and updates, so you don't have to worry about outdated designs or compatibility issues.
In a nutshell, templates are your website-building shortcut. They are easy to use, practical, and provide countless options for customization. Hence, a template could turn into your best buddy in this journey if you're wanting to launch your real estate investing website without breaking the budget.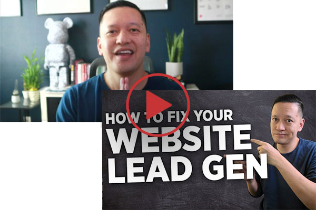 YOUR WEBSITE ISN'T GENERATING ANY LEADS BUT WE HAVE A SOLUTION​
In this free 20 minute video training you'll discover:
Whenever you are ready, click the RED button below that says "Grab my training now"
Factors to Consider when creating a Real Estate Investment Website
Although building a real estate investment website is fascinating, there are certain important considerations you should take into account. These will ensure that your website looks fantastic and runs efficiently and effectively:
1. Customization Options: Can you personalize the template to match your branding and style? Search for a template that you can customize without having to know complex coding.
2. Responsiveness: In today's mobile-first world, your website must look and work flawlessly on smartphones, tablets, and desktops. Ensure that the template is responsive to various screen sizes.
3. Loading Speed: Slow-loading websites can turn visitors away. Check that the template is optimized for speed, as this is crucial for user experience and search engine rankings.
4. User-Friendliness: Your website should be easy to navigate. Look for a template with clear menus and an intuitive layout to guide visitors seamlessly through your content.
5. SEO-Friendly: Search engine optimization (SEO) is vital for your website's visibility. Make sure the template is designed with SEO best practices in mind, including clean code and customizable metadata.
6. Scalability: Consider your long-term goals. Will the template accommodate your future needs as your real estate business grows? Ensure it's scalable and allows for easy updates and expansions.
7. Support and Updates: Templates often receive updates and improvements. Check if the template provider offers ongoing support and updates to keep your website current and secure.
8. Social Media Integration: Connecting your website to your social media profiles is a must. Look for a template that makes it easy to integrate social media buttons and feeds.
9. Content Management: A user-friendly content management system (CMS) is crucial for making updates and adding new content without hassle. Ensure the template uses a CMS that suits your needs.
10. Cost: While many templates are budget-friendly, consider your overall website budget. Factor in any additional costs for premium templates or customizations.
11. Template Reviews: Research user reviews and ratings for the template you're considering. This can provide insights into its performance and ease of use.
By carefully considering these factors when selecting a template, you'll set the foundation for a successful real estate investment website that meets your goals and serves your clients effectively.
Cost Considerations For Website Development
The process of creating a real estate investing website is exciting, but it's important to keep in mind the associated expenditures. 
Template Cost: If you choose to use a premium website template, there will be an upfront cost. However, these templates often come with advanced features and a polished design.
Domain Name: Your web address is represented by your domain name, such as www.YourRealEstateBusiness.com. The normal cost for this is an annual fee, which can vary based on the domain extension and service from a few dollars to $100 or more.
Hosting: You'll need hosting services in order to make your website available online. Based on variables including server resources, bandwidth, and security measures, hosting costs can vary.
Content Creation: Hire a copywriter or content producer to create compelling language that is search engine optimized if you aren't generating the content for your website yourself.
Multimedia and images: Adding videos, virtual tours, and other high-quality multimedia content to your website might improve it but may come at an added cost, for paying a photographer or videographer.
Plugins and Add-Ons: Depending on the functionality of your website, you may need to buy or subscribe to a number of plugins or add-ons. There can be additional fees, for instance, if you wish to connect a booking system or sophisticated contact forms.
Maintenance: Ongoing maintenance and updates are crucial to keep your website running smoothly and secure. This might involve software updates, security monitoring, and content updates. Consider whether you'll handle maintenance tasks yourself or hire a web developer for periodic check-ups.
Marketing: To increase traffic to your website and draw in new customers, you probably need to spend on internet marketing after it has been launched. Examples of this include paid click advertising, search engine optimization (SEO), and social media marketing.
Legal and Compliance, Including ADA Accessibility: Depending on your location and the nature of your real estate business, you may also need legal services to ensure your website aligns with local legislation. In particular, ADA (Americans with Disabilities Act) compliance is crucial in ensuring that your website is accessible to individuals with disabilities, such as providing alternative text for images, captions for videos, and other accessibility features. This not only enhances your website's inclusivity but also helps you avoid potential legal issues related to accessibility.
Professional Help: Although doing it yourself is an option, you may choose to collaborate with a website developer or designer to make sure your website looks and performs precisely as you picture. While there may be quite a cost to pay for this, you may end up saving time and stress.
To manage costs effectively, create a budget plan that considers all these factors. Prioritize essential expenses and plan for potential future investments as your real estate business grows. Keep in mind that a well-executed website can be a valuable asset, helping you attract clients and close deals in the long run.
DIY vs. Hiring a Professional: Pros and Cons
Here's the big question: Is it better to DIY your Real Estate Investment Website? Or calling a professional is the best way to go? Let's try to dive into the pros and cons of each strategy to help you decide better.
Cost Savings: The most obvious benefit of taking the DIY method is a reduction in costs. Since hiring a site designer or developer can be expensive, you won't have to pay them.
Control: You have complete authority over the layout and information on your website. Without relying on another person, you can change things whenever you wish.
Construction of your website can be a useful learning experience. Gaining knowledge in web design and content management will be beneficial to you in the long run.
Time-consuming: If you're building your Real Estate Investment Website from scratch, it will take a lot of your time, especially when you're not quite familiar in web development. That may affect your time for your Real Estate Business.
Learning Curve: There may be a significant learning curve if you are not tech-savvy. It can be annoying to work through technological problems and troubleshooting. 
Quality Risk: If you don't have the right skills, there's a chance that your website won't be up to par in terms of design, functionality, and security. A website with poor design might hurt your reputation.
Expertise: Professionals bring their expertise to the table. They know the ins and outs of web design, development, and optimization, ensuring a high-quality, polished website.
Time-Saving: By delegating the website project to a professional, you free up your time to focus on what you do best – real estate. They can create a website efficiently, saving you valuable time.
Customization: Professionals can tailor your website to your exact specifications. They can bring your vision to life and implement advanced features that may be beyond your DIY capabilities.
Time-consuming: If you're building your Real Estate Investment Website from scratch, it will take a lot of your time, especially when you're not quite familiar in web development. That may affect your time for your Real Estate Business.
Learning Curve: There may be a significant learning curve if you are not tech-savvy. It can be annoying to work through technological problems and troubleshooting. 
Quality Risk: If you don't have the right skills, there's a chance that your website won't be up to par in terms of design, functionality, and security. A website with poor design might hurt your reputation.
If you're tech-savvy and have enough time to learn, DIY is the key and the cheapest option. However, if you prefer a well-designed, high-quality website without all the stress, hiring a professional is the perfect alternative. The goal is to create a website that can impress clients and promote your businesses' success. 
Best Website Builders for Real Estate Investors
So you've made the decision to launch your real estate investment website. Excellent choice! Now, let's speak about the greatest tools for accomplishing this. Website builders are simple tools that can assist you in developing your online presence without the need for significant coding expertise. Some of the top website builders for real estate investors are as follows:
Wix: Wix is known for its intuitive drag-and-drop editor. It offers a variety of real estate-specific templates that make customization a breeze. You can easily add property listings, blogs, and contact forms.
Squarespace: Squarespace is all about aesthetics. It offers stunning templates that will make your listings pop. It's an excellent choice if you want your website to look polished and professional.
WordPress: With a sizable library of plugins and themes, WordPress is a flexible platform. Although it could require more time to master than some other website builders, it is highly configurable and perfect for individuals who want greater control over their website.
Weebly: Weebly is user-friendly and offers mobile-responsive templates. If you're searching for a simple-to-use platform with fundamental capabilities, this is a good option.
Zillow Premier Agent Websites: Zillow offers website services tailored to real estate professionals. Their templates are designed with the industry in mind, and they integrate seamlessly with Zillow's listing database.
Consider your technical expertise, customization needs, financial situation, and the particular features your real estate website needs before selecting a website builder. You can explore and choose the builder that best matches your demands before making a purchase by taking advantage of the majority of builders' free trials or plans. Remember, the goal is to create a polished and user-friendly website that will set you apart in the competitive real estate industry.
Examples of Stunning Real Estate Investment Websites
At times, looking at other people's successful real estate investment websites is the ideal method to obtain ideas for your own. Examples of real estate websites that totally nailed the appearance, usability, and user experience are provided below:
The Keen Investment website exudes a modern and dynamic vibe. Upon entering the site, a captivating animation greets you on the welcome screen, and as you continue to scroll, the various elements seamlessly come to life within the page. Keen Investment's design philosophy embraces simplicity, making effective use of white space while incorporating striking imagery.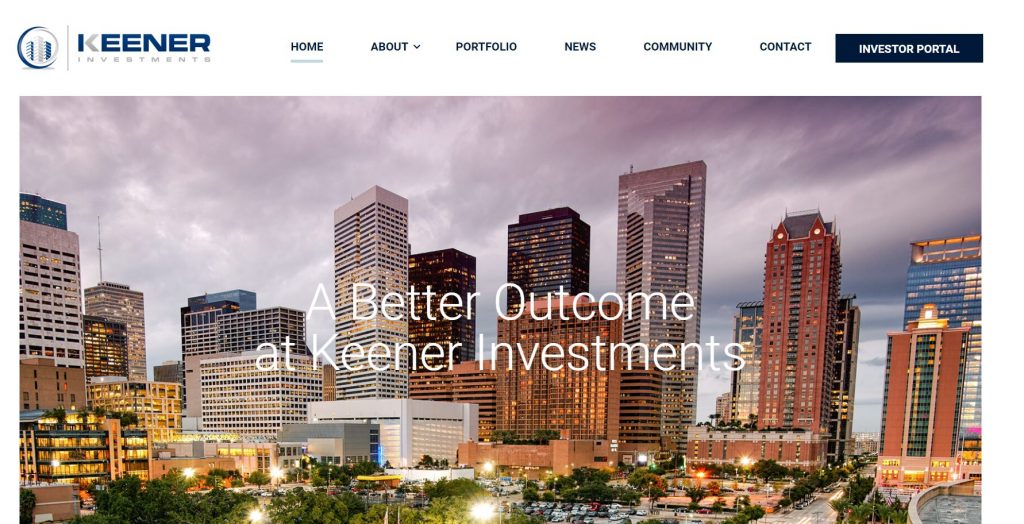 Beacon's website effectively incorporates their brand's vibrant orange color, employing it in calls-to-action, hover effects on images and links, as well as in prominent headlines. This strategic use of their color palette creates a sense of visual unity across their brand. Additionally, a noteworthy feature is the inclusion of a testimonial slider at the bottom of the page, which adds an authentic touch to the brand's presentation.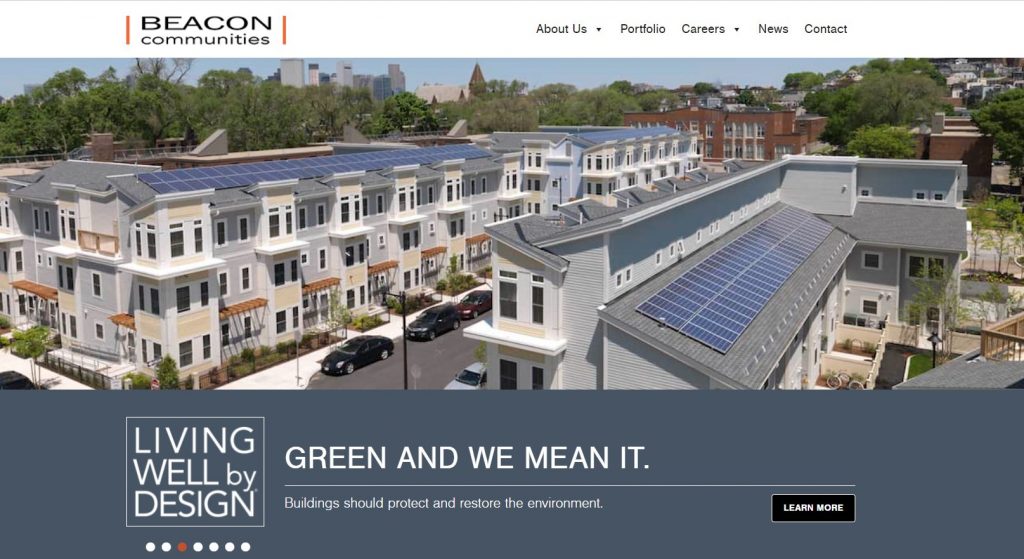 Passco's website employs striking and vivid imagery to effectively showcase their portfolio of work. The simplicity of the site, combined with the powerful photography, not only captivates visitors visually but also ensures that they can easily access the information they require.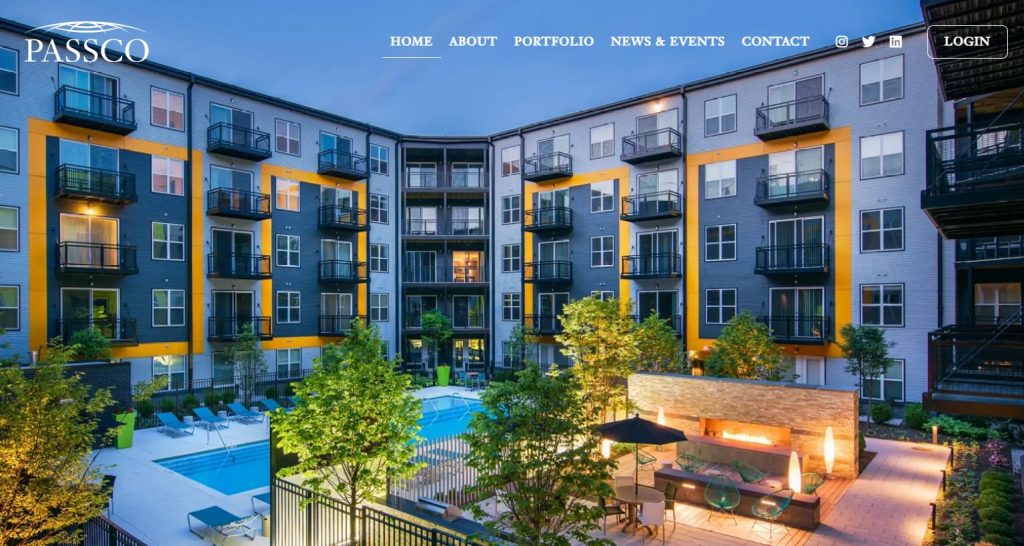 These website examples show that there is no one-size-fits-all solution when it comes to real estate websites. Your design should reflect your target demographic, niche, and personal flair. Take your time to explore these websites, note what you like about them and consider how you could incorporate similar elements into your own real estate investment website.
Note that your website is more than just a digital business card; it's your open house 24 hours a day, your chance to make a lasting impression, and your ticket to engaging with potential clients. You'll be able to make an informed decision that corresponds with your goals and budget. If you understand what makes a successful real estate website and investigate the advantages and cons of DIY vs. hiring a professional.
It's time to unleash the full potential of your real estate firm by developing a website that wows clients and propels your Real Estate profession forward! Your digital journey begins now – happy website building!