In my business, providing strategies and real estate web design to real estate professionals, I get to talk to a lot of agents about the struggles that they are experiencing in their business. And the other day I was talking to this agent and she kept on insisting that her social media wasn't working. She made this claim that she's been posting on social media, but it's really not leading to any new business. 
I was trying to diagnose the problem and see if we can really help and after reviewing her strategy, the problem became evidently clear. This realtor I was speaking with was really struggling with her Legion – a social media strategy.
She was posting every single day. By the way, if you are not posting every single day, then that's usually problem number one. This agent was posting every day and she wasn't getting any leads. And after really breaking down what she had going on, I immediately was able to identify that.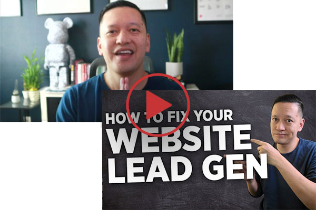 YOUR WEBSITE ISN'T GENERATING ANY LEADS BUT WE HAVE A SOLUTION​
In this free 20 minute video training you'll discover:
Whenever you are ready, click the RED button below that says "Grab my training now"
Now in order for me to help you understand this first, let me really explain a very evident distinction between the differences of a sphere of influence and an audience. You see a sphere of influence is really defined in real estate as all of your connections as a real estate professional. These connections can be friends, family, colleagues, prospects, clients, you know, the list can go on. An audience, on the other hand, is really defined as a specific group of customers that want your product or service. 
If you do a post to your sphere about, let's say, first-time home buyers, but the majority of your sphere already has a home. Or if you're posting about luxury listings, but everyone in your ear can only afford a sub-million dollar property. 
To really generate a lead, a solid qualified lead, which really then you have to ask yourself the question, who exactly are you creating this content for? Or more specifically, who exactly are you talking to? If you're posting daily, but it's not resonating, then it's likely because you haven't identified an audience to talk to. 
Let's say you're doing a post about selling income properties and only about 5% of your sphere can afford an income property. Then you've pretty much already tapped into your entire qualified sphere. So then the question becomes, where are you going to get some new business from.
Therein lies the problem and why I'm making this big distinction between the words, sphere and audience. Going back to the definition of audience, which is a specific group of consumers that are most likely to want. She had a sphere of about 300 people and an audience of really inevitably about five people in therein lies the issue. 
That was the big problem. Her audience just was not big enough. You see, at the end of the day, if your audience is not big enough, then how are you going to attract new leads and new prospects. You've effectively tapped out who to market to.
Running the numbers based on our data. You have about to 2-5% conversion rate per every hundred leads. This then begs the question. Do you have a small sphere and an even smaller audience to make the numbers work?
All she needed to do was increase her audience size to be able to acquire more leads and prospects. Your sphere is small, which means your audience is even smaller. That means when you're creating these content and posts and you're kind of blanketing your audience, but they're all not qualified and you're only talking to one person. 
LEARN HOW WE'VE GENERATED OVER
100,000 LEADS

FOR OUR REAL ESTATE CLIENTS LAST YEAR
Marketing Strategy – create inbound strategies to better position you for the long game.

Systems Implementation – we design and implement systems for you to buy back your time.
Brand Building – position you as the thought leader and authority in your community.
The goal here is to identify an audience so that by the sheer act of identifying an audience and trying to capture their intention, you're going to start attracting more qualified people and turning these people into new clients.
If you're suffering from this particular problem, this is a numbers game and your volume is just too low, you simply increase the volume and you increase the probability of converting. You want to have clients? Then go out and build your audience and get a hundred. You want four new clients and go out and increase your audience by 200. It's simple math here. 
Find out more real estate strategies to grow your business. Join our free Facebook Group today for similar content that can help you in your Real Estate journey. If you are interested in one-on-one coaching, then schedule a strategy session with me today, and let's talk about how I can help you move your business forward.