For real estate agents, visibility is the key to building relationships and establishing their brand. On top of having a website with amazing real estate web design, there are hundreds, if not thousands, of other opportunities you can take advantage of to increase your visibility online.
Importance of a Facebook Group
One of the biggest online platforms in the real estate industry is Facebook. Creating a Facebook Group is a great way of remaining visible to your audience. The best part about this is that's free!
If managed correctly, a Facebook Group can help an agent generate more leads to ensure the success of their business. This is because when you're able to stay top of mind with your leads, you are able to nurture them and slowly build a relationship with them.
That being said, the key to running a successful Facebook Group is knowing how frequently one should post in their group. So how often should real estate agents post in their Facebook Groups?
According to Niel Patel, if you post too infrequently, your audience might start forgetting you. At the same time, he stated that if you post too frequently, your audience may see you as a nuisance on their feeds and leave or unfollow your group. You neither want any of these two scenarios to happen. So here's a quick breakdown of everything you should know about posting on your Facebook Community:
It is important to note that although these numbers were based on research, following these numbers guarantee success. What worked for the majority, will not necessarily work for your business.
Frequency
Research shows that the optimal number of posts per day is a single post.
This means that as long as you have the resources and capacity to produce quality content that is relevant and value-adding to your audience, then you should be fine.
The keywords here are 'relevant' and 'value-adding'. Sure you can insert a few fun facts here and there, but the goal of posting on your Facebook Group is to establish yourself as the expert. And you can do this by sharing your knowledge and educating your audience. 
On the other hand, if you currently don't have the resources to produce content daily or has only recently started creating a content strategy, research also shows that posting three (3) times a week should be your lowest target.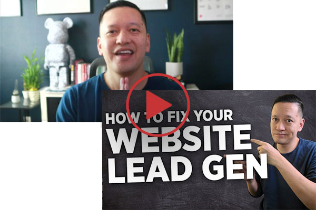 YOUR WEBSITE ISN'T GENERATING ANY LEADS BUT WE HAVE A SOLUTION​
In this free 20 minute video training you'll discover:
Whenever you are ready, click the RED button below that says "Grab my training now"
LEARN HOW WE'VE GENERATED OVER
100,000 LEADS

FOR OUR REAL ESTATE CLIENTS LAST YEAR
Marketing Strategy – create inbound strategies to better position you for the long game.

Systems Implementation – we design and implement systems for you to buy back your time.
Brand Building – position you as the thought leader and authority in your community.
Timing
Aside from the content your posting online, you also have to get the timing of the posts right. What's the point of posting online if your target audience won't see it? 
Try and analyze when your audience is most active on Facebook.
Gather feedback from your posts periodically and target those time zones when posting to get the best results and reactions from your audience. A great way of doing this is by keeping a tracker or inventory of your posts. After a couple of weeks or after a month, go over your inventory. 
The key here is to continuously keep inventory and testing different times or days of the week to see which works best. As your Facebook Group continues to grow, it is possible that the online activity of your group will change so keep on testing and observing. 
Content Strategy
Lastly, it is also important to plan your content ahead of time.
This is where most Realtors fail. The reality is, it is hard to come up with content daily. This is especially true because as real estate agents, our schedules are filled to the brim and it is easy to just prioritize taking a call for a potential lead than spend time coming up with content.
And when this happens, it can lead to an agent just completely neglecting their Facebook Group.
What you can do is to block off time weekly to come up with new content for the following week or weeks. Brainstorm ideas and plan ahead of time so that you can just set it and forget it. 
When brainstorming, try to tell a story or create a progression in the content you publish on a weekly or monthly basis. This will help you grab your audience's attention and keep them engaged and interested, giving them something to look forward to. 
Hopefully, these tips will help you craft a winning strategy and optimize your Facebook Group presence. If you need help with your real estate content and building your brand, don't hesitate to reach out to us today!