How do I target first time home buyers on Facebook ads?
Do you need to use Facebook advertisements to reach out to more people and generate leads? It's one of the most wonderful techniques for realtors to instantly attract buyers! For example, one group that could be of particular interest as you use Facebook advertising are those who are buying their first house. Targeting this group with Facebook adverts may increase your chances of connecting with potential clients who are actively searching to purchase their first house.
Knowing who to target and how to target them however are two separate things. So how precisely can you target first-time home buyers with Facebook advertising? And just what  are the benefits of doing so? Read on as this article will address these and other concerns, in addition to offering tips, ideas, and case studies on how to effectively interact with this significant group through Facebook adverts. Therefore, whether you're new to Facebook advertising or just want to improve your approach, this article would benefit your strategy on starting first-time home buyer Facebook adverts.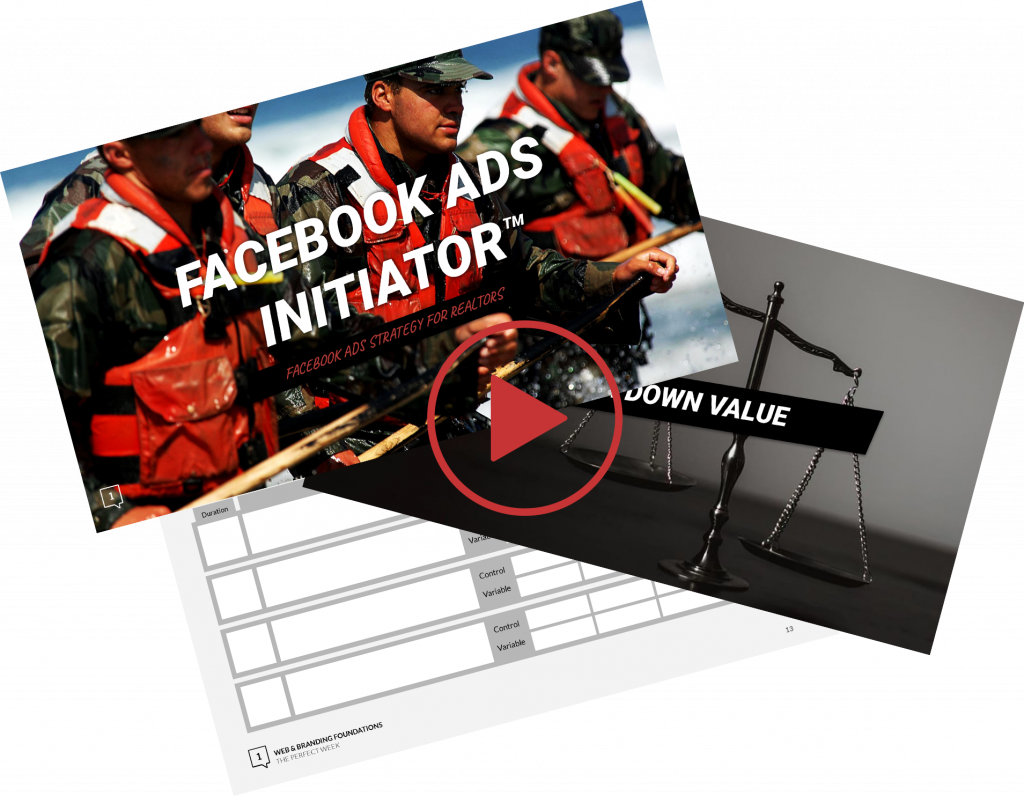 YOU'RE RUNNING OUT OF WAYS TO GENERATE LEADS BUT WE HAVE A SIMPLE SOLUTION
In this free workbook, you'll discover:
Whenever you are ready, click the RED button below that says "Grab my workbook now"
Benefits for targeting first time home buyers using Facebook ads
Targeting first-time home buyers with Facebook advertisements has several benefits. Below are just a few that would help your current advertising strategy:
Cost-effective

Facebook ads are a cost-effective option for real estate brokers who want to promote to a larger audience while on a budget because they are often less expensive than other kinds of advertising.

Highly targeted
You may reach potential customers who are more likely to be interested in your services by utilizing Facebook's ad platform to target certain demographics, interests, and behaviors with your advertising.
Increased visibility

Facebook is probably one of the most-used social media platforms currently. The great news for us is that its creators paved the way for the site to be used for ads. With its wide reach, using facebook for your marketing strategies will be more effective than having your ads be displayed in less prominent platforms and mediums.

Greater engagement

Facebook ads can be highly engaging, with the ability to include eye-catching images and videos, as well as calls-to-action that encourage users to click through to your website or contact you directly.

Improved lead generation

By targeting first time home buyers specifically, you can increase your chances of generating quality leads who are actively looking to buy their first home. And by using retargeting ads, you can continue to engage with these leads even after they've left your website or social media page.      
Just by looking at the overview above, you'll be able to see that Facebook Ads is an effective form of advertising strategy. By using the data that Facebook gives as you launch and generate content, you'll be able to tailor-fit effective advertisements that will reach the right audiences and directly translate into revenue for you, yay!
First time home buyer Facebook ads tips
If you're a real estate agent looking to target first time home buyers with Facebook ads, here are some tips to help you get the most out of your advertising dollars:  
Create a buyer persona

When you begin forming your campaign, take some time to picture your potential first-time home buyer. What age range do they fall under? What piques their interest? What difficulties do people encounter while buying a house? You may create adverts that appeal to your target market using this information.

Use eye-catching visuals

Facebook is a highly visual platform, so it's important to use images and videos that will catch your audience's attention. Consider using high-quality photos of properties, virtual tours, or even a short video introducing yourself and your services.  

Use retargeting ads


Retargeting adverts can help you connect with first-time homebuyers who have already shown an interest in your offerings. By focusing on these people, you may increase the likelihood that visitors who have previously been to your website or engaged with your social media posts will become leads.

 

Highlight your unique value proposition
What separates you from other real estate brokers? Do you have in-depth knowledge of a certain locale or kind of property? Have you ever assisted first-time homebuyers in finding their ideal homes? Be sure to emphasize everything that makes you stand out from the competition in your marketing.
Focus on education
First-time house purchasers typically have several worries and inquiries concerning their initial real estate acquisition. Think about producing instructional material, like blog articles or videos, that answers frequent queries and worries. Then, promote this content through your advertising to boost website traffic.
So what are you waiting for? Start creating Facebook advertisements that are sure to engage first-time buyers and get the most leads for your real estate company with less effort and expense on your end by using the advice in this article. Remember, you can make sure you're receiving the most return on your investment by  taking the time to review your outcomes and modify your plan as necessary.
LEARN HOW WE'VE GENERATED OVER
100,000 LEADS

FOR OUR REAL ESTATE CLIENTS LAST YEAR
Marketing Strategy – create inbound strategies to better position you for the long game.

Systems Implementation – we design and implement systems for you to buy back your time.
Brand Building – position you as the thought leader and authority in your community.
Get first time home buyer facebook ads leads with education
Helping first-time home buyers get the information they need is one of the easiest methods to create leads for your real estate business. By providing engaging yet educational content in your Facebook ads, you could draw in prospective buyers who are curious about the entire buying process 
Here are some tips for creating educational content that will help you generate more leads:
1. Offer valuable information
Your adverts should offer readers key information to help them choose wisely when buying a home. You might, for example, publish articles on how to submit a loan application, purchase real estate, and other home buying financing options — they'd love you for it. 
2. Make it visually appealing
Audiences get hooked with engaging content. You can use this to your advantage! Get creative when creating your ads and use graphics and other visual aids to make it appealing to the eyes. They'll be interested to consume your content and get the information they need.
Use Facebook's targeting options to reach people who are interested in buying a home. You can target based on demographics, interests, behaviors, and more.
Make sure your advertisements have a call to action. This might be done by requesting that visitors download a free guide or subscribe to a newsletter.

Make sure your viewers will really find your information helpful. This will be the key driver for your leads to become actual customers. By providing them educational content that allows them to see that you're a credible real estate agent, the likelihood of them contacting you when they're ready to buy a house will increase.
Home buyers want more than just someone to do the work for them, they want to be able to understand how to go about the home buying process. By ensuring that the content you use to create your Facebook Ads, you become someone who can make them feel like they'll get the support they need when buying a home — someone who will be more likely to contact you when their need arises. 
Advertise loan programs to first time buyers using Facebook Ads
One of the greatest challenges first-time buyers have when buying a home is getting a viable financing option for them to kickstart the process. In order to promote loan programs to first-time buyers, real estate agents may utilize Facebook Advertising as a very effective lead generating strategy.  See how you can go about it here: 
Know your audience
Before creating any ads, it's important to understand your target audience. Who are your ideal clients? What are their interests and behaviors? By answering these questions, you can create highly targeted ads that speak directly to their needs and interests. 
Highlight the benefits


When advertising loan programs, be sure to highlight the benefits of each program. For example, if you're advertising an FHA loan, emphasize the low down payment requirement and the flexible credit score requirements.

Use eye-catching visuals
Facebook is a very visual platform, therefore it's essential to use eye-catching photos into your advertising. This can involve using pictures of happy families in front of their new houses or graphics that highlight the key benefits of each loan program.
Provide value
Along with providing financing products, you can support first-time buyers by sharing useful educational information on the home buying process. Videos, infographics, and blog entries about money management, saving for a down payment, and dealing with a real estate agent are a few examples of the kind of tools that may be used.
Test and optimize
Test and adjust your Facebook ads like you would any marketing campaign to ensure they are producing results. This means you may need to do some experimentation to understand which messaging, targeting, and ad types perform best with your target population.
These pointers will help you use Facebook advertising to promote lending programs to first-time homebuyers and generate excellent leads for your real estate firm. Never forget to provide value and take your target audience's demands and interests into account when releasing your content, you'll make the home buying process a pleasurable experience for them and trust us, they'll thank you for it. 
How to start using Facebook ads to get first time home buyers
We've already said that using Facebook advertising is a good move for your firm if you want to generate more leads that will turn into sales. With this, it's now time for us to help you actually find the right market and audience to tap and turn in to leads. Let's see how we can utilize Facebook to find first time home buyers for you to connect with.
First, answer the question "who do I want to reach?". The buyers and sellers within the scope of a real estate agent is endless and you'll want to narrow down on a specific audience before creating content. We suggest focusing your efforts on those who are looking for a new home as first time buyers to make your ads most effective. 
Targeting those who are in relationships, have just relocated, or have shown an interest in housing-related issues makes sense because these individuals have plans to purchase a home soon. 
Facebook Ads come in various formats, including image, video, carousel, and more. When targeting first time home buyers, consider using a video ad that showcases the benefits of home ownership, or a carousel ad that highlights different loan programs.
The text is as important as the aesthetic. Your ad's copy pertains to any slogan, sentence or even call to action you want to put. Find the balance of being witty, conversational and engaging along with expressing your expertise to get the audience's attention. 
Facebook Ads are cost-effective, and you can start with a small budget and gradually increase it as you see results. When setting your budget, consider the lifetime value of a new client, and allocate enough funds to reach a large enough audience.
Facebook also has features that make the whole experience pleasurable for you as the ad creator. They have readily available data for all your ads along with a built-in analytics tool that gives you a summary of the performance of your ads and highlights traction or the lack of it that might mean you need to make adjustments.
Retargeting is an effective strategy for reengaging customers who have previously shown interest in the loan programs you have shared before or your real estate services in general. Try using this approach which shows adverts to customers who have already visited your website or engaged with your social media accounts to create permanency in their minds that will make you their first choice when they buy a home.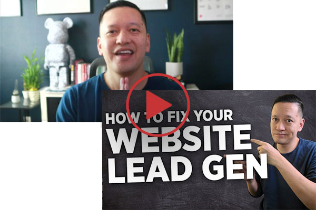 YOUR WEBSITE ISN'T GENERATING ANY LEADS BUT WE HAVE A SOLUTION​
In this free 20 minute video training you'll discover:
Whenever you are ready, click the RED button below that says "Grab my training now"
First time home buyer Facebook ads strategy
You need to have a strategy in place if you're considering targeting first-time home buyers with Facebook advertisements. to be sure it would work for you. Read on as we prepared  guidelines to help you create an effective Facebook marketing campaign targeted towards first-time home buyers.
1. Determine the right target audience
Prior to creating your marketing, it is essential to identify your target market. Who are you trying to get in touch with? What routines and pastimes do they enjoy? By understanding more about your target market, you may create advertising that are more appealing to and pertinent to them.
2. Create compelling ad content
Your ads must be engaging, educational, and applicable to your target market.  At the end of the content, make sure you give them a next step to engage them further.  The next step should be made clear in the call to action, for example, visiting your website or filling a contact form. Use engaging pictures or videos to draw their interest.
To reach consumers who have already connected with your ads or website, use the potent retargeting strategy. You may boost the likelihood that those who have expressed interest in your services will become clients by paying attention to what piqued their interest.
4. Use Facebook's targeting options
Facebook offers a wide range of targeting options, such as location, age, interests, behaviors, and more. By using these targeting options, you can ensure that your ads are seen by the right people.
5. Test and optimize your ads
To make sure that your advertisements are working as well as they can in contributing to lead generation, it's important to set a routine where you regularly check your ads and alter them according to your findings.  According to how your audience is reacting to your ads through Facebook engagements, you can experiment with various ad styles, targeting settings, and ad content. Use Facebook's ad performance analytics to keep track of how well your advertisement is doing and to make any necessary modifications.
By following these tips, you can create a first time home buyer Facebook ads strategy that helps you reach and engage with your target audience, generate leads, and ultimately grow your business. Remember to stay up-to-date with the latest Facebook advertising trends and best practices to stay ahead of the competition. 
How to use Facebook ads video to target first time buyers
Consider employing videos in your Facebook advertising if you want to make ads that are memorable and puts you at the front of all your competition — once you get your audience's attention, you already have the edge. Use witty and engaging content in your videos. You can also have  first-time homebuyers as the focus of  your Facebook's video advertisements will help your advertising strategy as a whole and increase conversion rates.
Here are some tips on how to use Facebook ads video to target first-time buyers: 
Keep it short and sweet.
Most people have short attention spans, so keep your videos under 60 seconds to maximize engagement. Get your message across quickly and concisely to keep viewers interested. 
Highlight the benefits
Use your video to showcase the benefits of buying a home for the first time. This could include lower monthly payments than renting, building equity, and the pride of homeownership.
Show off the property
Use video to give viewers a virtual tour of the property, highlighting its unique features and amenities. This can help potential buyers envision themselves living there and increase their interest in the property.
Use captions
Many viewers watch videos with the sound off, so be sure to include captions to convey your message visually. 
Target your audience
Use Facebook's targeting features to reach first-time home buyers in your area. You can target based on age, income, interests, and more.
Test and refine your campaigns
Experiment with different video lengths, ad copy, and targeting to see what works best for your audience. Continually refine your campaigns to improve your results over time.
Remember, using videos in your Facebook ad campaigns can be an effective way to target and engage first-time home buyers. Keep your videos short and sweet, highlight the benefits of homeownership, showcase the property, use captions, and target your audience effectively. With the right strategy, Facebook ads video can help you reach your goals and generate leads for your real estate business. 
Best first time home buyer Facebook ads budget
Setting and sticking to your budget is probably the most important things you must do before you launch your Facebook ads for first-time home buyers — you'd need to know what it would initially cost you before you can go on to the next steps. When choosing how to use Facebook for your ads, you can customize what you will avail to be able to stay within your spending limit while simultaneously maximizing the benefits it will have for your advertising campaign.

To do this, you could choose to base your Facebook advertising campaign's budget on some of the most important considerations, such as:
Determine your overall budget
You need to determine your entire budget before you begin developing your Facebook ad strategy. This will help with determining the budget to set aside each of the campaign components, such as ad production, audience targeting, and ad spend, as well as the maximum amount you may shell out for the launching of the ads on Facebook.
Choose the right ad objective
Facebook offers a range of ad objectives that you may select as your main target  with rates for each one including traffic, engagement, and conversions. There are certain goals that can be cheaper than others, depending on what you want. The "Lead Generation" aim, for instance, is one of the least expensive options to select if your objective is to produce leads.
Set a daily or lifetime budget
Facebook allows you to choose either a daily or a lifetime budget. Depending on your choice, Facebook will then show you how you can customize your content. On a daily budget, you'll have limited but targeted options while a lifetime budget gives you a wide range of customizable options without a strict gauge. You can opt for the daily or the lifetime budget based on these factors.
It's important to keep track of your ad spending during the campaign, make sure you are strict about remaining inside your budget. You can check your spending and alter your budget using Facebook's Advertising Management if needed — utilize the management profile as much as you can as it will show you your purchase trends and whether or not its worth it as your campaign runs. 
Facebook's algorithm on who to show your ads to depend on your the criteria you pick. To make sure you tap into the right audience, customize your criteria according to certain demographics and spending behaviors that is typically seen in interested home buyers so that the likeliness of lead conversion increases every time your ad is shown to the right audience. 
Retargeting is an effective strategy to sent out feelers to people who have previously expressed interest in your offer. You can enhance your chances of conversion and make the most of your ad budget by retargeting visitors who have visited your website or engaged with your advertising before. 
Lastly, experiment with various ad styles, targeting choices, and budgets to find what works best for your target demographic. Make the most of your budget by optimizing your campaign using the data you collect.
It is highly recommended that you establish the ideal balance between expense and effectiveness when preparing your budget for your first-time home buyer Facebook ads. By following these suggestions and closely monitoring your campaign, you can establish a budget that works for you and provides the leads you need to expand your business.
Facebook Real Estate ads policy
It's a good idea to keep up with the most recent Facebook advertising restrictions for real estate agents to avoid unnecessary stress when using the platform as part of your advertising strategy. As of late, the quantity of land promotions on Facebook is expanding. As a result, content creation and posting are restricted in particular for real estate agents.
The Fair Housing Act is perhaps the main guideline that realtors should comply with while applying. In housing searches, discrimination based on race, color, religion, national origin, sex, disability, or marital status is against the law. Don't give any evidence that your bias prevents you from selling. Facebook demands clients rigorously follow this approach.
Additionally, brokers must adhere to Facebook's Community Standards, which forbid violence, hate speech, and other harmful content. Ads with these elements will not be accepted.
The use of images in advertising is another important principle that real estate agents must take into consideration. Facebook expects that all property posting pictures precisely mirror the promoted property. This implies that realtors can't utilize pictures that are misdirecting or don't precisely address the property.
Not withstanding these rules, Facebook likewise has rules in regards to the utilization of specific words in land postings. Ads that use the words "exclusive" or "luxury," for instance, should only be shown to people who are over the age of 18. Ads that say "no deposit" have to follow certain rules as well. In general, the objective of the Facebook Real Estate Advertising Policies is to encourage ethical and accurate advertising practices. If a broker wants to use Facebook ads to get leads, they should read these rules and make sure that their ads follow them all. Your ads will be approved more quickly and more effectively as a result of this.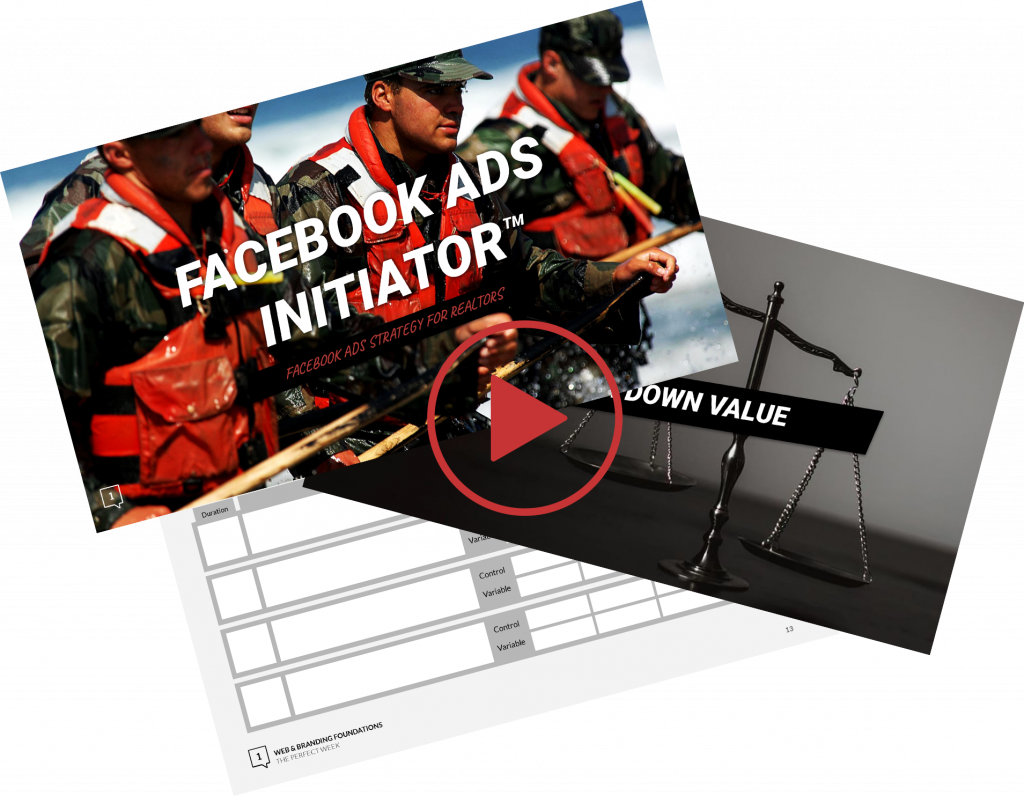 YOU'RE RUNNING OUT OF WAYS TO GENERATE LEADS BUT WE HAVE A SIMPLE SOLUTION
In this free workbook, you'll discover:
Whenever you are ready, click the RED button below that says "Grab my workbook now"
Real Estate Agent advertising examples
As an agent, you must ensure that your advertising budget is utilized effectively. Using Facebook ads to target first-time homebuyers is one approach. However, how can advertisements truly resonate with your target audience?
Examining successful Facebook ads for real estate agents is one effective strategy. You can create ads that are more likely to generate leads and convert by analyzing what works and what doesn't. 
Facebook advertisements for real estate agents include the following:
Pay attention to "Finding your dream home":
This advertisement encourages potential buyers to begin their home search with the assistance of an agent by employing compelling imagery and clear calls to action. Additionally, the advertisement emphasizes the agency's knowledge and experience, which can aid in establishing trust with potential clients.
Ad that says, "Sell your home for a higher price":
This ad focuses on homeowners who want to sell their homes and emphasizes the agent's ability to assist them in obtaining the highest possible price. In order to persuade potential customers to take action, the advertisement includes a specific offer—a free housing estimate.
"Local Market Expert" is an advertisement:
This advertisement positions the agent as a reliable source for buyers and sellers and demonstrates the agent's familiarity with the local market. A clear call to action (contact the agent for a free consultation) and a sense of urgency (the market is hot and buyers and sellers must act quickly) are also included in advertisements.
"Buying a home is easy" advertisement.
The ease and convenience of working with the company are emphasized in this promotion. It highlights the expert's capacity to assist buyers in exploring the home buying process and provides an undeniable source of inspiration (contact an expert for a free consultation).

It's important to keep in mind what makes Facebook ads successful when creating your own. To encourage potential customers to take action, use compelling images, clear messages, and strong calls to action. Consider offering a specific incentive, such as a free home appraisal, to encourage potential customers to get in touch with you. One way to do this is to emphasize your unique selling proposition, such as your expertise or experience.
Additionally, it is essential to test and evaluate your ads' performance. By utilizing Facebook's promotion examination instruments, you can see which advertisements are producing the most leads and transformations, and change your methodology appropriately. With the right methodology and some experimentation, you can make Facebook advertisements that drive genuine outcomes for your land business.
Are Facebook ads worth it for real estate?
In a nutshell,  the answer is yes.  Facebook advertisements can help you create leads and expand your real estate firm in a few easy steps. Let's break it down here.
Targeted Advertising


You may reach prospective home buyers on Facebook using a range of targeting choices depending on their area, age, hobbies, and more. As a result, you may place your adverts in front of the individuals most likely to be considering purchasing a property.

Cost-Effective
When compared to traditional advertising strategies, Facebook adverts are fairly priced. You may choose how much money to spend on each ad and set your own budget limitations. Furthermore, you only pay when someone clicks on your advertisement or does a certain activity, such as filling out a form.
Measurable results
Facebook Ads allow you to monitor how many people click your ad, fill out a form, or visit your website. This is a useful Facebook tool that uses data to track campaign effectiveness and determine if adjustments are needed. 
Know that all kinds of engagement matters. Even if you see that there aren't a lot of clicks, the fact that they see your advertisements and learn about your services already creates permanence. This will translate to them having you on the top of their minds and lead to referrals and sales as they share their knowledge about you. In this aspect, the other components of your marketing strategy come in.
Use your ads along with email marketing, content marketing and even SEO if you have the resources to invest in it as all these would assist in creating permanence. If you've ever heard of the term "household name", you'd know that by simply being something that's constantly around and popping up in front of your audience, you're assured leads conversion in no time. Just keep experimenting with various ad formats and targeting options until you find one that your audience really resonates with!
In conclusion, Facebook ads are definitely worth it for real estate agents who are looking to generate more leads and grow their business. Just remember to combine Facebook ads with other marketing tactics and to continually optimize your ads for the best results.