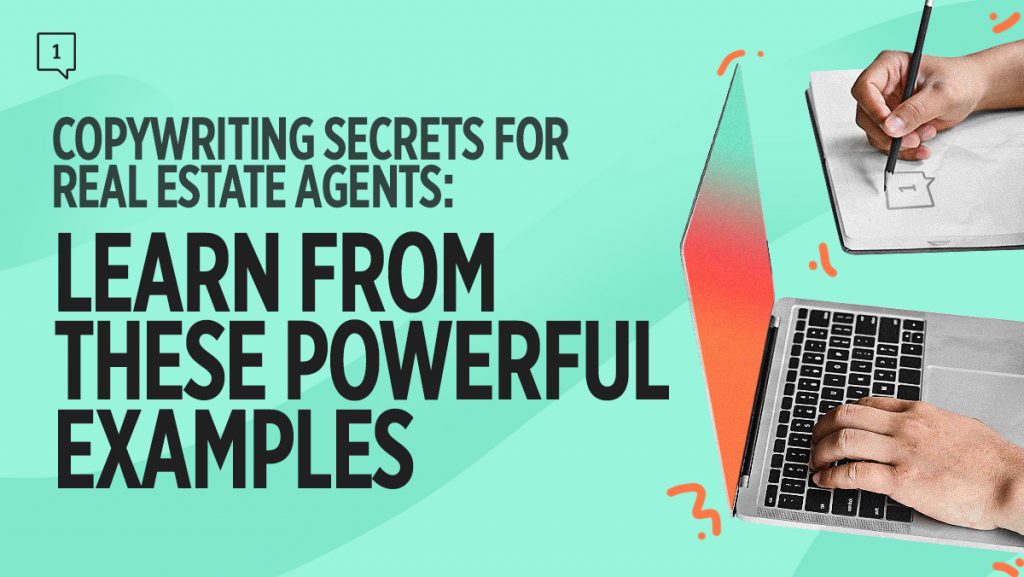 What is Real Estate Copywriting?
One of the biggest challenges I see real estate agents face that stifle their ability to create new business is bad copywriting. And if you are a real estate agent looking to level up your business, then this is a must have in your tool belt. 
Real estate copywriting is the art of using persuasive language to acquire new clients. It's a crucial skill if you're struggling to stand out in your super crowded market.
In this blog post, I want to break down some of the secrets I've uncovered for effective real estate copywriting.  I'll also show you how I apply them to help both myself and my clients acquire more leads, turn them into prospects and create more clients. I want to break down what exactly a copywriter can do in real estate, essential techniques, and everything you need to know to create compelling content that converts.
It doesn't matter if you're a veteran in the industry or just getting started, I want to break down some valuable insights and actionable tips that you can start using immediately. So let's dive in, shall we…
What does a copywriter do in real estate?
In layman's terms, a copywriter is a professional writer who creates marketing and advertising copy for businesses. In your real estate business, a copywriter is responsible for crafting effective and persuasive written content to help position you as an authority and a subject matter expert to your niche. This includes writing your ads for Facebook or Google, creating your scripts for your videos, writing your emails or creating your website and social media content.
Their job in real estate is primarily to help you communicate effectively with potential buyers and sellers. They use their specialized skills to create content that is compelling, informative, and engaging. If executed correctly, they help real estate professionals improve their brand, get more eyeballs looking at them, generate more leads, and ultimately create more clients to close more deals.
They need to work closely with you to understand your target audience. Their job boils down to creating content that resonates with your audience. It's their job to meet with you and analyze your niche, then conduct research on them to create content that is relevant and will resonate. It's also their job to use their own creativity and expertise to come up with fresh ideas for your marketing and advertising campaigns.
Copywriters in real estate are also responsible for editing and proofreading. They need to make sure that all written content (yours and theirs) are free from errors, match your voice, and align with your brand's core values.
The skill of a copywriter is vital to the success of your real estate career. They help to create content that captures the attention of potential clients and separates you from other agents in your market. And when working with a professional copywriter, you double down on the success of your marketing and advertising campaigns.
Do real estate agents need copywriting?
I feel that real estate agents often overlook the importance of good copywriting when it comes to their marketing. They mainly rely on templates they get from their brokerage or copy and pasting from AI or some other agent. However, effective copywriting is the big difference between you opening up a faucet with a waterfall of leads or a slow drip.
Copywriting is primarily designed to create content that persuades the reader to take action.  Great copywriting compels them to opt into a form, reply to an email or social media posts or book a call. This boils down to being empathetic to your lead's emotions and providing so much value that they inevitably decide  to take the next step with you.
Doing this effectively involves more than just talking about you and your accolades. In fact, that's one of the easiest ways to repel a prospect. A skilled copywriter will focus on the target audience and what will appeal to them most. For example, you might highlight the need for extra space when a homeowner has outgrown their current home.
You see, copywriting is the backbone of your overall branding and marketing efforts. When you invest in good copywriting by either learning it yourself or hiring a professional, your websites, social media, and other digital platforms elevate and establish you as an expert in your field.
Ultimately, when you want to stand out and succeed in a super competitive market, you need good copywriting. Hiring a professional copywriter or investing in yourself to improve your copywriting skills can be a game changing investment that pays off the minute you apply it to your business.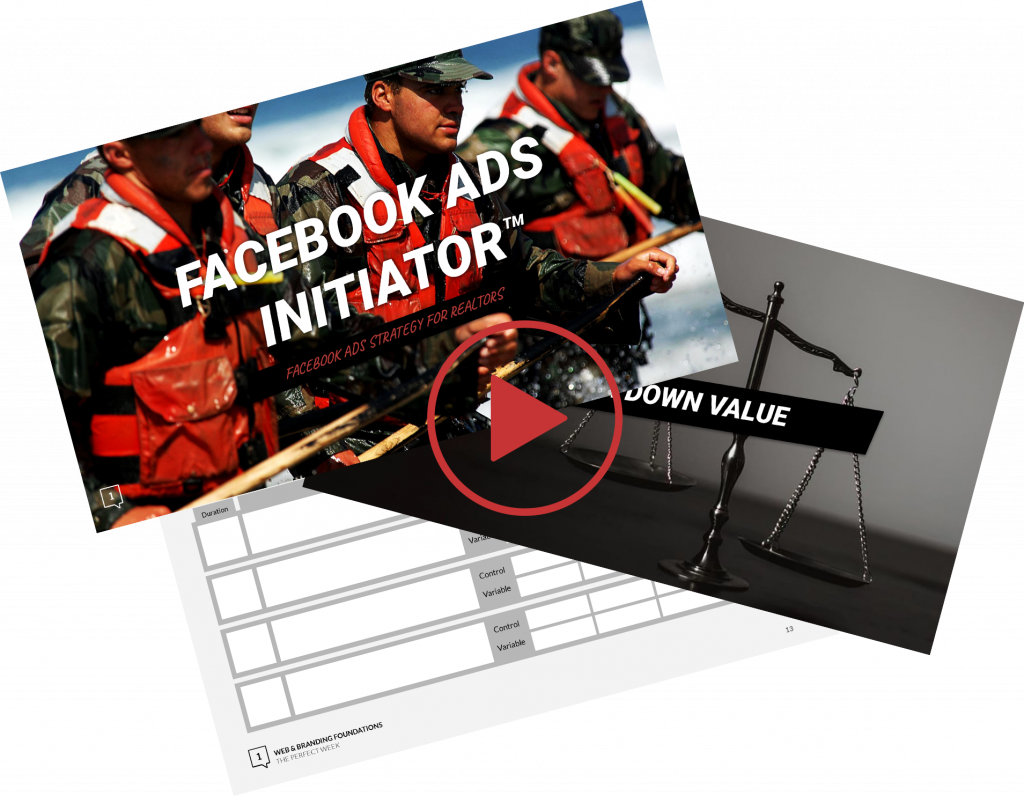 YOU'RE RUNNING OUT OF WAYS TO GENERATE LEADS BUT WE HAVE A SIMPLE SOLUTION
In this free workbook, you'll discover:
Whenever you are ready, click the RED button below that says "Grab my workbook now"
Why Good Real Estate Copywriting is Crucial for Your Sales and Marketing Efforts
Real estate is an incredibly competitive industry.  Most people have at least two real estate agents on their cell phones. This is the main reason why it's important to stand out in the crowd. Good copywriting can make all the difference between you just being another agent or being the thought leader of your neighborhood.
Great copy does a few things:
1. It captures the attention of potential clients and makes them want to learn more about what you do.
2. It conveys your unique value proposition (USP for short) and differentiates you from all of the other agents in the neighborhood.
3. It builds trust with potential clients by providing them with value.  It also addresses their fears and frustrations (aka the conversations they're having at the dinner table).
4. It encourages potential clients to take action, like booking a call with your asking for your help to check out a listing.
Here's the truth.  In today's market you need to have a strong online presence.  It's particularly important for newer agents. Solid copywriting is really designed to help you optimize your website on search engines, your emails for prospects leads, your ads for bringing in new leads and your social media to help with your brand.  This is all designed to make it easier for potential clients to find you.
Ultimately, the skill of copywriting will help you increase your visibility and credibility in the industry, leading to more leads, more prospects and inevitably more clients (that lead to more closed deals).
Sample Questions to Ask Yourself When Writing Real Estate Copy
Look, writing is an essential part of your job. Whether you're writing descriptions for your listings, creating postcards, drafting emails, or crafting social media posts, you need to ask yourself the right questions to make sure your copy get's replies. Here are some questions you need to ask yourself when you start on your real estate copywriting journey (or when you hire a copywriter):
1. Who is my target audience?
You need to know the answer to this question.  By the way, it's not "anyone and everyone that needs help in real estate".  This is actually the wrong answer. 
It's essential for you to know who your target audience is before you start writing. Are you writing for first-time homebuyers or retirees looking to downsize? Knowing your audience will help you tailor your copy to their fears, frustrations, wants, needs, aspirations, and goals.
2. What makes you unique?
Highlighting what makes you unique is a key element of creating compelling copy. What is your history in the neighborhood you farm?  Do you have a specific skill set or expertise?  Do you offer any special incentives when working with you? You need to make sure you highlight your USP to separate yourself from your competitors.
3. What emotions do I want to evoke in my reader?
Great copywriting goes beyond just presenting information. It's important to connect with your reader on an emotional level. How do you want to make them feel when they read your stuff? Do you want them to feel excited, curious, urgency or pain? Think about what emotions you want to convey.  Then use your control of the English language to help you achieve that.
4. What is the call to action?
Your copy needs to always include a call to action. What do you want the reader to do?  Schedule a call with you?  Book an appointment?  Reply to an email? You have to give them the next step. You also need to make sure you communicate it clearly.
When you ask yourself these questions, you make sure that real estate copy is engaging, effective, and specific to your target audience. Keep in mind that effective copywriting takes practice. Don't be afraid to experiment and be discouraged if it doesn't work.  This takes time and repetitions.
How to Write Compelling Real Estate Content: Examples and Tips
Writing effective real estate content is imperative to attracting and engaging potential clients. Whether you're writing a property description, a blog post, an email, an ad, or a social media post, you'll want to make sure that your content is compelling and value driven. In this section, I want to break down some examples and tips to help you write solid real estate content.
Know your audience
Before you start writing, it's important to know your target audience. I mentioned this briefly earlier.  Are you writing for first-time homebuyers, retirees, or luxury homeowners? Knowing your audience will help you write better content and speak to their wants and needs. Think about their levels of intent.  Ask yourself what kind of information they might be looking for and what tone and style will resonate with them.
Provide helpful information
When you're writing real estate content, it's important to provide value that potential clients would find useful. This could be things like the local school information, neighborhood amenities and events, or traffic times if they are in a major city. When you talk about this stuff it shows that you know about the area.  This in turn positions you as the thought leader to your lead. 
Keep it concise
While it's important to provide value, it's also important to keep your content short and sweet.  No one wants to read a novel about a neighborhood if their question can be answered in a few sentences. 
Most people have short attention spans and don't want to read a long article or blog post. Keep your sentences and paragraphs short, and use headings and bullet points to break down your keep points which makes it easier to read.
Show off your expertise
As a licensed agent, your expertise is super valuable to potential buyers and sellers. Use great writing to showcase what you know. This could include writing blog posts on topics like the local market, events in the community, or providing tips for solving specific problems that your audience faces. When you demonstrate your expertise, you'll build trust with potential clients and position yourself as a thought leader in your community
Use social media effectively
Social media is your best tool for reaching potential clients. When you use social media, it's important to create a mix of content that teaches, content that connects and content that shows proof. Share what you know.  Provide value to your audience based on their pains and frustrations.  Connect with them by showing more about your personal life.  No one wants to work with a person that only talks about real estate.  Share any hobbies or interests to create connections.  Lastly, show people that you can do what you say you can by sharing reviews and testimonials.
Be authentic
Finally, it's important to be authentic in your real estate content. People can smell you being disingenuous a mile away. Don't use overly salesy language if that's not you.  Also, don't try to be something you're not. Instead, be yourself and let your personality shine. People work with people, not logos or a sales pitch. Your authenticity builds trust and makes people want to connect with you so you can turn them into potential clients.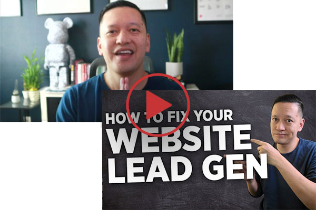 YOUR WEBSITE ISN'T GENERATING ANY LEADS BUT WE HAVE A SOLUTION​
In this free 20 minute video training you'll discover:
Whenever you are ready, click the RED button below that says "Grab my training now"
Examples of Compelling Real Estate Content
Here are some examples of real estate content that you can write about:
Neighborhood guides
Create neighborhood guides that highlight the best new restaurants, businesses or events in the area. This is useful for people who are new to the area or considering moving there.
Before and after transformations
Showcase the transformation of a property with before and after photos. What did it look like before you listed it and how does it look after you sold it? It's also a cool idea to go back to a listing years after you closed on it and show the transformation of what the current owners did to it. This shows your expertise and helps potential clients understand that you care about the long term value of their relationship and property.
Market reports
Market reports are boring.  But if you can think of a creative way of presenting market reports that provide insight into your local real estate market you'll definitely stand out. No one really cares about market reports unless you're in real estate.  Think about ways to make them more compelling to the average consumer.  Tell stories using data and statistics to make it more informative and entertaining.
Case studies
Share your stories from clients. I'm not just talking about the happy ending.  Talk about the struggles and challenges you faced to get them to their goal.  Each roadblock is an example of you flexing your expertise and how to overcome obstacles.  This builds trust with potential clients.
When you follow these tips and use some of these examples, you can create some compelling real estate content.  This positions you as the authority and helps with your sales and marketing goals. Big reminder here.  For this to work you need to remember to focus on your target audience.  Use storytelling and adversity to showcase your talents. The right content will help you stand out from the competition and attract more clients.
Essential Copywriting Tools for Real Estate Agents
Copywriting is all about using the right words and phrases to persuade, engage, and convert your target audience. As a real estate agent, you can use copywriting to create compelling mailers, email campaigns, and other marketing materials that generate leads and increase sales. If you want to write an effective piece of copy you are going to need the right tools. In this section, I want to break down some essentials when it comes to creating copy for  real estate agents.
Grammarly
Grammarly is a writing assistant that helps you fix your grammar, spelling, and punctuation mistakes. It's essential for you if you want to write error-free emails, letters and other marketing materials. Grammarly works by analyzing your text and giving you grammatical corrections in real-time. It also provides an explanation for the corrections.  This also helps you improve your writing skills.
Hemingway Editor
The Hemingway Editor is a tool that helps you write clear and concise sentences. It highlights your rambling sentences, adverbs, and passive voice, then makes it easy to fix it. Hemingway Editor also provides a readability score that tells you how easy or difficult your text is to read. 
CoSchedule Headline Analyzer
The CoSchedule Headline Analyzer is a tool that helps you write "click-baity" headlines that will incite clicks. It analyzes your headlines and provides you with a score based on length, structure, and emotional appeal. The tool also provides suggestions for improving your headlines.  This makes it easier to write headlines that grab attention and make leads want to read.
Canva
Canva is a graphic design tool similar to Photoshop but free.  It allows you to easily create graphics for your marketing materials. With Canva, you can create postcards, social media posts, email signatures, and build up your brand. This tool offers a wide range of templates, images, and design elements that you can use to create professional-looking graphics quickly and easily.
Google Analytics
You need to measure because what is measured can be improved. Google Analytics is a web analytics tool that measures your website traffic. You can use Google Analytics to track the number of visitors to your website, the pages they visit, and the time they spend on your site. This information helps you understand your target audience's behavior and preferences.  This in turn allows you to create a user experience that resonates with them. 
A/B Testing Tools
The only way you can make sure your strategies are working is by testing. A/B testing tools allow you to create different versions of your marketing and test them against each other to see which one works better. With A/B testing, you can test different headlines, images, and calls-to-action, to see which version gets you more clicks, leads, and conversions. Some tools that I've used for A/B testing tools are Optimizely, Unbounce, and Google Optimize.
Social Media Management Tools

Creating content on a daily basis is exhausting.  But if you can create a lot of content and then schedule it out, it becomes a lot easier to manage. Social media management tools allow you to schedule content and manage your social media accounts from a single dashboard. You can also track mentions, and measure social media performance. Some popular social media management tools I've used are Hootsuite, Later, Buffer, and Sprout Social.
These are some of the essentials I'd recommend for real estate agents. This helps you save more time wiring compelling content that generates leads and increases your closes. These tools will help you eliminate errors, write clear and concise sentences, write engaging headlines, create stunning visuals, analyze your website and social media performance, and test different versions of your marketing materials. 
LEARN HOW WE'VE GENERATED OVER
100,000 LEADS

FOR OUR REAL ESTATE CLIENTS LAST YEAR
Marketing Strategy – create inbound strategies to better position you for the long game.

Systems Implementation – we design and implement systems for you to buy back your time.
Brand Building – position you as the thought leader and authority in your community.
AI Tools for Real Estate Copywriting Success
As technology continues to evolve, AI-powered tools are becoming increasingly useful in real estate. These tools can help you streamline your work and improve their copywriting efforts. Here are some AI tools that can help you achieve real estate copywriting success:
ChatGPT
First let's start with the elephant in the room. Everyone has heard of ChatGPT at this point. ChatGPT is an advanced language model developed by OpenAI that can generate human-like text based on the input provided. It can be a useful tool for real estate agents looking to create compelling and engaging copy for your marketing efforts. When you input a topic and a prompt, ChatGPT can generate unique and creative copy that can be used to capture the attention of potential clients and customers.
But be forewarned. As of this writing you can't just copy and paste what ChatGPT creates. You end up sounding like a robot. Be sure to take the time to edit the content so it sounds more authentically like you.
Copyscape
Copyscape is an AI tool that checks for plagiarism. It makes sure that your content is original and not copied from another source. Copyscape offers a free version and a premium version that provides more detailed reports.
Phrasee
Phrasee is an AI tool that uses natural language generation to create engaging subject lines and email copy. This is perfect for real estate agents who want to improve their email marketing efforts. Phrasee is only a paid version but it's super powerful if you have the budget.
Persado
Persado is an AI tool that helps you write better ad copy by analyzing your target audience and creating personalized messages. This tool can help you create more effective ads that resonate with your target audience. Persado is also a paid only tool.
Acrolinx
Acrolinx is an AI tool that helps you create consistent and high-quality content across all your marketing channels. This tool analyzes your content and provides suggestions for improving readability and makes it align better with your voice. Acrolinx is a paid only tool.
Jarvis
Jarvis is an AI-powered tool that uses natural language generation to help you create high-quality content quickly. This tool can be helpful for real estate agents who need to create blog posts, social media posts, and other types of content on a regular basis. But be forewarned, you can't use the blog post content for SEO. You'll need to rewrite it so that it sounds like a human wrote it instead of an AI. Jarvis offers a free trial and a premium version that provides more advanced features.
Hubspot
Hubspot is an all-in-one marketing platform that includes AI-powered tools for lead generation, email marketing, social media, and more. This tool can help real estate agents automate their marketing efforts and improve their overall marketing performance. Hubspot offers a free trial and a premium version that provides more advanced features.
These are just some AI-powered tools that can help you improve their copywriting efforts and. Using these tools can streamline your work, create high-quality content, and reach your target audience more quickly.
The Dos and Don'ts of Writing Real Estate Articles for Digital Marketing
Writing real estate articles for digital marketing can be challenging, but it's essential if you want to have a marketing strategy. Whether you're creating blog posts, social media posts, or emails, it's important to know what works and what doesn't. In this section, I want to break down the dos and don'ts of writing real estate articles for digital marketing.
Do: Use Attention-Grabbing Headlines
Your headline is the first thing that people will read when they see your article. It's essential to make it catchy and "click-baity". Use power words, questions, negative words and numbers to make your headline look more appealing. For example, "10 Need-To-Know Tips for Buying Your Dream Home" is a much more enticing headline than "Tips for Buying a Home."
Don't: Use Jargon and Technical Terms
When writing for a wide audience, it's important to avoid using jargon and technical terms. Dumb your writing down! Even if you use the technical lingo, the average person will be confused. Keep your language simple. Think 5th grade level writing.
Do: Use Personal Stories and Examples
People love stories, and this is one of the best ways to connect with your audience. Write about your personal stories. Use them as analogies to explain your points and make your content more relatable.
Don't: Use Stock Photos
Stock photos suck. I know they can be tempting to use if you don't have anything else. But they can make your content appear generic and fake. Instead, try to source your own photos. It makes your content more authentic and genuine.
Do: Optimize for SEO
Search engine optimization (SEO) is a crucial part of your digital marketing strategy. When you optimize your content for search engines, you can increase your visibility, search rankings and traffic to your website. Use relevant keywords in your content, link correctly and set up your meta information.
Don't: Ignore Your Audience
Your audience should be at the center of all your marketing efforts. The trick here is to just think about one person that you're writing your content for and write it to them. That way it's more relevant and useful.
Do: Use AI Tools for Copywriting Success
Artificial intelligence (AI) tools can be a game-changer for copywriting success. ChatGPT can help you create content fast. All you need is the right prompts.
Don't: Copy AI Content
I'm sure you're thinking that it's easy to just input a prompt into ChatGPT and have it give you something to copy and paste but please don't! Search engines can detect AI generated content and it will only negatively affect your rankings. Instead use that content as a framework and then rewrite it in your own words.
Writing real estate articles for digital marketing is time consuming but pays off big in the end. When you're writing as part of your marketing strategy, you need to be patient. One article might take you days to write and it can be completely disheartening to see it not pick up any traction immediately. But you need to wait for the algorithms to pick it up before it can truly pick up steam and you start seeing the fruit of your labor.
5 Examples of Great Real Estate Copywriting in Action
Real estate copywriting is all about crafting persuasive and compelling messages that grab the attention of potential future clients. To help inspire your own real estate copywriting efforts, here are 10 examples of some great real estate copywriting:
1. Houzz's Lifestyle Content
Houzz's blog is full of lifestyle content that shows you how a property can make a homeowner's life easier. From curb appeal to interior design tips, Houzz's content appeals to the emotions and aspirations of homeowners.
2. Trulia's Neighborhood Guides
Trulia's neighborhood guides are an excellent source of inspiration. They show a great example of how to provide value to potential buyers. The guides provide detailed information on the local community, including schools, crime rates, and demographics to help future buyers make better decisions.
3. Compass' Lifestyle Videos
Compass' lifestyle videos focus more on the lifestyle a neighborhood offers instead of the property. These videos often feature local events and provide a glimpse into the community.
4. Sotheby's Property Descriptions
Sotheby's writes really great property descriptions. They really give off a feeling of high class luxury. These descriptions use language that conveys exclusivity because their audience is high-end buyers and sellers.
5. Keller Williams' Email Campaigns
Keller Williams is known for their email campaigns. They are an excellent example of how to use email marketing to nurture leads. These campaigns provide valuable content to help build trust and establish Keller Williams agents as thought leaders and a helpful resource to a community..
Really study these 5 examples of real estate copywriting. You're guaranteed to gain a ton of insight into what makes real estate messaging successful. Then take some of these ideas and apply them to your real estate copy.
In conclusion, copywriting plays a crucial role in the success of a real estate agent's business. Through effective copywriting, agents can communicate their USP and build a strong brand.  This ultimately leads to increased client acquisition, sales and revenue.
To be successful in real estate copywriting, it is important to understand your target audience, craft compelling messages that resonate, and utilize the right tools and techniques to deliver your message effectively. By following the best practices outlined in this blog post and studying the examples provided, you can improve your copywriting skills and take your real estate marketing to the next level.
Remember, great copywriting is not just about being persuasive; it's about building relationships and trust. When you put in in the time and effort to create high-quality, engaging content, you can establish yourself as a thought leader in your field and attract a loyal following of clients and customers.
So, whether you're just starting out in the world of real estate or looking to take your marketing efforts to the next level, keep these copywriting secrets in mind and start creating content that truly resonates with your target audience. With a little practice and dedication, you can become a master of real estate copywriter and scale your business.