Realtors know that niches are super powerful. However, in my business dealing and providing real estate strategies along with great real estate web design to realtors, the big problem I've encountered when helping our clients is that, to them, niching is one of the things that they have difficulty with.
Finding a niche that realtors are comfortable with and can focus on and commit to is like running a 100-mile marathon. This is because niching is often misunderstood as the idea of helping their "community" or "area" which serves as their niche, and that's completely incorrect.
Instead, you have to start emphasizing the strategic power of niching.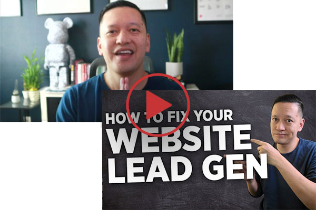 YOUR WEBSITE ISN'T GENERATING ANY LEADS BUT WE HAVE A SOLUTION​
In this free 20 minute video training you'll discover:
Whenever you are ready, click the RED button below that says "Grab my training now"
The narrower the focus you have on a particular audience or avatar, the easier it is for you to become the dominant authority of the avatar.
Think of that old analogy of the big fish in a small pond. If you're the big fish of a fish bowl, it will be a lot easier to take market share, versus if you're a fish in a pond – there are a lot more fishes in there and it will be far more difficult for you to become the apex predator.
One of the guys I call a mentor is Russell Brunson, he's the creator of Click Funnels and he talks about niching is digging 3 levels deep. If the plan is to be the big fish in the small pond then it would look something like this:
Level 1 is the ocean

Level 2 is a small lake

Level 3 is that fishbowl
LEARN HOW WE'VE GENERATED OVER
100,000 LEADS

FOR OUR REAL ESTATE CLIENTS LAST YEAR
Marketing Strategy – create inbound strategies to better position you for the long game.

Systems Implementation – we design and implement systems for you to buy back your time.
Brand Building – position you as the thought leader and authority in your community.
At level 1, you are trying to serve everyone that needs help in real estate, at level 2 niche is picking either buyers or sellers, and then eventually identifying your real estate niche, your level 3, by digging deep and identifying an audience and a problem. Some really great examples are first-time home buyers, relocating, or families downsizing.
Find out more tips to help you scale your business and build predictability? Join our free Square 1 Facebook Group today. If you need help building out your real estate website, we're just a call away! We're experts so feel free to reach out to us and we'll be more than happy to help you out.