In my business, providing real estate strategies along with great real estate web design to realtors, we've been helping out real estate clients for a while now with Facebook ads as their main lead generation source. A lot of real estate agents have trouble landing the correct approach with this strategy, some try and fail, while others are just not really ready to explore it yet.
After doing the reps for a few years, first in our business, then with our clients, we've fine-tuned our strategy to help out clients get results quickly when it comes to their Facebook ads and Real Estate Lead Generation.
Whether you're a real estate agent just starting to explore Facebook Ads or someone who's having trouble with it, we've compiled our top 3 tips that can help you out with Facebook Ads Lead Generation.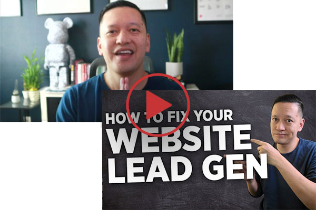 YOUR WEBSITE ISN'T GENERATING ANY LEADS BUT WE HAVE A SOLUTION​
In this free 20 minute video training you'll discover:
Whenever you are ready, click the RED button below that says "Grab my training now"
Tip #1 – Create The Ad Trifecta
In terms of Facebook Ads, stop thinking that 1 Ad or Ad type will rule them all. This is what a lot of real estate agents new to Facebook Ads get wrong. It's the belief that you can create 1 Ad or 1 Ad type and you'll get immediate results.
Instead, there is this phrase we coined called the Ad Trifecta. Depending on what community you're in or niche you're targeting, they react to the types of ads you publish differently, we've found that there are 3 main lead gen strategies that have worked for our clients.
FB Group Ad – designed to fill your funnel quickly

Lead magnet – designed to drop value quickly 

VSL or Video Sales Letter – designed to indoctrinate quickly
By deploying all 3 you get a ton of data real quick and gives you clear visibility of what's working and once you find out what's working, you just double down. 
Tip #2 – Expect That The Bulk Of Leads To Be Unqualified
There is this belief that 1 lead equals 1 client, or 30 leads equal 1 client. Let's debunk this now. In the world of digital marketing and high ticket sales, that's not how the game is played.
Instead, there is this really great marketeer named Dean Jackson and he has this rule of 100. He says that in 100 leads, about 80 leads or 80% are unqualified, and out of the 20% qualified leads, about 15% are leads that are ready now, while the remaining 85%. connect with you.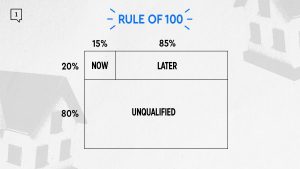 Tip #3 – Plan The Next Step
There is a belief that after a lead opts into your world, they're ready to work with you. Most of the time, this is false and I defer you back to tip #2. All your Ad do is incite a feeling and they were curious so they opted in to learn more. That doesn't mean that they're ready, that just means they went from an ice-cold lead to lukewarm.
Your job after capturing the lead is to warm them up so they become hot and ready to become a client. In the big scheme of things, lead generation only takes up about 5% of the conversion journey, 95% of the work is now done during the lead nurture part.
So plan out several touches to provide value and indoctrinate. The more this lead understands your principles and beliefs, the more likely they are to raise their hand and get converted into a client.
LEARN HOW WE'VE GENERATED OVER
100,000 LEADS

FOR OUR REAL ESTATE CLIENTS LAST YEAR
Marketing Strategy – create inbound strategies to better position you for the long game.

Systems Implementation – we design and implement systems for you to buy back your time.
Brand Building – position you as the thought leader and authority in your community.
It's no secret that Facebook Ads can be a big part of a real estate agent's success. These top 3 tips can help you find your way through the maze of Facebook ads and lead generation so that you can get the results you want as quickly as possible.
Looking for more real estate strategies to grow your business? Join our free Square 1 Facebook Group for similar content that can help you in your Real Estate journey. If you are interested in one-on-one coaching, then schedule a strategy session with me today, and let's talk about how I can help you move your business forward.