Do you find yourself internalizing these questions when trying to post on social media? Would you just rather rely on your real estate web design to generate leads for you?
Well, as great as your website looks, the reality is it is not enough to grow your business. In order to fully move your business forward, you have to use social media. 
Oftentimes, we come up with excuses to validate not posting online. Whether it's feeling uncomfortable to always be promoting oneself or looking desperate online, there's always an excuse to avoid posting on our social media accounts.
But if we know that social media is such a valuable tool for our businesses, then why do we self-sabotage? At the end of the day, these thoughts are no more than excuses to sabotage our ability to grow our business. And when a business isn't growing, the reality is that it is dying. 
This means that if your business is on life support and you think "you've done everything" to save it, but you haven't really spent a concerted effort on social media and digital marketing, then you haven't done everything.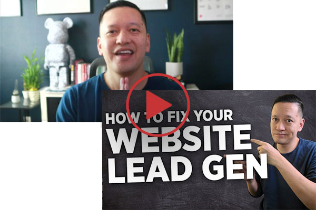 YOUR WEBSITE ISN'T GENERATING ANY LEADS BUT WE HAVE A SOLUTION​
In this free 20 minute video training you'll discover:
Whenever you are ready, click the RED button below that says "Grab my training now"
So what exactly is the difference between sales and marketing anyway?
Sales refer to working directly with prospects to provide a solution as a service. On the other hand, marketing is designed to inform and attract said lead or prospect so the salesperson can sell.
The common challenge that most Realtors face is that most Realtors are fantastic salesmen but horrible marketeers. You have sales on one side and you have marketing on the other. The ones that find success and stride in real estate are the ones that have figured out how to do both.
That being said, marketing yourself doesn't need to be that difficult but it's vitally important. And using social media is probably the most inexpensive way to market yourself.
Understanding What's Stopping You
In order to know what to post online, you have to understand your sales funnel. 
You have your top of funnel, middle of funnel, and bottom of the funnel. What social media allows you to do is stay top of mind, essentially for free, with all of these groups of prospects by simply posting.
You see, what usually works best, gets the most engagement, and resonates the most with your audience are posts that really showcase you. From showing yourself and your expertise, your opinions, and your vulnerabilities.
Now the challenge with talking about these things stems from insecurity. These insecurities lead to anxiety which inevitably leads to no action.
How to Overcome Anxiety and Insecurity
We as humans are born with 2 fundamental needs. Those needs are to avoid rejection and to find connections. By posting, you've effectively taken yourself out of your comfort zone and opened yourself up to either rejection or not being able to create a connection.
That said, here are a few tips to help you get over this little hump so that you can really start putting yourself out there and attract the leads and prospects you're looking for.
Tip #1: Accept that no one is perfect.
You see, nobody is perfect online, and you don't have to be either. Whether it's your favorite celebrity or that other successful agent that you follow is not perfect. 
One crappy post does not equal a crappy account and definitely does not equate to a crappy person. Your brand is a culmination of who you are as a person that can be viewed through the lens of your social media accounts.
Remember that one post that missed its mark does not define you.
LEARN HOW WE'VE GENERATED OVER
100,000 LEADS

FOR OUR REAL ESTATE CLIENTS LAST YEAR
Marketing Strategy – create inbound strategies to better position you for the long game.

Systems Implementation – we design and implement systems for you to buy back your time.
Brand Building – position you as the thought leader and authority in your community.
Tip #2: Accept vulnerability.
Want to know what resonates the best on your posts? It's when you talk about the struggles you're facing or the things you're celebrating.
Your audience will respond to your heartfelt authenticity and you want those responses because what resonates will inevitably build trust. Furthermore, you have to understand this concept to really try changing your perspective. 
You see, you worked very hard to get where you are now, why keep it a secret? You should really be spending more time sharing it with the world.
Tip #3: The posts that you create are not for you, it's for your audience.
Once you start to realize this, the process of posting becomes a lot easier.
This means that if you've ever wondered what to post, you have to think about the questions that your audience wants to be answered. Try to turn those Q&As into pieces of content. The more you're able to answer those questions, the more trust you'll build, and the more likely you'll attract the right type of prospect.
In order to grow your audience, you must consistently show up and practice putting yourself out there. You can't just wait for inspiration or dip your toe in then run away. That's why creating a plan is so vital.
Some experts say that this is more of a 'pro' technique but I don't completely agree. Rather, this should be an exercise that anyone trying to get their feet wet in digital marketing and social media should have basic knowledge of.
The justification is very simple. You only have a certain amount of decision-making capabilities throughout the day, a full tank of gas if you will. As you start your day and continue to make decisions, that gas tank will start to empty, and the only way to refill it is by getting a good night's sleep and starting fresh the following day.
That being said, the mental capacity of creating content is very strenuous. Trying to worry about what to post every day can drain on your fuel. Therefore, the better approach is to batch your content-creating capabilities to a single day or two throughout the month and schedule the posts out.
Tip #5: It gets easier over time.
Social media is no more than a muscle that needs to be exercised.
If it's your first time, then it's definitely going to be difficult. You can't be expecting to be on Youtube, then Facebook, then IG live, then on TikTok right off the bat. It's going to take you time to first get comfortable and to really learn how to use those platforms.
You really need to be patient as you start to use these platforms. Try to figure out a daily cadence for one, then a system for fulfillment.  As you get the reps in, the easier this will be. 
Once you've nailed that down, then work on the next platform.
Pro tip: Create, then publish, then look for ways to make it better.  If you get too hung up on the perfect post, the harder it will be for you to publish.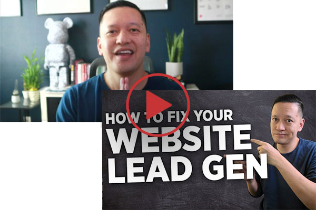 YOUR WEBSITE ISN'T GENERATING ANY LEADS BUT WE HAVE A SOLUTION​
In this free 20 minute video training you'll discover:
Whenever you are ready, click the RED button below that says "Grab my training now"
People love seeing other people grow, evolve, and change. The same goes for your social media and your brand.  If you follow the philosophy of creation, then publish, then look for ways to make it better, the quicker your audience will grow and the more likely you'll start attracting your perfect prospects.

If you're still freaking out about posting or you need some accountability on this, then I highly recommend that you join our free Facebook Group. We discuss social media and everything digital marketing there. But if you're looking for some specific ideas that will help catapult your business to the next level, then I suggest you schedule a strategy session with us today.