Branding is an idea that is often associated with Fortune 500 companies but is also an effective tool for other small businesses and entrepreneurs. This is especially true for residential real estate agents.
In a world where there are hundreds of thousands of real estate agents, branding can help you stand out from the crowd and make your business successful. 
Branding is all about consistency and hard work. This is not something that you can achieve overnight but is something that will require time and effort. 
We've come up with a few tips to help you focus on what needs to be done to establish your real estate brand. 
Logo
Time and time again, we emphasize the importance of your brand logo. Your brand logo is the representation of your business. 
As the old saying goes "A picture is worth a thousand words". This is why is it important for your brand logo to speak of your brand as a whole. 
Spend time thinking about who you are as a brand and what message you would want to convey to your audience. This is your first impression of your potential clients and should reflect the best of who you are as a brand. 
From the colors to the font, and even the shape of your logo, it should all be cohesive and be able to convey a message already to your target audience. 
Social Media Presence
In this day and age when everybody has their own mobile devices, social media is one of the most important platforms real estate agents need to take advantage of. 
Moreover, this marketing platform is essentially free. There is no reason or excuse for you not to be blasting your brand online.
But instead of just creating an account, page, or group on every social media platform available to you, think of your target audience and identify where your target audience is most likely to be active. 
We recommend testing out different platforms and see which performs best and gives you the most engagements with the right leads. 
The keyword here is "right".  For example, you may be getting a lot of likes on your Instagram account but if they're from people who would never do business with you, then you might be on the wrong platform or your messaging might need some tweaking. This is why it's important to test first then once you're able to figure out which one works best, start focusing your efforts on that platform.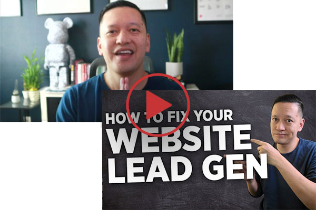 YOUR WEBSITE ISN'T GENERATING ANY LEADS BUT WE HAVE A SOLUTION​
In this free 20 minute video training you'll discover:
Whenever you are ready, click the RED button below that says "Grab my training now"
LEARN HOW WE'VE GENERATED OVER
100,000 LEADS

FOR OUR REAL ESTATE CLIENTS LAST YEAR
Marketing Strategy – create inbound strategies to better position you for the long game.

Systems Implementation – we design and implement systems for you to buy back your time.
Brand Building – position you as the thought leader and authority in your community.
Content Quality
When building your brand, remember that content is king.
Gone are the days when the quantity of content you publish will automatically increase your SEO and Google rankings.
Nowadays, in order to increase your SEO and establish higher Google rankings, you must consistently publish relevant content.
A great way of doing this is by trying to focus on the most asked questions of your target audience and build a story around those questions. Talk about their pain points, problems, and current struggles. Then help them by suggesting solutions to their problems that will eventually lead them to ask for your assistance. 
This will also help you establish your brand and become a neighborhood expert. Don't simply make content because you have to; strategize properly and execute it well.
Establish What You're Not
In relation to building a brand, not only is it important to build your brand and what you stand for but to also establish what you are not.
Identify the pain points in your market and remind your audience that these pain points will not be an issue when they choose to work with your brand. 
Final Thoughts
As complex as branding is, always keep in mind that branding is simply effectively conveying who you are to your audience. It is important to always be clear and stay on track about who you are; the clearer this is to your audience, the more successful you'll be. 
If you have any concerns about establishing your real estate brand, let us help you out! Give us a call today and let's get to work!