Whenever a real estate agent approaches us wanting to build their own real estate web design, it's always for the same reason… lead generation. However, I always remind them that the first step to effective lead generation is knowing your real estate audience. 
Importance of Knowing Your Audience
Let me tell you a story about our client Nick. 
Nick is a real estate agent who focuses on upsizing families or more specifically families that have outgrown their current living situation and are looking for a bigger home.
And the main question now is "How do we get in front of this type of lead?".
The answer to this is really where the importance of knowing your audience comes into play. To help out Nick, instead of running some generic ad about families outgrowing their homes or maybe just a new listing, we got creative.
You see, he knew his audience typically had kids and they were looking for something inexpensive to do during the holidays. And one of those things was to drive around and look at homes that were beautifully decorated with Christmas lights. So what we did was we designed a map of the neighborhood with all of the homes that have Christmas lights that families can visit and ran an ad towards it.
Not only did this shoot up his lead gen and bring down his cost per lead to under 2 bucks, but he also ended up going into escrow a few weeks ago with one of the leads.
And the key here is that the pitch doesn't have to be about real estate.
In the example I just explained, our agent knew the pain points of an upsizing family and created a solution to solve that need that was both free to them and time relevant.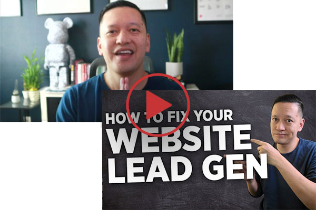 YOUR WEBSITE ISN'T GENERATING ANY LEADS BUT WE HAVE A SOLUTION​
In this free 20 minute video training you'll discover:
Whenever you are ready, click the RED button below that says "Grab my training now"
How To Know Your Audience
So how do you know your audience?
Well, to start by thinking of the ideal perfect client and answering the questions about their characteristics like demographics, psychographics, and behaviors. Then, once you have a database of people, conduct a survey with them by sending out email blasts to ask questions about who they are and what they like. These could be easy questions like, "What are your plans for the weekend?", "What is your favorite vacation spot?", or "What's your favorite restaurant in the area?"
All these emails are not only valuable ways to collect data but also great conversation starters.
Then you can input this information into your CRM and add tags to the contacts with their interests. Once you have all of this information, you'll then start to organize them into "buyer personas" or groups. That's like putting the responses into a spreadsheet so that you can analyze the data a little more visually.
And finally, from there, you can start to identify patterns and make assumptions that will guide you to creating a piece of value for a marketing campaign. 
All that's left from there is to test, rinse, and repeat.
LEARN HOW WE'VE GENERATED OVER
100,000 LEADS

FOR OUR REAL ESTATE CLIENTS LAST YEAR
Marketing Strategy – create inbound strategies to better position you for the long game.

Systems Implementation – we design and implement systems for you to buy back your time.
Brand Building – position you as the thought leader and authority in your community.
Knowing your audience allows you to align yourself with your potential future client's interests. The more you know about them the more you can create value that would be a good fit and tailor your pitch to appeal to them.
Looking for more real estate strategies to grow your business? Join our free Square 1 Facebook Group for similar content that can help you in your Real Estate journey. If you are interested in one-on-one coaching, then schedule a strategy session with me today, and let's talk about how I can help you move your business forward.