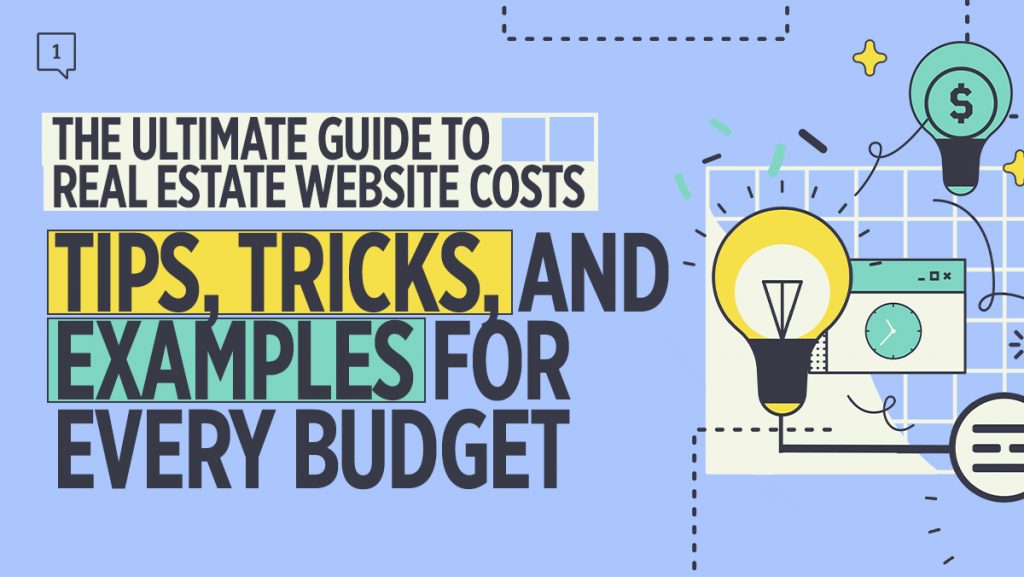 If you're a real estate agent looking to expand your online presence, one of the best ways to grow your brand is with a website. The problem is, if you don't know what you need, the costs associated with building a professional real estate website gets really expensive real quick. 
In this blog post, I want to take a dive into everything you need to know about building a real estate website based on my experience.  Let's explore why real estate websites are so expensive and answer some of the most common questions about creating one. Whether you're just starting out or looking for a complete rebuild, this guide has something for every budget. So, let's dive in shall we…
What is a Real Estate Website?
Not familiar with what a real estate website is yet?  Well, A real estate website is an online destination designed to showcase your brand, your services and any listings you have available to the market. Think of a digital business card for everything you do.
A good real estate website needs to look good, be easy to navigate, and have clear calls to action so that visitors can connect with you to either ask questions or hire you. It also should also be optimized so search engines can pick up pages of your site.  This makes it easier for visitors to find you organically.
Some agents like to feature either their past or current listings. Some other pages you can add are about the local community, calculators and other tools that prospective buyers and sellers might find handy. The more value you provide the more likely a prospect will land on your website, analyze your expertise and think of you as the trusted authority to your local market.
It's almost a no brainer nowadays. If you are either starting or looking to grow your online presence, having a real estate website is essential. It helps your brand, generate leads, and grow your business.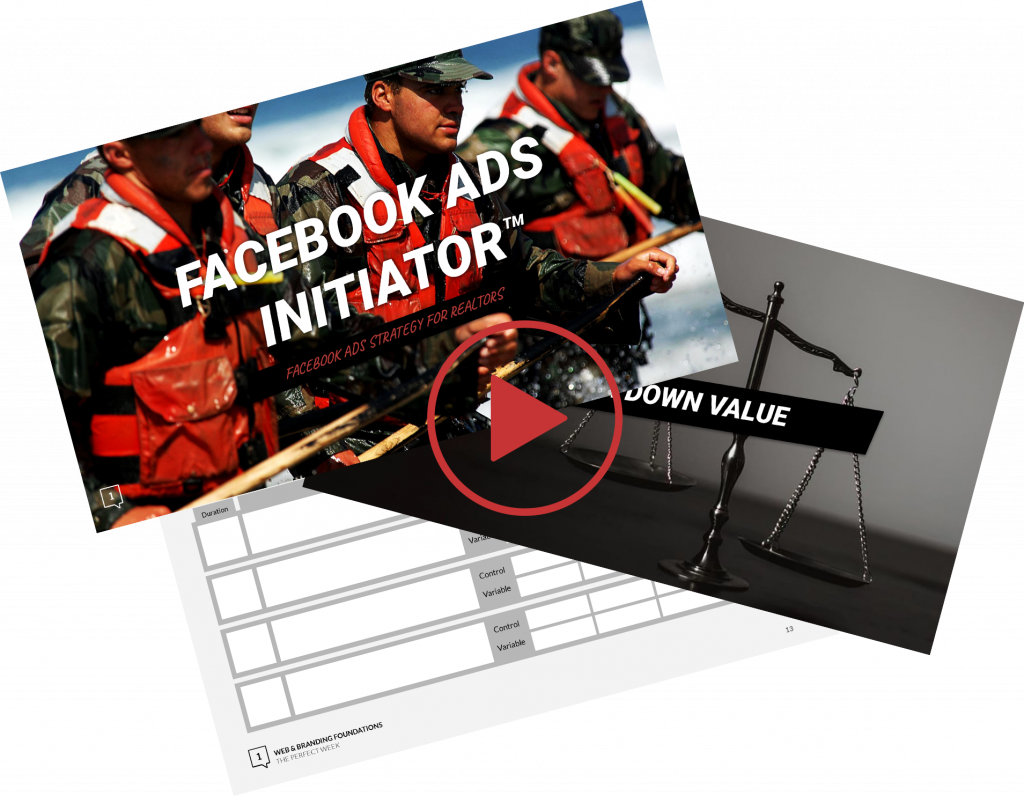 YOU'RE RUNNING OUT OF WAYS TO GENERATE LEADS BUT WE HAVE A SIMPLE SOLUTION
In this free workbook, you'll discover:
Whenever you are ready, click the RED button below that says "Grab my workbook now"
Do I need my own website as a Real Estate Agent?
Since there are so many online platforms like Instagram, Facebook and LinkedIn to host your profile, you might be thinking that having a website isn't necessary anymore. Additionally, third-party websites like Zillow or Realtor.com list properties that are listed on the MLS. So what good is it for you to still have a website? Here's the honest truth, there are still plenty of viable reasons to have your own website.
Reason number one is that having your own website gives you greater control over your online brand. When you are solely a third-party social media platform, you are at the mercy of their algorithms and policies. Nothing's worse than getting into "Facebook jail". It can take weeks, if not months, to get out. Take it from experience. Getting put into "social media jail" immediately stops your business. Additionally, if one of these platforms decide to change their policies or change their algorithms, you might get shadow banned and lose valuable potential leads.
When you have your own website you control your online presence. You can showcase your brand the way you want to be seen. No one can block you or put you in "social media time out". You also can design your website to reflect your style and personality. This is a lot different from a social media profile which looks exactly the same as the next agent over. Your own website can help you stand out from the competition. You can also customize your website to highlight your strengths and expertise.
Another advantage for having your own website is that it allows you to capture leads. Capturing leads means building your own database and owning your media. When you own your media, you'll never have to pay for advertising again. When you want to talk to them, you can do it whenever and however you like. You aren't at the mercy of these third-party platforms. The eyeballs they capture are owned by them and to gain access to them you'll need to pay for ads. Creating landing pages to capture leads allow you to build your own database of potential clients. Once you have these leads, it then becomes your job to create long-term relationships and convert them into clients.
Third, having your own website can also be a really cost-effective way to market your services. Platforms like Facebook or Zillow will charge you to use certain features. However, the cost of hosting your own website is typically pretty cheap. Since it's really inexpensive, you can then use your website to promote your services and share valuable content. Redirect visitors from your third-party profiles or email back to your website and feature things like market reports or guides. If the goal is to capture leads, then I would recommend adding some sort of lead capture feature to make visitors submit their contact information to gain access to any of these assets.
The caveat to this is that building and maintaining a website does require some time and money. Since you're building this on your own, you're going to be exposed to the nuance of actually building the website. This includes purchasing a domain name, finding a hosting provider, and designing your website. Not to mention, you'll also need to hire a web developer if you need some custom coding that doesn't come out of the box with many of these website builder applications. The good news is that there are a bunch of different tools and services available that can help you build your website without learning how to code. They're also daily inexpensive to use as well. A couple great platforms to look into are WordPress and Wix. They're cheap, they have templates and hosting services that can help you get up and running quick.
In summary, while it is possible to operate as a real estate agent without your own website, having your own website can give you greater control over your online presence, help you capture leads and build your own database of clients, and be a cost-effective way to market your services. With the availability of affordable tools and services, there has never been a better time to consider building your own website as a real estate agent.
How Much Does a Real Estate Website Cost?
One of the first questions real estate agents ask when building a website is, "how much will this cost me?" The answer you don't want to read is that it depends.  There are a variety of factors that you have to consider.  They include what you want in a website, how custom you want your website and who do you want to build it. I've built quite a few of these in my time so in this section, I want to break down some of the main cost factors to consider when building a real estate website.
Types of Real Estate Websites
Before we dive into cost, it's important to first understand the different types of real estate websites you can make. Here are some of the most common options:
Basic Website: A simple website that includes information about your business, your services, and your contact information. There is nothing crazy or dynamic here. The website is predominantly static meaning that it's mostly informational and doesn't need to be updated frequently. Think of this as your glorified business card option. These types of websites are typically the cheapest to create.
IDX Website: An IDX website allows people to search the MLS from your website. It typically works by installing some sort of plugin or iframe from a third-party provider into your website. Think of it like installing a window from another person's website into yours. This can be a great option if you want to showcase your local properties and have people save searches. There is a bit more custom work to this so the price does increase from just a basic website.
Custom Website: A custom website offers you a ton more flexibility in terms of design and functionality. I like to refer to these types of websites as a blank canvas. You can create whatever your heart desires. You have no constraints. These websites tend to be on the expensive side because everything is custom. You're going to need to hire a team of UI/UX designers to make sure the site looks great and then a team of developers to make sure it functions properly. You don't get the luxury of someone else developing the software to make sure everything works correctly. This means a lot more testing on your part because everything is build from scratch.
Now that you understand the different types of real estate websites you can make, let's take a deep dive into all of the factors that impact price.
Type of Website: As I mentioned earlier, the type of website you pick has a direct correlation to the amount of money you're going to spend. A basic website might cost anywhere from under a hundred to a few thousand dollars, while a custom website could cost tens of thousands of dollars or more.
Design: The design of your website also impacts price. A basic template will cost a lot less than a fully custom design. If you're going for a fully custom design, be ready to pay more for the additional time and skill required to create something that aligns with your vision.
Functionality: In my opinion, the functionality of your website is the most expensive line item as it pertains to your website. If you go with something "out of the box" like a Wix or Squarespace website, the cost is significantly cheaper but what you save in cost you forfeit in customization.  If you want to go with an IDX website, you'll likely have to use WordPress and install a plugin.  Features like interactive search will cost you a bit more because you'll likely have to hire a specialist to create this website for you.  Going fully custom means that you're developing from scratch.  When that's the case, be expecting to pay for the time, effort and expertise of a web developer to create the whole application from the ground up.
Content: An expense that is often forgotten about but is equally important as the design and functionality is the content. The content you create also must factor into your budget. Creating copy for the different pages for the website will require you to hire a copywriter.  If you're planning to include photos or video, you'll likely have to hire a photographer or videographer.  All of these resources aren't free.  You'll need to compensate them for your content. 
Developer or Agency: Lastly, the agency you choose to work with can also impact the cost. Different agencies have different rates.  Someone starting off will be far more inexpensive than a large design firm.  I recommend shopping around and getting quotes from several different vendors before making a decision.
So, how much should you expect to pay? Look, there isn't a one-size-fits-all answer, but here are some ballpark averages:
Basic Website: >$100-$5,000
IDX Website: $5,000-$15,000
Custom Website: $15,000-$50,000+
I want to remind you though that these are general guidelines.  The actual costs depend on your wants and needs.  They also depend on who exactly you want to hire to build out this bad boy.
At the end of the day, building a real estate website can be a pretty big investment, but it's also a necessary evil for growing your business and connecting with new clients. Now that you understand the different types of websites you have at your disposal, the factors that impact cost, and the average costs associated with each type of website, you're better equipped to make a decision based on cost.
LEARN HOW WE'VE GENERATED OVER
100,000 LEADS

FOR OUR REAL ESTATE CLIENTS LAST YEAR
Marketing Strategy – create inbound strategies to better position you for the long game.

Systems Implementation – we design and implement systems for you to buy back your time.
Brand Building – position you as the thought leader and authority in your community.
How to Estimate the Cost of Building a Real Estate Website: Tips and Tricks for Accurate Budgeting
Building a real estate website can get expensive real quick. However, when you understand the different factors that go into the cost of a website, you can better predict the cost of building your own real estate website much more accurately. Here are some tips and tricks to help you get started:
1. Determine the Scope of Your Website
The first step in estimating the cost of building a real estate website is to determine its scope. What features do you want on your website? Do properties need to be fed into your website automatically or can you deal with uploading them manually? How will people book appointments with you? These are a few questions to ask yourself when you scope out the requirements of your website.
2. Choose Your Platform
There are a ton of different website building applications available. Each of them have their own costs associated with it. Some of the more popular ones for real estate websites are WordPress, Wix, Squarespace, and Weebly. Each platform has its own pricing. There are also some hidden costs to consider (for example additional plugins you need to purchase). Be sure to research each option to figure out what aligns with your scope and fits your budget.
3. Consider Hiring a Professional
Building a website from scratch is uncomfortably time consuming if you try to build it on your own and you have no previous web development knowledge. Hiring a professional web designer or developer can make sure your website is built correctly and save you a ton of time. Professionals aren't cheap. Consider the cost of their service in addition to the cost of the platform you choose. In my opinion, hiring a professional is the better option than building it on your own. You'll drive yourself nuts if you try to do this solo.
4. Research Website Templates
If you're on a tight budget, I'd recommend going with a website template instead of building something from scratch. There are a bunch of different website templates available that are designed specifically for real estate agents. They're also your fastest and cheapest way to get started. Pro tip: Choose a template that is mobile-responsive and has the features you need.
5. Estimate the Cost of Website Hosting
Building a website is one cost, hosting it is another. It's a lot like building a house and giving that house an address. Your website hosting is like giving that house an address so people can find it and visit you. Website hosting allows people to access your website on the internet. There are a bunch of website hosting providers available you can choose from. They are really inexpensive unless you go the custom route. Check out 1&1, GoDaddy or HostGator to name a few. If you go custom, there are really only two options I'd recommend. They are Google Cloud Platform (GCP) or Amazon Web Services (AWS).
6. Plan for Ongoing Maintenance and Upgrades
You can't build a house and expect it to work perfectly for years to come. The same thing applies to your website. You're going to need to make sure it's running smoothly and it's constantly up-to-date. Plan for ongoing maintenance and upgrades. They come with the territory of having a website. Maintenance can include updating your website content, adding new features, and making sure your website is free and clear of any malware. You can't just set it and forget it. Make sure you budget for ongoing maintenance and upgrades.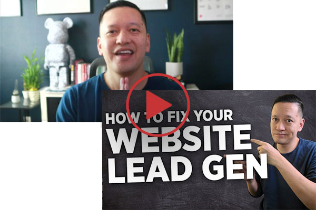 YOUR WEBSITE ISN'T GENERATING ANY LEADS BUT WE HAVE A SOLUTION​
In this free 20 minute video training you'll discover:
Whenever you are ready, click the RED button below that says "Grab my training now"
Answering Your Questions About Real Estate Website Costs: A Comprehensive FAQ
I'm sure you have a ton of questions about cost when it comes to building out your real estate website. Here are some of the frequently asked questions I get asked that cover costs:
How much does a real estate website cost?
The cost of a real estate website depends on quite a few factors, like the features and functionality you need, the customization of the design, and details of how you want the website to function. Basic rule of thumb, doing it yourself of cheap labor can range from under $100 to about $5,000. More complex websites go from $5,000 and up.
Are there ongoing costs associated with owning a real estate website?
Yup, there sure are ongoing costs associated with owning a real estate website. These are things like hosting fees, domain fees, website maintenance and content upkeep. You need to make sure you budget for these in addition to the initial website build.
Can I build a real estate website myself to save money?
You 100% can!  But I will say that what you save on money, you give up in time.  If your time is worth more than the countless hours it takes to build your website, it might be a better bet to hire someone to build it for you. Additionally, if you don't have any experience building websites, it's really easy to overlook important features that make for a good experience for your visitors. Unless you have aspirations of becoming a web developer it's a better bet to invest in a professional.  They will save you time and money and make sure that everything works!
How long does it take to build a real estate website?
The quick answer to this is less than a day depending on your skill level. That said, the average depends on the complexity.  More customizations equate to more time. A good rule of thumb is that it can take anywhere from 4-6 weeks to design, develop, test and launch a basic or templated website. Custom websites take months to develop.
Can I add new features and functionality to my real estate website after it's built?
Yes, you can, depending on what platform it's built on.  If you're building your site on a platform like Wix or Squarespace, you're limited by what can be done.  WordPress websites allow for a bit more customization.  But if you're looking for full on customization after launch, then going with a custom solution is the best bet.  You also must consider the skill level of the developer working on these customizations.  Developers are not a one-size-fit-all solution for every platform.  You need to select someone that specializes in the platform your website is built on.  That way they can deploy the updates quickly and efficiently.  The last thing you want is to hire a developer that's learning to code on your dollar!
How can I make sure my real estate website is effective in generating leads and conversions?
Here's the hard truth about this question.  Website's don't generate leads or conversions.  The marketing and advertising you do to drive traffic to your website are what creates new clients.  I'd recommend investing some time long before investing into a website into some education on how sales funnels work.  When you optimize a website for lead conversion, it's a far different strategy than it is to build a website for your brand.  
How often should I update my real estate website?
It's a good idea to update your real estate website daily if possible.  This strategy is more for ranking better on search engines.  The more frequently your website is updated, the more search engines look at your website as an authority in your industry.  But be careful though!  You don't want to copy and paste or duplicate content.  That's your fastest way of getting put into search engine jail!
Real Estate Website Examples for every budget
When you're starting in real estate it can be challenging to know where to begin. It's always great to get ideas and inspiration from other super successful agent's websites. Here are some real estate website examples based on budget:
If you're just starting out as a real estate agent or have a tight budget, you can still create a really great looking website. There are a ton of templates you can find on Wix and Squarespace The samples use simple layouts with crystal clear copy.  This makes it easy for visitors to understand your services. The websites also feature places to add professional photos to help build trust with your potential clients.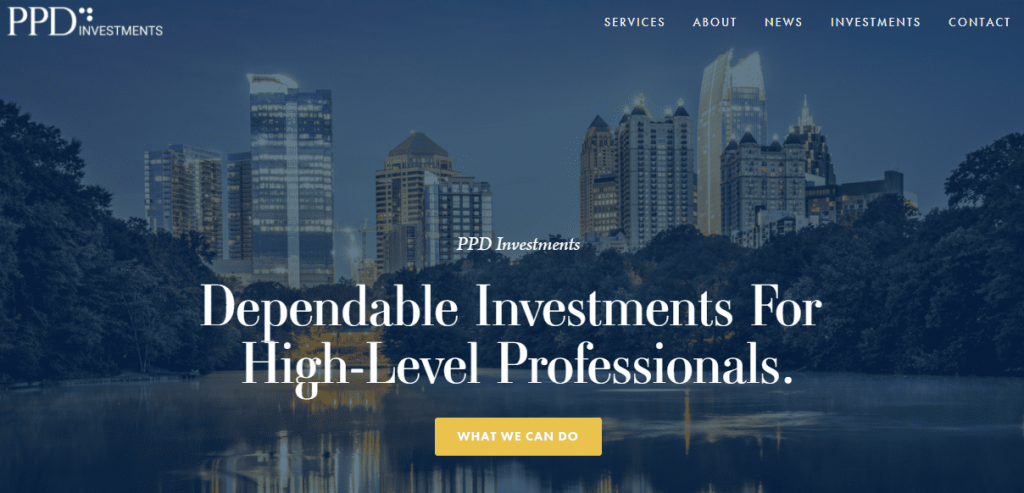 If you have a bit more money to invest in your website, then there are a ton of WordPress examples to give you some ideas. One excellent example of a mid-range budget real estate website is Coley Group. This website features high quality images, the ability to search on the MLS, and clear calls to action so people can book appointments.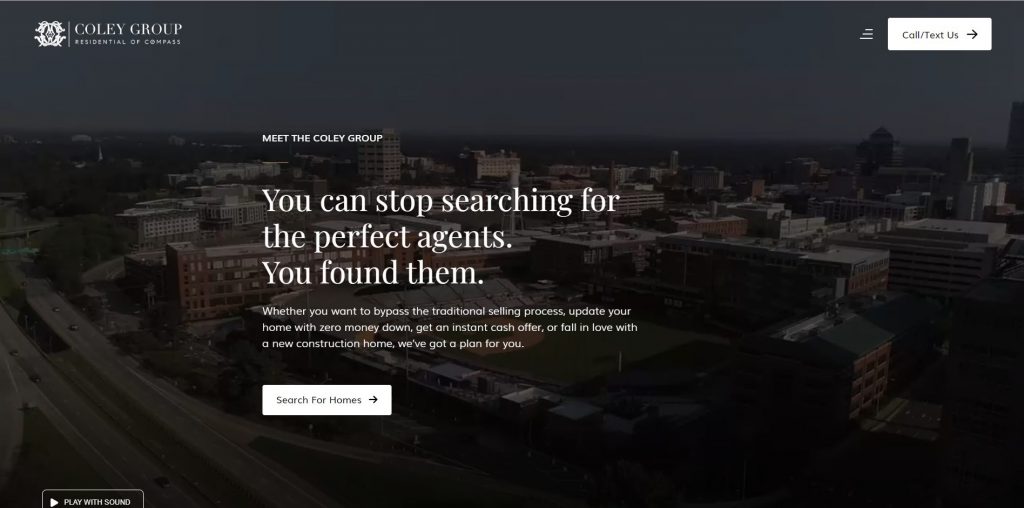 Hey big spender! If you have a larger budget and want to create something high quality and high end then you can't go wrong with going fully custom. A great example of a high-end real estate website The Agency. This website features minimalist design, great visuals, and interactive features. The site also includes a custom-built CRM system, allowing agents to manage leads efficiently.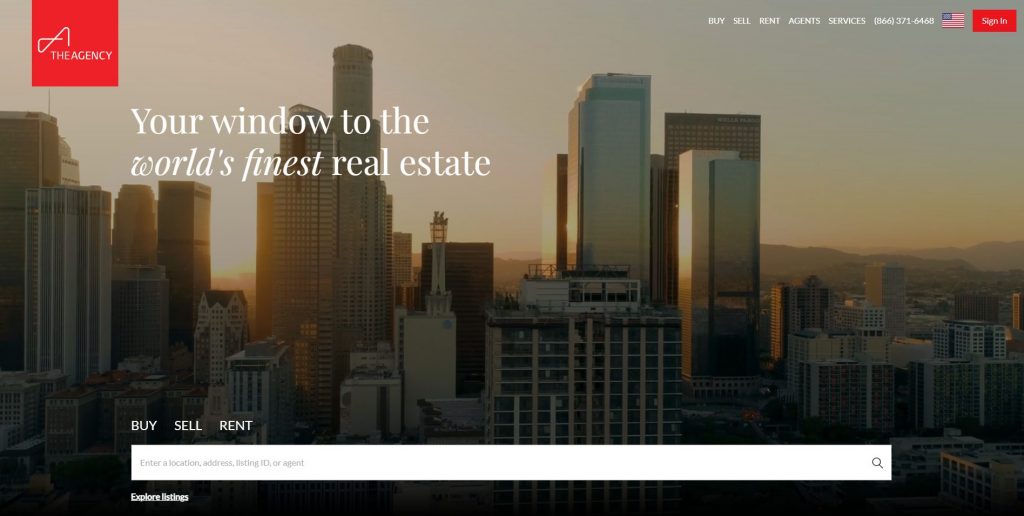 Tips for Creating Your Real Estate Website
Depending on your budget, here are some essentials to keep in mind when creating your real estate website:
1. Make it user-friendly 
Always keep your visitors in mind.  The easier your website is to navigate the more likely you will capture leads.
2. Include professional photos
Make sure you use high-quality photos of you and your properties.  High def builds trust.
3. Add interactive features
Interactive features like searching the MLS, virtual tours, videos and chat support enhance the user experience.  These small details speak leaps and bounds about your brand. 
4. Optimize for search engines 
Your website should always be optimized for search engines.  Organic search is one of the cheapest ways to get traffic to your website.
5. Make it mobile-friendly
Let's be honest here.  More people search on mobile than they do on desktop now-a-days.  You need to make sure your website is optimized for mobile.
To wrap things up, a real estate website is essential for any agent or agency looking to build a strong online presence and attract more clients. The cost of building a real estate website varies depending on features, functionality, design and complexity. But when you follow the tips and tricks outlined in the post guide, I'm hopeful you can estimate the cost of building a real estate website around your budget.
Remember, it's not always necessary to spend tons of money to create a real estate website.  Build based on need and not want. There are a lot of affordable options available.  Build based on what you're optimizing for.
Lastly, make sure to keep your website up-to-date with fresh content.  No one likes a stale and dated website.  When people see your blog posts and the past update was 5 years ago, it's not a good reflection of your brand.  Also, keeping your website up to date makes sure you appease the search engine gods and helps get your content to rank faster.  That way you get more organic traffic to your website.
Well, I hope that this post has provided you with some guidance into the world of real estate website costs.  Now go out there and build!