Having trouble generating leads through your real estate website?
Tired of paying a bunch of money for real estate websites, Google ads, and Facebook ads with few to zero leads? The reality is simply building a website with a great real estate web design for the sake of having one and expecting leads to start pouring in won't cut it.
In order to get more leads into your real estate website, there's a bit of strategy involved that you need to undertake before investing a penny into a website.
The Concept of Building a Website
Although everything that you do with regard to digital marketing can be tested and measured, many of the decisions involved in building a website do not have any quantifiable data to reinforce them.
That being said your main goal is lead generation, you must focus more on your approach to your website. 
Most leads will take the leap and decide to work with the people that they trust. A great strategy for approaching leads is to try and capture them by building trust with them.  You have to try and really provide your leads with as much knowledge and information as possible to establish yourself as their go-to expert. 
Tip #1: Define Your USP
The first step is to figure out your unique selling proposition (USP).
As the name suggests, your USP is what you want to specialize in. This is your way of separating yourself from the rest of the Realtors in your market and let your target audience know that this is what you do and that this is what you're an expert at. 
For every industry, developing a USP is crucial to every entrepreneur's success. However, this is even more true in an industry that is as competitive as the real estate industry, standing out from the crowd means that you'll be able to close more clients and succeed. 
In order to do this, start by trying to make a list of what you think is going to help you stand out from the other agents. What is so unique to you that your target audience won't get should they choose to work with another agent? What can you offer that your competitors can't?
You can also think of this as your sweet spot or the magic recipe. Your USP will be the focus of your messaging and will serve as a guide for you when deciding on how you would want to approach your real estate website.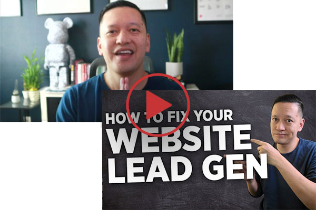 YOUR WEBSITE ISN'T GENERATING ANY LEADS BUT WE HAVE A SOLUTION​
In this free 20 minute video training you'll discover:
Whenever you are ready, click the RED button below that says "Grab my training now"
LEARN HOW WE'VE GENERATED OVER
100,000 LEADS

FOR OUR REAL ESTATE CLIENTS LAST YEAR
Marketing Strategy – create inbound strategies to better position you for the long game.

Systems Implementation – we design and implement systems for you to buy back your time.
Brand Building – position you as the thought leader and authority in your community.
Tip #2: Create a Lead Magnet Page
A lead magnet page is a page on your real estate website that is dedicated to your USP. This page is designed to articulate your proprietary process in line with your specialty.
Tip #3: Create an Education Page
The education page on your website is the page articulating your proprietary process in helping that lead.
As the name suggests, this is where your target audience and potential leads will be redirected once they start becoming curious about you and your work. 
Typically, there is a short training that is essentially free should a lead want to access it. The only catch is that they have to provide their contact information such as their name and email address to watch the entire video or gain access to the resources.
Once you have their information, you have free reign to nurture that lead until you are able to convert them into a client. 
Tip #4: Match the Messaging
It cannot be stressed enough how important messaging is in everything that you put out for your marketing. Moreover, your messaging should be consistent as well.
It is not enough that you put out content and copy out to your target audience, in order for it to resonate with them and to garner more impressions and engagements, it must also be the right and consistent message. You see, the more you are able to articulate what your target audience is currently struggling with, the more you are able to capture their trust as well. 
That being said, you have to be cognizant of matching your ad messaging to your lead magnet page. The goal is to spread the word that you are a specialist and wait for potential leads that are interested in that topic to visit your real estate website. 
Final Thoughts
Remember that the key in this process is deciphering what your competitive advantage is in the marketplace. If you're having a problem trying to figure that out or may need some help revamping your website to generate more leads, then reach out to us today! We'd be more than happy to help you out.