Marketing is a huge part of any real estate agent's growth strategy. After all, marketing is how you communicate your message. 
A great real estate web design isn't only about looking great, but it should always be coupled with the right marketing strategies that are geared towards your target audience. 
And yet, I see so many agents make critical marketing mistakes that hurt their budget and stunt their growth. Because the reality is, real estate agents are great in sales but are not particularly trained in marketing. 
So, I put together a list of some of the biggest marketing mistakes I see to help you avoid them:
#1: Not Understanding Your Audience
The real estate space is vast—you aren't targeting every person who wants to buy or sell a home. As much as getting sales and leads from every aspect of the market is great for your short-term business goals, it is not a good marketing strategy in the long run.
And this is because if you don't understand your market, you'll end up with a generalized marketing strategy that robs you of the ability to hyper-target a much more niche segment that's more likely to work with you.
What ends up happening is that you'll spend hours and even days or weeks talking and working with a client who is not a great fit for you. 
As a real estate agent, where you invest your time is important as it is one of your greatest assets. 
#2: Not Testing Your Strategy
Let's be honest, we are all looking for the silver bullet. However, in marketing, there is no magic formula or a one-size-fits-all strategy.
This means that every piece of marketing collateral should be tested. Testing is the only way to determine which of your strategies are working and how you can best optimize your campaigns.
The reason why most real estate agents fail in marketing is that they give up too easily. A great example of this is with Facebook or Google Ads. 
Most agents dive into paid ads with the expectation of getting a number of leads after a few days or weeks. However, just because you're investing in paid ads does not guarantee leads. It has to be tested over and over again in order for it to consistently bring you leads.
Conduct market research, test your ads and tweak your strategy to optimize it.
#3: Not Using Video
Videos allow you to humanize your brand, display your personality, and reach your leads in a much more personal way.
Real estate is a relationship business and in order for you to build a relationship with your audience, you have to sell your brand which is yourself. 
The more your leads can understand and relate to you, the more likely they are to reach out.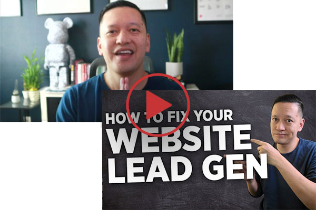 YOUR WEBSITE ISN'T GENERATING ANY LEADS BUT WE HAVE A SOLUTION​
In this free 20 minute video training you'll discover:
Whenever you are ready, click the RED button below that says "Grab my training now"
LEARN HOW WE'VE GENERATED OVER
100,000 LEADS

FOR OUR REAL ESTATE CLIENTS LAST YEAR
Marketing Strategy – create inbound strategies to better position you for the long game.

Systems Implementation – we design and implement systems for you to buy back your time.
Brand Building – position you as the thought leader and authority in your community.
#4: Forgetting About Branding
Chances are you're competing against dozens, if not hundreds,  of other viable agents for the same seller and buyer leads.
The question now becomes "How are you differentiating yourself?".
One of the best ways to do this is by building your own unique brand. Your brand represents the perception of your company, sets you apart, and cultivates an emotional connection with your market.
Furthermore, this makes you easily identifiable. For example, when one of your leads is scrolling through their feed online and sees an ad of you and your brand, they will immediately recognize your style, brand colors, and even logo. 
#5: Ignoring Custom Website
In the digital age, your website is the first impression of your services. But far too often, real estate agents opt for the same templates that everyone else uses.
Final Thoughts
Your website should be an extension of your branding efforts, and it's difficult to brand yourself with the same tools everyone else is using.
We hope this roundup of real estate marketing mistakes helps you avoid some pitfalls in the future. And as usual, we've got your back. Let us know how we can help you achieve your marketing and branding goals.