We have a Facebook group for realtors and one of the prerequisites to joining the group is that you have to let us know what your biggest challenge in business is right now. One of the most frequent challenges that I've seen from realtors are things like social media lead generation, content to create that converts, marketing myself, Facebook lead generation, and derivatives of that.
What I like to do is to reach out to these individuals and get some one-on-one time because it allows me to better understand their problems so my team and I can continue to create better solutions like great real estate web design, marketing strategies, and content to help them overcome those problems and get them closer to their goals.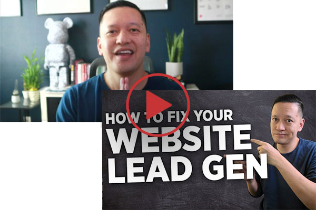 YOUR WEBSITE ISN'T GENERATING ANY LEADS BUT WE HAVE A SOLUTION​
In this free 20 minute video training you'll discover:
Whenever you are ready, click the RED button below that says "Grab my training now"
After digging a little deeper into some of the problems that pertain to lead generation and social media, we identified a pretty common thread, most, if not all, entrepreneurs feel this way. The harsh reality is, social media is a massive lever to pull for your business
One of the biggest truths that I've uncovered in my road of self-development is that imposter syndrome is no more than a limiting belief. It was a belief that I put on myself because I didn't think I was good enough. In my journey to overcome this, I had to start at the beginning and my beginning was defining what an expert is.
According to the Mariam Webster dictionary, an expert is defined as having, involving, or displaying special skill or knowledge derived from training or experience. Now, if that's the case, then I check all of the boxes. Then why was I so fearful to post, and I think therein lied the problem.
LEARN HOW WE'VE GENERATED OVER
100,000 LEADS

FOR OUR REAL ESTATE CLIENTS LAST YEAR
Marketing Strategy – create inbound strategies to better position you for the long game.

Systems Implementation – we design and implement systems for you to buy back your time.
Brand Building – position you as the thought leader and authority in your community.
After a bit of self-reflection and research, it dawned on me that the constraint is in my subjective belief of being the expert. Expertise is subjective. It's a delusion created by you or different people to hide the fact that they truly don't understand what expertise means.
There is actually a solution to overcome imposter syndrome and that requires a bit of a mental mind shift. In the book Show Your Work, by Austin Kleon, he really breaks down the approach of stopping thinking of yourself as the expert and starting thinking of yourself as the amateur. An amateur is allowed to make mistakes, change their mind and look ridiculous in the process because the amateur is always learning and improving.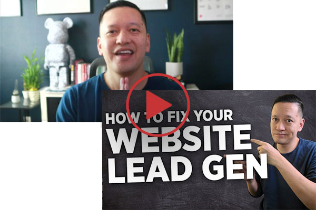 YOUR WEBSITE ISN'T GENERATING ANY LEADS BUT WE HAVE A SOLUTION​
In this free 20 minute video training you'll discover:
Whenever you are ready, click the RED button below that says "Grab my training now"
If you reframe your mindset and start thinking of yourself as an amateur, it becomes dramatically easier to share content and show your work. You have to make the effort to share something you learn every day. It is through the process of sharing your story that people will start paying attention and start following you and through that process, they'll want to start working with you.
if you want to get past the feeling of being a fraud or imposter, then go out there and be an amateur. Learn something new every day and provide value to your sphere or audience. Quoting, Dr. Brene Brown "In order for a connection to happen, we have to allow ourselves to be seen". Through that process, people will start paying attention and following you.
And then before you know it, they will dub you as an expert
Looking for more real estate strategies to grow your business? Join our free Facebook Group today. If you need help building out your real estate website, we're just a call away! We're experts so feel free to reach out to us and we'll be more than happy to help you out.