Many agents reach a level of success that directly correlates to the size of their sphere. The larger the sphere, the longer the career in real estate. Eventually, given enough time, that production plateaus. This plateau then forces the agent to find different ways to acquire new business from complete strangers.
Many agents hire digital lead generation companies, run advertisements, or even bank on great real estate web design to try to bring in new business. When the leads come in and they don't convert to clients, the default mindset is that it doesn't work, or all you get are garbage leads.
The truth is if you were to get 100 leads, for example, and did not convert any of them, the problem isn't the leads. Your system could be the source of the problem. This may be the unfavorable truth. However, if you don't figure this part out, the plateau will eventually turn into a decline. This puts you on the downward spiral of trying to keep a failing business alive.
I've talked and worked with a lot of real estate agents and they seem to face the same problem. Opting in to any kind of program and employing strategies is easy, but bringing out results can be difficult without the right process.
Most real estate agents opt for a new lead generation strategy but fail to establish a system that will bring them success. But there's hope for that. I'm sharing below the biggest missing piece of most real estate agents' lead generation strategy. Once you add this piece or fix it, the process of generating leads that turn into clients becomes a lot easier.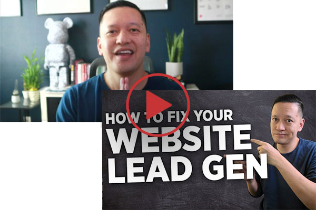 YOUR WEBSITE ISN'T GENERATING ANY LEADS BUT WE HAVE A SOLUTION​
In this free 20 minute video training you'll discover:
Whenever you are ready, click the RED button below that says "Grab my training now"
3 Missing Pieces In Your Business That Turns Strangers Into Clients
#1 Lead Acquisition
A lot of agents turn to digital marketing with the belief that 1 new lead is equal to 1 client or maybe 30 leads will get you 1 client. That's unfortunately not the reality and that's not how this works. This is especially true if you are using digital marketing as your client acquisition process. 
Which leads me then to item #2. 
#2 The Mindset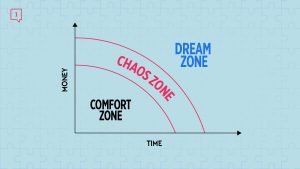 Looking at the graph above with time on one axis and money on the other, there is this correlation between your comfort zone and your dream zone. Comfort is where you are now and dream is where your big aspirations and goals lie. Now, in between comfort and the dream zone is the chaos zone.
What separates you from where you are now and the dream zone is your tolerance in the chaos zone. Now, if the goal is the dream zone then the question to ask yourself is, "How much discomfort in terms of time and money are you willing to endure to make it out of the chaos zone and into the dream zone?"
It's important to determine this first because this leads to the missing piece that either needs to be added or fixed to solve your lead generation problem
 #3 The Data
Have you heard about Rule of 100 by Dean Jackson?
He came up with a very logical explanation of leads that come into your database or pipeline of marketing. What happens when you acquire 100 leads? 80% of the leads are unqualified and the remaining 20% is broken down into two, in which 85% of the 20% is the "Later People", these are buyers or sellers who turn into clients between 90 days to 3 plus years. The remaining 15% are "Now People", they are leads that are in massive distress and you pop on the radar. They needed help, and you were the first person they saw, or the person that immediately came to mind, or they likely are referrals.
If you want to create consistency in your business, you create a system to target the "Later People." These are leads that can help you create consistency and predictability in your real estate business.
LEARN HOW WE'VE GENERATED OVER
100,000 LEADS

FOR OUR REAL ESTATE CLIENTS LAST YEAR
Marketing Strategy – create inbound strategies to better position you for the long game.

Systems Implementation – we design and implement systems for you to buy back your time.
Brand Building – position you as the thought leader and authority in your community.
Fixing The Missing Piece In Your Real Estate Business
Now that you know the 3 missing pieces in your strategy, how can you now use these to scale your business?
First, you need to look at your current lead nurture system. How often are you creating touches for the leads? How often are they seeing you online or receiving an email or text message from you?
Lead nurture is no more than a game of frequency. If there is no consistent cadence of you showing up in their world daily, then you'll need to solve that. Evaluate what's your lead nurture strategy as this could be the missing piece in your process.
Second is increase your time horizon for there leads. A typical online lead does not convert quickly. It requires a massive amount of investment of your time to continually show up in their world so that they can recognize you and trust you. Only then can you win the business.
Once you shift your belief that these leads will convert after a week or month to treating them as an investment that needs your time and effort, you'll be able to comfortably convert these leads into clients. With consistency, they'll recognize you over a few months and win them a lot more sustainably. This process can also benefit the longevity of your Real Estate business.
There's no secret formula to skyrocket your Real Estate business in the online world. Knowing and understanding the problems with your processes can help you fix them and turn more leads into client consistently. Keep in mind that consistency is key so you will always stay top of the mind with your  target market. So nurture your leads and show up every day!
Looking for more real estate strategies to grow your business? Join our free Square 1 Facebook Group for similar content that can help you in your Real Estate journey. If you are interested in one-on-one coaching, then schedule a strategy session with me today, and let's talk about how I can help you move your business forward.