One of the most searched phrases on Google about real estate is various iterations of essentially the same phrase, real estate lead generation. I provide real estate strategies, along with great real estate web design to realtors and in the process of doing consultations with realtors, the lead generation problem always comes up as well.
I always tell them that the solution is not hard.
Evaluating your strategies through the spectrum between risk and time would help you understand the value from your lead's point of view.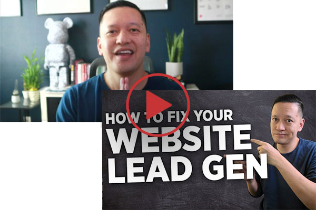 YOUR WEBSITE ISN'T GENERATING ANY LEADS BUT WE HAVE A SOLUTION​
In this free 20 minute video training you'll discover:
Whenever you are ready, click the RED button below that says "Grab my training now"
Common Lead Generation Strategies

Free Consultation
Back in the day, what agents sold to capture leads was a "Free Consultation" but nowadays, leads are a lot smarter.
They know that if they opt-in for this "Free Consultation" they're signing up for potentially what will be an hour-long conversation where they're going to be eventually sold to something. This then translates to high investment and high risk.
And leads are not interested in that. This crosses out "Free Consultation" as an effective strategy.
Watch My Webinar
On the other end, you have something that can be lower on the risk scale but still high on the time scale which is to "Watch My Webinar" strategy. This may not be a direct sales pitch but a webinar is still high on the time investment chart.
I mean, put yourselves in their shoes. How often do you stick around to watch an entire 30-45 minute webinar. So this is also likely not a highly effective lead generation strategy.
Sign Up For My Newsletter
A strategy that has high risk and low time investment. However, the biggest downside, no one wants more emails. Especially emails from a complete stranger. It's just going to clutter up their inbox. So, this is a no-go strategy as well.
What you're really looking for is something that can live here that is a low risk and low time investment strategy.
There are lead magnets like checklists or a Facebook group. Think of something that they can opt into quickly and know that they can get to later.
All you need to understand when it comes to generating more leads is that you need to create a strategy that speaks to your avatar that is both low risk and low time investment.
LEARN HOW WE'VE GENERATED OVER
100,000 LEADS

FOR OUR REAL ESTATE CLIENTS LAST YEAR
Marketing Strategy – create inbound strategies to better position you for the long game.

Systems Implementation – we design and implement systems for you to buy back your time.
Brand Building – position you as the thought leader and authority in your community.
Once you figure out what that thing is, you'll be able to increase your lead generation exponentially and actually pretty easily.
Keep in mind that, lead magnets go stale fairly quickly. You cannot create something and expect it to run for the next year. Your leads are smarter than that. Ask any professional doing this for a living and they'll tell you that the asset will need to be updated on a regular basis.
Find out more tips to help you scale your business and build predictability? Join our free Square 1 Facebook Group today. If you need help building out your real estate website, we're just a call away! We're experts so feel free to reach out to us and we'll be more than happy to help you out.