One of the biggest challenges that real estate agents face when trying to market themselves, specifically on social media or just online in general, is creating the content itself. I've recently pivoted my business to provide marketing strategies for real estate agents along with great real estate web design, and every agent I get to talk to echoes this problem.
We know that we should be creating and posting daily because we need to stay top of mind for all of the potential leads out there but it's definitely a struggle when you click on the new post button and start staring aimlessly at a blinking cursor because you don't know what to say.
It's a problem I used to have but I've been able to overcome it. I'll walk you through my process which is the exact same process that we teach all of our real estate clients.
I first want to start the conversation by explaining that content creation is hard.
There's no way around this because you're essentially creating something from scratch.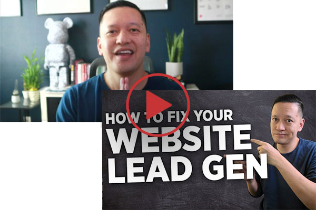 YOUR WEBSITE ISN'T GENERATING ANY LEADS BUT WE HAVE A SOLUTION​
In this free 20 minute video training you'll discover:
Whenever you are ready, click the RED button below that says "Grab my training now"
The same type of anxiety that an artist feels when creating a painting with a blank canvas is the same feeling we get when we're staring at a blank page. However, if we start to shift our mind from being content creators to content historians, we're no longer creating stuff, we're just talking about what we've learned.
This is a super powerful mindset shift but once you start thinking in this way, it's becomes a million times easier to create content. Just giving a quick attitbution shoutout to Ryan Holiday, I actually got this inspiration from him.
Step 1 – Consume some content – watch a video, read a book, talk to someone, or do some stuff
Step 2 – Extract the thing learned from that activity. For example, I'll read a book and I would highlight something that I find useful or interesting.
Step 3 – After consuming this awesome piece of information, I'll actually go into a notepad and write it down.
The idea here is actually a strategy that's been around for decades and what I'm referring to is a Commonplace Book. It's a system that writers have used for a very long time when writing books. Essentially, you're using the exact same system for your benefit to create content.
LEARN HOW WE'VE GENERATED OVER
100,000 LEADS

FOR OUR REAL ESTATE CLIENTS LAST YEAR
Marketing Strategy – create inbound strategies to better position you for the long game.

Systems Implementation – we design and implement systems for you to buy back your time.
Brand Building – position you as the thought leader and authority in your community.
How do you actually use this in the context of helping you market your real estate business?
Well, it's simple. Think about a problem your clients face or a objection that you get from a lead or prospect. Ask yourself what that question is, once you've been able to identify it, then creating content is no more than looking to your common place book, doing a search for that theme and writing a post or sharing a video talking about this experience or piece of knowledge that you've found.
Find out more tips to help you scale your business and build predictability. Join our free Square 1 Facebook Group today. If you need help building out your real estate website, we're just a call away! We're experts so feel free to reach out to us and we'll be more than happy to help you out.