My business provides real estate strategies that help scale business, along with great real estate web design for realtors. Over the years I've spoken with thousands of real estate agents and I can typically judge the experience of an agent based on their response to this question, "What do you think would you need to add or fix in your business to get to your financial goals."
If the answer is a variation of "get quality leads" that usually tells me a few things:
A – you've built your business primarily on referrals and have never truly figured out how to turn strangers into clients

B – you're still very early on in your business and there is still quite a bit to learn.
Because if you've ever talked to anyone that's built and successfully scale their business, they will easily tell you that there is no such thing as getting qualified leads. That's not how this game is played. If your expectation is that you want to run some ads or work with some lead gen agency to get qualified leads, then I recommend that you temper your expectations now.
Do you remember that old analogy in dating, "You got to kiss a lot of frogs to find your prince."? This exact same thing applies to leads. If you talk to an old-timer, or traditional real estate agent that had to cold call or knock on doors, they can attest to this because this is how they built a successful business, they had to dial a bunch of numbers and hear a ton of rejection before they finally found someone actually to listen to their pitch. The same can be said for someone knocking on doors. They would walk miles a day, and get tons of doors slammed in their face before someone actually cared enough to listen. This applies to mailers as well.
Now, fast forward to today. 50 knocked doors could be 50 Instagram reels, 100 cold calls could be 100 facebook ad leads, and 500 postcards could be 500 emails. Times have changed, but the strategy is still the same. Before Facebook, social media, and the internet, real estate agents didn't go to some magic gathering filled with a ton of qualified clients they could hand-pick, they had to talk to a lot of people to find the next client.
Granted that talking to people with the advent of social media and the internet has become vastly easier, but the same rules still apply. The success of your real estate business is a measurement of quantity, not quality.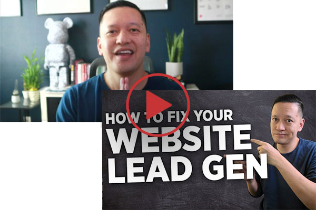 YOUR WEBSITE ISN'T GENERATING ANY LEADS BUT WE HAVE A SOLUTION​
In this free 20 minute video training you'll discover:
Whenever you are ready, click the RED button below that says "Grab my training now"
Application To Your Business
So how can you use this information? 
It's by understanding context. There are 2 types of clients – the now and the not now. However, there's a kicker, we need to take ownership of creating the qualified lead that will turn into a client. We can't expect some magic 1-click marketing ad or campaign to do it, because it just doesn't work way.
Step 1 – Ask A Better Question
Instead of asking, "how can I get qualified leads?", ask "How can I bring in new leads daily? When I'm talking about bringing in new leads, I'm not saying 1-2, I'm saying 20-30. If this sounds completely obnoxious to you, then think about the agents doing this decades ago. They were grinding 100 dials or 50 door knocks. Not one or two.
These same rules apply, we've found that we've been able to do this at scale using Facebook Ads. The secret to it is to find a way to get your cost per lead as cheap as possible so it becomes affordable to buy leads.
Step 2 – Start A Conversation
Now that you have these leads coming in regularly, what can you do to start a conversation?
It is key to not pitch. No one likes to be pitched to without permission so don't pick up the phone and dial with the intent to pitch. Instead, ask a question to start a conversation and build an actual relationship.
Step 3 – Nurture
Spend time on nurturing your leads. Drip value to them on a regular basis and understand wh
LEARN HOW WE'VE GENERATED OVER
100,000 LEADS

FOR OUR REAL ESTATE CLIENTS LAST YEAR
Marketing Strategy – create inbound strategies to better position you for the long game.

Systems Implementation – we design and implement systems for you to buy back your time.
Brand Building – position you as the thought leader and authority in your community.
Similar to other strategies that you apply to your business and one of the things that I always keep harping on every single time is you have got to test. That's the only way you're going to be able to get 1% better. Now that we're actually tracking this data and this information, we're going to maybe want to try testing the script or the type of content just to try to incite more conversations. The goal is if we can continue to get 1% better after every iteration of us executing the system, we'll be able to easily predict when our next transaction is sooner than later. 
Find out more tips to help you scale your business and build predictability. Join our free Square 1 Facebook Group today. If you need help building out your real estate website, we're just a call away! We're experts so feel free to reach out to us and we'll be more than happy to help you out.