LEVEL UP YOUR SYSTEMS AND MINDSET
LIVE ACCOUNTABILITY SESSIONS FOR HARD WORKING REAL ESTATE AGENTS
ARE YOU A REAL ESTATE AGENT STRUGGLING TO REACH YOUR FULL POTENTIAL?
You're not alone. Many real estate agents face the same fears and frustrations when they don't have the right systems and mindset in place. Without these critical elements, it can be challenging to stay focused, motivated, and productive, ultimately hindering your success. Are you suffering from…
PRACTICAL BUSINESS SESSIONS TO BUILD SYSTEMS, MINDSET AND EMOTIONAL WEALTH
Square 1 Group has partnered with superstar 7-figure agent and coach Ben Oosterveld to help you bring in the right systems and mindset so you can stop leaving money on the table with little to know follow up with leads and past clients.
Sales and high service are critical for success, but they are not enough. You are left with gaping holes in your "day-to-day" systems and your "after the sale" systems. Things just don't get done.
Do you ever see a restaurant owner doing the dishes, serving, and cooking? Of course not, that would be crazy, but that's exactly what real estate agents are doing every day.
TWO LIVE MONTHLY CHECK-IN SESSIONS
Each online session you will receive a framework, worksheet, or exercise that will give you the tools to build your systems and move forward by unlocking an abundant business owner mindset.
BUSINESS SYSTEMS CHECK-IN
Ben and his team will present one real estate system each month that has the potential of forever shifting your business. These systems will always be focused on creating more income, protecting your past clients, creating a world-class client experience, and building a life you love.
MINDSET CHECK-IN
Each month we unpack a limiting mindset that holds agents back from the full potential of what they want and deserve. The goal each month will be to unlock new thinking and dissolve limiting beliefs to move you forward personally & professionally.
Who do you want to be in 2023?
UNLOCK YOUR FULL CAPABILITIES NOW
Ready to unlock your full potential as a real estate agent? Let our experienced coaches help you develop the right systems and mindset for success. Sign up for coaching today and start achieving your goals!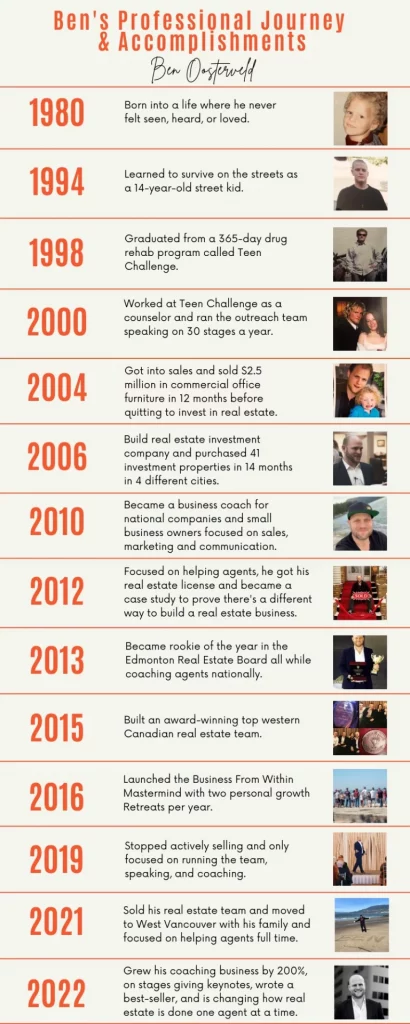 Founder and CEO. Has had everything and nothing.
After coaching agents for years, he got his real estate license and built a multimillion-dollar real estate business with an award-winning team in three years.
And yet he's also known homelessness and despair, living on the streets from the age of fourteen, attempting suicide at fifteen, and later spending 365 days in rehab.
The power of experiencing these radically different worlds is that Ben sees straight through the illusions that preoccupy most people and cuts through the BS that limits their freedom.
Today, he supports ambitious agents in discovering who they truly are and what they want so they can build an incredible business that serves the life they love.