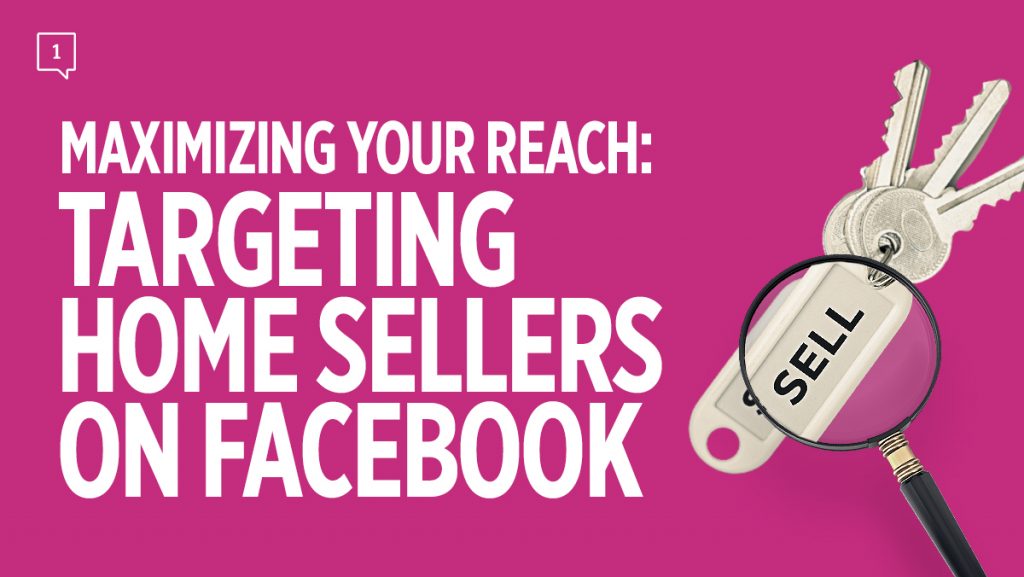 Can you target homeowners on Facebook?
Different social media platforms have become the primary means of communication, it lets everyone everywhere just connect and exchange information instantly at any time of the day — amazing right? Standing out among all these platforms, Facebook still remains the most used all over the world with over 2.8 billion monthly active users. 
Because of its reach, which you can turn into a vast pool of potential leads, Facebook is a great way for you to advertise and attract home sellers if you're a real estate agent. But, one thing we can keep in mind as we use Facebook is that targeting home sellers is different from targeting buyers, and both require a unique approach to ensure your advertising efforts are effective.
See how you can make Facebook work for you as we provide tips and strategies on how you can target home sellers and buyers on Facebook. We'll cover everything from targeting options, and Facebook's real estate ads policy, to uploading email lists and viewing your competitors' audiences. Following these strategies, you'll be able to attract home sellers to your business and close deals!
Now, whether you're a seasoned agent or someone who's just starting in the industry, you can't deny that social media has changed the game when it comes to attracting sellers and buyers — which is why you can now use it to tap into your market! 
Let's make Facebook work for you as we target your market and grow your business. 
Why targeting home sellers is a different strategy from targeting home buyers
This is where it gets interesting. With Facebook — through meta — gearing itself to be more commercialized, advertising on Facebook follows a certain algorithm, which is why targeting home sellers requires a whole different strategy than targeting home buyers. 
To know how they're different, see some of the differences you have to consider when creating content to target each market: 
Buying and Selling Motivations
If you use distinct approaches for each market, you could connect with both as a real estate agent. The demands of clients trying to purchase versus those looking to sell are very different. Their motives influence how they participate in the market for real estate as home buyers and sellers in various ways.

Buyers are  motivated by a desire to find a home that satisfies their every need and want, as opposed to home sellers, who are motivated by a desire to lose their home (sell it) for reasons such as a desire to change their lifestyle, financial issues, and the like. Despite the fact that they are both under real estate, their differences keep them in separate categories at all times.
Real Estate Buying and Selling Timing
Another notable difference between focusing on house buyers and sellers is their timing. In contrast to home sellers, who typically have a tighter timeline to sell their property, home buyers may take months or even years to find their dream house. This means that in creating your advertising strategies, the urgency of the home seller's situation must be taken into account and prioritized first before you release content targeted for home buyers. 
Buyers are  motivated by a desire to find a home that satisfies their every need and want, as opposed to home sellers, who are motivated by a desire to lose their home (sell it) for reasons such as a desire to change their lifestyle, financial issues, and the like. Despite the fact that they are both under real estate, their differences keep them in separate categories at all times.
Effective Messaging to Target Home Sellers
As you adjust to the urgency of home sellers, your content should now focus on the advantages of dealing with a real estate agent and why your services are necessary to ensure a smooth and successful sale in your messaging and advertising strategies. Your  message should be customized to fit the specific circumstances of the home seller and address whatever questions they may have or any concerns they are facing.
Buyers are  motivated by a desire to find a home that satisfies their every need and want, as opposed to home sellers, who are motivated by a desire to lose their home (sell it) for reasons such as a desire to change their lifestyle, financial issues, and the like. Despite the fact that they are both under real estate, their differences keep them in separate categories at all times.
Call-to-Action for Buyers and Sellers
All advertising efforts should contain a call to action, which is why it is the last thing you have to consider when thinking of these two markets. Home sellers are likely looking for advice on how to sell their property quickly for the best possible price, while home buyers may be more inclined to explore listings or request a showing so you can't have the same call to action for both. All this should be reflected in your CTA, which should provide a free consultation or a guide to buying and selling a home in your neighborhood.

By identifying these key distinctions, you can develop a more effective advertising approach to attract home sellers on Facebook. In order to boost the possibility of turning home sellers into clients, keep in mind to concentrate on their specific motives, timing, messaging, and call-to-action.
Buyers are  motivated by a desire to find a home that satisfies their every need and want, as opposed to home sellers, who are motivated by a desire to lose their home (sell it) for reasons such as a desire to change their lifestyle, financial issues, and the like. Despite the fact that they are both under real estate, their differences keep them in separate categories at all times.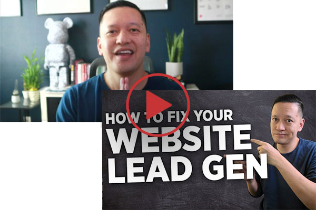 YOUR WEBSITE ISN'T GENERATING ANY LEADS BUT WE HAVE A SOLUTION​
In this free 20 minute video training you'll discover:
Whenever you are ready, click the RED button below that says "Grab my training now"
How do I target household income on Facebook lead ads?
If you're a real estate agent looking to target home sellers on Facebook, one thing you should make sure is that your ads are reaching the right audience as reaching the right audience is the first step to tapping into potential clients!
To start reaching the right audience, you can start by targeting household income with Facebook lead ads. 
To be able to tap into prospective clients' details and engage, you have to customize your Facebook lead ads so that it'll show up on their feed. How? By creating your custom audience. You must build a custom audience in order to target criteria such as family income, age and/or location.   
Having a custom audience  enables you to pick particular parameters and only have those who fit the criteria see your ads making it an efficient advertising strategy for you. 
Open your Facebook Advertising Manager. After doing this, you'll see different options for managing your ads. For targeting, you'd want to go to the "Audiences"  option to display the dropdown menu. From there, select "Create Audience" from the options list prior to selecting "Custom Audience." After doing so, you'll be presented with every option you have for customizing your Facebook Advertisements'  particular demographics.
To start in the right direction, you can  choose "Income" as your targeting criterion and then specify your desired income range. Once you've customized it as best as you can, just click on "Create Audience" and your ads will fall onto the right people's facebook feeds!
Using the easily customizable options in creating Facebook lead ads allows you to reach the right audience and build up the generation of your quality leads. This kind of advertising gives your ads a higher chance of getting the engagement you need to get your name out there. However, you shouldn't just focus on Facebook Ad targeting alone. Couple Facebook's customizable lead ads with interesting content and visuals to increase organic engagement. With your interesting content and Facebook's customizable ads, you'll be closing clients in no time. 
As you begin advertising on Facebook, keep in mind that the platform has strict policies when it comes to real estate advertisements and paid advertisements in general. Take the time to read through their guidelines and consult their support channels if needed before creating your ads. 
You'll find that once everything is in order and you've gotten the hang of customizing your Facebook Ads perfectly according to your needs, your content will be reaching home sellers and translating into leads so easily that you'll regret you ever did old advertising strategies such as cold-calling and house-to-house!
Facebook's Real Estate Ads Policy
Since focusing on commercializing the platform, Facebook has become stricter when it comes to advertisements posted on their website. As long as you understand their guidelines, this development is actually a step forward for real estate agents as it will ensure you and possible leads will be able to interact directly!
The Real Estate Ads policy exists to ensure that Facebook users have a positive experience when interacting with real estate ads on the platform.
Here's what you need to know about the policy: 
First, the entirety of your ad must be in compliance of all existing fair housing rules and regulations. Your ads must be inclusive of all people regardless of their race, religion, gender, or nationality and cannot in any way use discriminating language or imagery. Facebook highlights their call for equality and expects all their users to do the same. 
Second, false information is not permitted in real estate advertisements. This covers details such as the cost, location, state, or amenities of the property. The advertisement must give a precise description of the property that is being advertised.
Third, Facebook requires that real estate ad owners declare any ties they may have to the property that they are listing. Any financial interest, ownership stake, or any other connection to the property may fall under this category.
Fourth, the advertisement must comply with Facebook's advertising guidelines for all kinds of advertisements. This can easily be found in their help center and prohibit all use of offensive or inappropriate language or imagery. Operate using PG-18 guidelines when creating your content and you should be good to go!
Lastly, keep in mind that Facebook has rules about how specific targeting can be used in real estate advertisements. The platform introduced a specific category for ads that are related to housing. Advertisers must decide whether they want their ads to be displayed to everyone or only those who have indicated an interest in "housing". In the same category, you are also not permitted to choose which consumers your ad can  target based on their zip code, age, gender, or any other information that is too specific that it may fall under the gray area of equal opportunity. By doing this, Facebook aims to make the real estate market fair for both the real estate agent and its audience.
Generally speaking, when it comes to utilizing social media. Facebook's regulations and standards regarding real estate advertising should be carefully reviewed by real estate agents before creating and releasing their content. Failure to comply with these policies could result in ad rejection or account suspension. By following these policies, agents can create effective and compliant ads that reach their target audience and generate more leads.
How to Upload Home Sellers Email list to Facebook Ads
Let's maximize your use of Facebook!
Uploading an email list of home sellers is one of the best ways to target the right audience on Facebook. Using this approach, you can connect with potential house sellers who have already expressed an interest in what you offer — it's a way for you to strengthen your credibility for people who are already aware you exist.
Luckily, uploading an email list is easy to follow and only takes a few steps:
Step 1: Create a Custom Audience
To upload your email list, you have to create a custom audience first. You have to login into your Facebook Ads Manager account and then choose the Audiences tab for you to do this. After that, select Custom Audience from the Create Audience dropdown menu.
Step 2: Choose your Data Source
The data source for your specific audience will be selected next. Since our goal is to upload an email list in this instance, you are going to choose "Customer List" among the options. From there, you will be requested to submit your email list to become your data source. Upload options would be you  manually copying and pasting your email list or uploading a file. We recommend uploading a file to maintain data integrity in this instance!
Step 3: Upload Your Email List
To upload your list, it must be in CSV or TXT format and include a minimum of 100 email addresses in order to be accepted by Facebook. Facebook will match the email addresses to user accounts on its site once you've published your list.
After the upload,  you now create your ad using your list as the unique audience . You should keep in mind that you are aiming your advertisement towards potential house sellers while doing the actual content generation. Make sure the language and graphics in your ads speak to your target market.
After you create your ad, you can then run your advertisement live! Once it's live, your ad will officially be posted on Facebook. Since you've already customized your settings, your intended audience will now be the target of your ads. They'll be able to see it as they use Facebook on their devices! As you launch your ads,  It's important to remember that Facebook's algorithm will determine how often your ad is displayed.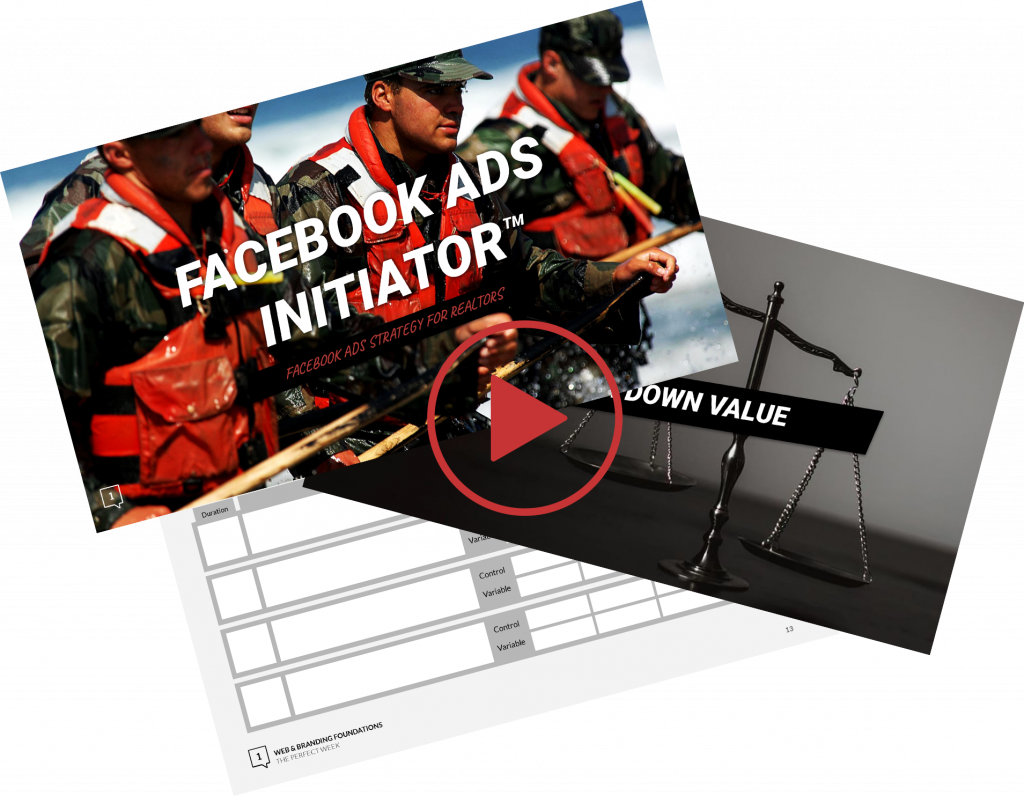 YOU'RE RUNNING OUT OF WAYS TO GENERATE LEADS BUT WE HAVE A SIMPLE SOLUTION
In this free workbook, you'll discover:
Whenever you are ready, click the RED button below that says "Grab my workbook now"
How to view Home Sellers Competitors Audience on Facebook Ads
Understanding your audience's actions and interests is crucial if you want to target house sellers on Facebook. Along with your audience, understanding your competitors' strategy is important as well. Looking at the advertisements seen by the audience of your competitors can help you understand what they're targeting and learn a lot about what might be effective for your own advertisements.

Here's how to view your competitors' Facebook ad audiences:
Step 1: Go to Facebook Ad Library
First, using your existing account, go to the Facebook Ad Library. By visiting the "Ads and Business" area of your Facebook account and selecting "Ad Library" from the dropdown menu, you'll see where to search competitors' ads.
Step 2: Search for Your Competitor's Ads
By entering your competitor's name into the search field, you should be able to find any current advertisements here, if they are running any.
Look through the search results and if you do find competitors' ads, click on the ad so you can see how it's doing engagement-wise.
Step 4: "See Ad Details" Button
You could use the  "See Ad Details" option by clicking on it on the ad's page, which will provide you with additional details about the ad that you may find useful.
Step 5: "Ad Interactions" Section
Once you're in the Ad Details page, scroll down to the "Ad Interactions" section. From there, you'll be able to see the information you need. Data like the number of people who have interacted with the ad, comments, likes, shares and any other types of engagement can be seen here which you can use to scope out your competitor as you assess your own content.
Step 6: Click on "People"
Under the "Ad Interactions" section, you'll see a button that says "People." Click on this button to view the audience of the ad.
Here you'll be able to see the audience's data. Ad analytics collects information that includes identifiers such as their age, gender, and location. Use this information to identify patterns and preferences that can help inform your own targeting strategy.
Can you Target Home Sellers on Instagram Reels?
The ideal approach to connect with others in real time, as was said in the opening paragraph of this piece, has become through social media. Similar to Facebook, Instagram has grown in popularity over time and has since become one of the most popular platforms.
Instagram users can now create Instagram Reels wherein they share brief audio and video clips with their followers. Instagram Reels have become more popular in the business sector as people and organizations realized they could utilize it as a marketing tool.
You may be curious whether you can target house sellers through Instagram Reels if you're a real estate agency trying to attract them on social media. The answer? Yes! It's completely possible, even though the method to do this differs slightly from the Facebook strategies discussed above. 
Let's break it down for you:
You must first set up an Instagram business account and link it to your Facebook Business Manager account before continuing. By doing this, you will be able to create Instagram advertisements utilizing the same targeting choices as Facebook.
As you create reels, you may target particular audiences when constructing an Instagram Reels ad based on a number of variables, including geography, interests, behaviors, and demographics. To target customers who have previously engaged with your business, such as those who have visited your website or subscribed to your email list, you may also employ bespoke audiences.
You should design short, engaging clips that instantly pique viewers' interest because Instagram Reels adverts can only run for a maximum of 30 seconds. You can show off your expertise and provide insightful information about the housing market or your services in a distinct manner — surprise your audience!
If you're thinking whether all this effort is worth it, you can keep in mind that Instagram Reels is a more recent addition to the platform. What does this mean? This means there is less competition vying for users' attention compared to other marketing avenues. This means that there is an opportunity to generate leads at a lesser cost than other kinds of advertising while also reaching a larger audience since it is on social media. 
In conclusion, targeting home sellers on Instagram Reels is possible and can be an effective way to reach a new audience. By using the right targeting options and creating engaging videos that showcase your expertise, you can attract potential clients and grow your real estate business.
LEARN HOW WE'VE GENERATED OVER
100,000 LEADS

FOR OUR REAL ESTATE CLIENTS LAST YEAR
Marketing Strategy – create inbound strategies to better position you for the long game.

Systems Implementation – we design and implement systems for you to buy back your time.
Brand Building – position you as the thought leader and authority in your community.
How to Target Home Owners on Facebook Groups
 A modern and quick approach to get in touch with potential house sellers is through Facebook groups. On Facebook, there are several groups dedicated to interior design, home improvements, and yes, even real estate. Facebook groups are a useful tool for attracting customers since they let them directly communicate with you to gain access to your knowledge and expertise.
Without blatant marketing, what you can do is build rapport with nearby homeowners and establish yourself as a valued member of the community so that you'll be first on their list when the need for a real estate agent's services arises. 
To start building connections using Facebook. Find local Facebook groups in your area that discuss real estate and house ownership. Try joining groups that are local to your area, including neighborhood or community clubs. You may also join organizations that concentrate on particular aspects of house ownership, such clubs for remodeling or interior design.
Once you've joined a group, become acquainted with the people there. Share home ownership-related information and recommendations, respond to queries, and share your knowledge. You may gain the group's confidence and respect by establishing yourself as a valuable resource.
Consider using Facebook's Group Insights function to improve your targeting. Data about group members' demographics, hobbies, and activity are provided by Group Insights. You can use this data as you target particular demographic groups with your messaging to make sure your efforts reach the right audience.
Remember that the information you provide the group should be educational and useful rather than promotional. To avoid alienating potential customers, avoid blatantly marketing your services or listings. Instead, concentrate on developing connections with potential clients and positioning yourself as a reliable resource.
Once you've understood how these kinds of Facebook Groups work, you can take it one step further to establish credibility. Making your own group is the next step to utilizing Facebook Groups for your business. You may develop a network of potential customers and position yourself as an industry leader by starting a club devoted to real estate or home ownership. Invite nearby residents who might be considering buying or selling a home, as well as current and previous clients, to the group.
As you use social media for marketing, it's important to add Facebook Groups to your strategy. Using Facebook Groups to target homeowners and build relationships with potential customers is a direct way for you to assess your business' growth. You can position yourself as a reliable resource and gain the trust and credibility of potential customers, encouraging them to not only share your knowledge to people they know —- increasing your audience through word of mouth —- but to also avail of your services.  
By customizing your messaging in Facebook Groups, you are able to market your services without seeming like you're doing it for the sales. Instead, you  develop a community of potential customers by using Group Insights and engaging educational content that appeals more to customers. 
How to Target Home Owners on Facebook Marketplace
We're down to the last gem that social media has for your marketing efforts! 
We're down to the last gem that social media has for your marketing efforts!  Users of Facebook are able to buy and sell goods locally thanks to the Marketplace function, which is free. You can utilize this for marketing your services.  You may be able to find customers who are relocating or trying to sell their house by focusing on platform users who are actively looking to purchase or sell on the Marketplace.
To target home owners on Facebook Marketplace, follow these steps:
Log on to your Facebook Business Manager account. If you don't have a Facebook Business Manager account, get one now! It's useful as it allows you to penetrate all of Facebook's new features for sellers.

Under your Business Manager account, click the "Create Ad" button and choose "Marketplace Ads."

Choose your budget and timeframe after selecting your ad aim, such as "Conversions" or "Traffic".

Choose the area and radius where you want your ad shown.

Choose "Behaviors" under the "Detailed Targeting" section, then pick "Residential Profiles" from the drop-down option.

Decide whatever specific habit, such as "Homeowners" or "Likely to relocate," you want to target.

Once you've written your ad, submit it for review then wait for Facebook to approve it.

It's worth noting that Facebook Marketplace has distinct rules and regulations for real estate advertisements. For instance, you must accurately describe the property you are promoting in your ad image and you cannot use phrases like "newly remodeled" or "move-in ready" in your ad language. 

When producing your ad, make sure to check Facebook's real estate ads policy to avoid any unnecessary problems.
To further utilize this option, you can use Facebook Marketplace to look for possible home sellers in your neighborhood. Simply enter real estate-related terms into the search bar, such as "moving" or "selling," and then look through the results to locate potential leads. You can then connect with potential buyers and advertise your services by joining local Facebook buy/sell/trade groups.
Overall, Facebook Marketplace is a valuable tool for targeting home owners and potential home sellers. By following these steps and adhering to Facebook's policies, you can reach a highly targeted audience and potentially generate new leads for your real estate business.