Your real estate brand logo is the most essential part of your brand. On top of having a great real estate web design, this is the first thing that your site visitors notice upon clicking on your website. 
As the old saying goes "a picture is worth a thousand words", your logo says a lot about who you are as a real estate entrepreneur and a brand as a whole. 
This means that taking the time to create a real estate brand logo is a necessity. Your brand logo creates a significant impact on first impressions and we all know how important initial impressions are.
You can also think of it as your avatar in a dating app. Within a few seconds, people will immediately form their opinion of you based on your avatar. Therefore, if you want to attract the right set of customers and have them fall in love with you, your avatar needs to showcase your best and unique qualities.
Identify Your Brand
The first step in creating a real estate brand logo is to identify your brand. 
You can start by answering the question "Why did you start your business?". Circle back to the time that you decided that you were going to start helping people buy, sell, or manage their real estate properties. What was the defining moment that made you fully commit to this industry and profession?
From there you can move on to defining your company's beliefs and values. What are the things that matter to you and that you'd want to be manifested within your team and with your clients?
Perhaps one of the most important aspects of identifying your brand is answering the question "What makes you unique?". When you're in an industry that is constantly growing and competitive, you need to find the thing that separates you from the rest. 
Which three words describe your brand? Before diving into visualizing the feel and look of your logo, try and answer these questions first to set the phase for your brand logo.
Find Inspiration
Start with either brainstorming, sketching, or creating a mood board of logos that you like.
We recommend using websites such as Pinterest to help you encapsulate a mood board. Pinterest makes it easy to pin, mix and match, and create mood boards with a huge array of options. 
Remember that the more you are able to communicate visually your vision of your brand logo, the easier it will be for your designers to bring it into reality.
Choose the Right Design Style
Design styles range from classic, retro, vintage modern, minimalist, and handcrafted.
Try to look at your mood board and find the commonalities in them. From there, you can let your designer categorize them into a specific style.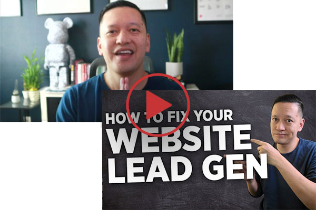 YOUR WEBSITE ISN'T GENERATING ANY LEADS BUT WE HAVE A SOLUTION​
In this free 20 minute video training you'll discover:
Whenever you are ready, click the RED button below that says "Grab my training now"
LEARN HOW WE'VE GENERATED OVER
100,000 LEADS

FOR OUR REAL ESTATE CLIENTS LAST YEAR
Marketing Strategy – create inbound strategies to better position you for the long game.

Systems Implementation – we design and implement systems for you to buy back your time.
Brand Building – position you as the thought leader and authority in your community.
Pick Your Logotype
There are 7 essential main types of logos you can choose from; letter marks, wordmarks, pectoral marks, abstract marks, mascots, a combination mark, and an emblem. Think of your target audience and decide which logotype will work best.
Choose Your Brand Colors
Different colors have different meanings. Go back to step 1 and think of the message you want to convey to your audience. At the end of the day, your brand colors should reflect your style and personality. 
Typography
Often overlooked by most real estate agents, fonts style is one of the biggest components of a logo. Whether you decide on using serif, sans serif, script, or display fonts your font style should resonate with your personality and style. 
Visualize Your Logo
Some logos look great up close and look like inkblots from afar. This is because most fail to consider where they will actually be placing and seeing their brand logo. Imagine all of the places you would want to see your logos and build a design based on that. 
All of these tips can only get you so far. Enlist the help of real estate digital marketing professionals to bring your vision into reality. Reach out to us today and let's start moving your business forward!